Over the past few years, the lighting industry has undergone a radical change. LED lights (bulbs and displays) are gaining more traction as a result of higher optical efficiency, low glare, better optical utilization factor (OUF) and better uniformity in illuminating the streets for outdoor lighting.
Better than conventional lights
A case study illustrates that the OUF of street LED lights ranges from 51% to 81%. The conventional street lamps under excellent operating conditions can only attain a maximum OUF of 45%. This further exemplifies that LED street lights are better.
If LED lights are installed with optimum orientation, spacing, and fixtures, the street light looses only 2% of its illumination. This makes LED street lights energy efficient as energy consumption is reduced by 40% to 60%.
A big growth opportunity
The market for LED lighting solutions is witnessing exponential growth. Analysts expect it to grow at a CAGR of 30.6% from 2012 to 2015 to be worth $20.2 billion at the end of the period. This projected growth is based on an accepted fact that LED lights are replacing high pressure sodium lamps, halogen lights, incandescent bulbs, CFL and fluorescent lights. This substitution in lighting has enabled companies like General Electric (NYSE:GE) and Koninklijke Philips (NYSE:PHG) to reap the benefit of this growing market.
What's GE doing?
General Electric is fortifying its portfolio with LED lighting solutions. GE's LED segment has delivered strong results in the past, recording 24% growth in 2011 followed by 35% growth in 2012. The company is confident that this growth trend will continue and it isn't difficult to judge why, given the growth of the LED market.
To bolster its LED lighting portfolio, GE has made some strategic acquisitions. In December last year, it acquired Albeo Technologies, which manufactures LED fixtures. This acquisition helped GE to offer a turnkey LED lighting solution to enterprise customers.
GE is not only selling LED products, but is also providing custom lighting solutions and implementing turnkey projects. It is offering value added services to its consumers as well.
GE's moves
Drivers are an important component in LEDs. A LED driver is a vital component of LEDs that provides DC power from a rectified AC line. To strengthen its LED lighting capabilities, GE had acquired a LED driver manufacturing company, Lightech, for an undisclosed amount. This acquisition further strengthened GE's portfolio of LED lighting solutions so that it can address a growing market.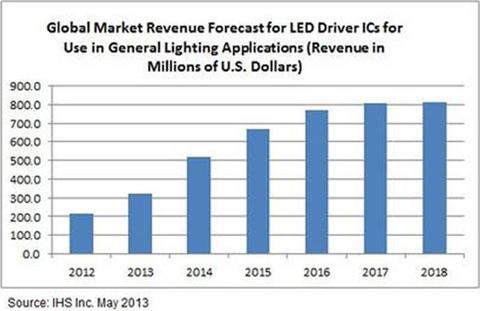 Click to enlarge
The market for LED drivers seems to be on a rise. LED drivers are also used for backlighting in devices such as mobile phones and TVs. The market for LED drivers is expected to be worth $666 million by the end of 2015, and is expected to reach $810 million by 2018.
GE has also entered into a product development program with Cooledge Lighting for developing GE Lightech LED power supply drivers. The joint venture is not limited to LED driver integration, but also extends to the development of high performance LED solutions. This enables GE to broaden its market and to target a wider range of commercial applications
A competitor to watch
Another company that's focusing on its LED portfolio is Philips. In the past, Philips used to sell a high efficiency LED at around $80 and was 80% more efficient than conventional incandescent lights. The sales of the product were not very impressive since the price was quite high. Over the years, Philips has boosted its production to bring down the retail price. The policy of the company to boost production rather than incurring heavy marketing cost proved right as it plans to release an LED light priced below $10.
In 2008, Philips acquired a patent in LED technologies for "LED luminaries and retrofit bulbs". The demand for Philips' license program has also grown, enabling Philips to establish a global footprint. Leading LED light manufacturers like Cree, Lemnis Lighting, Neo-Neon, Trilux, Osram have opted for licenses from Philips. This year, more than 300 companies have opted for licenses from Philips, leading to 50% growth in licenses from last year.
Philips in China
The LED lighting market in China is expected to be worth $10 billion by 2015 and is projected to reach $22 billion by 2020. In the past, China has implemented modern LED lights in 50 cities with a target of around 2 million lamps for street lights. This project includes lighting of tunnel, roads, subways, etc.
One of Philips' major JV programs is with China Electric Corporation. This strengthens the footprint of Philips in China's lucrative lighting market, which will be jointly executed by Philips and China Electric Corporation. Philips holds a 30% stake in the JV.
Conclusion
Both General Electric and Philips are trying different strategies to benefit from the multi-billion dollar LED market. GE, however, has a scale advantage over Philips with a market cap that is almost five times of Philips. Hence, it can use its economies of scale to produce LED lights at much lower costs and establish a stronghold in this market. That's why, investors looking to profit from LED lighting should consider GE over Philips.
Disclosure: I have no positions in any stocks mentioned, and no plans to initiate any positions within the next 72 hours. I wrote this article myself, and it expresses my own opinions. I am not receiving compensation for it (other than from Seeking Alpha). I have no business relationship with any company whose stock is mentioned in this article.