Sabrient's SectorCast ETF rankings solidified its defensive bent this week. Healthcare continues to lead, but Consumer Staples moved ahead of InfoTech into the second spot. On the bottom, Materials remains in the basement as the fundamentally most overvalued sector, but Industrials dropped quite a bit in the wake of its recent price momentum, which added to its already overvalued levels.
Latest rankings: This week, Sector Detector indicates that Healthcare (XLV) remains on top on a forward-looking basis, with the highest score of 87. It is now followed by Consumer Staples (XLP) at 75, which gives the model a more defensive bent. Recall that last week, XLP had reached a tie with InfoTech (NYSEARCA:IYW) for second place, and this week XLP edged up past it. Top-ranked stocks within these sectors include WellPoint (NYSE: WLP), Quest Diagnostics (NYSE: DGX), Kellogg (NYSE: K), and Molson Coors Brewing (NYSE: TAP).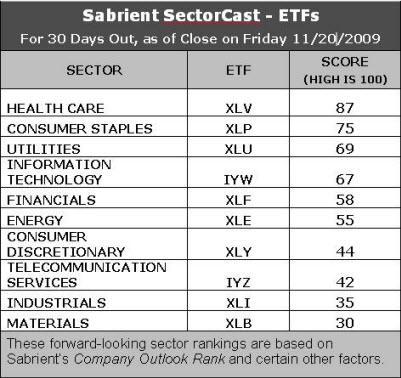 At the bottom, we see that the score for Materials (XLB) remains firmly in the 10th spot with a low score of 30. Industrials (XLI) is again in ninth at 35, which is 7 points lower than last week. Low-ranked stocks within these sectors include Alcoa (NYSE: AA), Weyerhaeuser (NYSE: WY), Monster Worldwide (NYSE: MWW), and PACCAR (Nasdaq: PCAR).
These scores represent the view that Healthcare and Consumer Staples stocks may be undervalued, while Materials and Industrials stocks may be overvalued.
Performance: The table below shows the performance of each week's portfolio as of the market close on Tuesday, 11/24/09. The top-ranked ETFs have continued to outperform the SPY, so a bullish-biased enhancement strategy worked well.


Furthermore, with the market taking a breather lately after its strong start to the month, the long/short portfolio has provided a solid return, easily outperforming a straight long position in the SPY. You can see that the two earlier long/short ETF portfolios are still lagging the SPY, which can happen during strong momentum rallies in which the more speculative names lead the market. But the table illustrates that a sound absolute return approach can churn out positive returns in any market climate.
Disclosure: Author has no positions in stocks or ETFs mentioned.