BlackBerry Limited (NASDAQ:BBRY) might be back in play. Lenovo (OTCPK:LNVGY) is said to be sniffing out BlackBerry and considering a bid for the company. Fairfax Financial Holdings Ltd. run by Prem Watsa has made a preliminary offer acquire BlackBerry for $4.7 billion or $9 a share at the end of September and voiced his intentions to take the company private. Interestingly, BlackBerry shares trade about 9% below the preliminary offer. Investors apparently fear that Prem Watsa will have problems in putting up the purchase price. Prem Watsa has commented on those concerns:
We wouldn't put our name to such a high-profile deal if we didn't feel confident that at the end of the day that our diligence would be fine and we'd be able to finance it … Short term these things fluctuate, there is speculation one way, there's speculation the other way. We never pay too much attention to the marketplace.
Given Fairfax Financial's deal completion record I would suggest that the acquisition could go through at $9 providing investors with an immediate 9% upside potential. Unless, of course, some other company swoops in and starts a bidding war for BlackBerry's substantial intangible assets.
BlackBerry has lost a lot of market share over the last four years as its products face intense competition from Google's (NASDAQ:GOOG) Android system and Apple's (NASDAQ:AAPL) iOS. Second quarter earnings were truly dismal with a colossal loss of $1 billion or $1.84 per diluted share (driven by excess inventory of its Z10 phone). However, BlackBerry holds very valuable patents especially related to its encryption- and security technology. BlackBerry's patent portfolio attracts attention and might suggest that Fairfax Financial is underpaying. Reuters reported today (October 18, 2013):
Chinese computer maker Lenovo, which has signed a non-disclosure deal to examine BlackBerry's books, faces regulatory obstacles if it bids for all of the company and will likely pursue just parts, a source familiar with the matter said on Thursday.

BlackBerry Ltd said in August it was exploring options that could include an outright sale. And the Canadian company, which helped pioneer smartphones, has since been linked with a string of potential buyers from private equity firms to rival technology companies.

Multiple sources close to the matter have told Reuters BlackBerry is in talks with Cisco Systems Inc, Google Inc and Germany's SAP AG among others, about selling all, or parts of itself. The potential buyers have all declined to comment.

None of these technology companies have made a formal bid for BlackBerry yet. However, industry experts believe that, while these players might not be interested in all of BlackBerry, they are keen on at least some pieces that would mesh well with or expand their own businesses.

Two sources said they expect some of these strategic players to be paired in bids for BlackBerry, depending on their level of interest its hardware and network assets.
Lenovo's deal rational
Lenovo is already doing active buy side due diligence and other companies like Cisco Systems (NASDAQ:CSCO) and Google have expressed their interest as well. A BlackBerry acquisition by Lenovo would make sense for the Chinese company. China's Lenovo Group is the world's top PC maker even ahead of Dell (NASDAQ:DELL). A purchase of BlackBerry would define and strengthen Lenovo's position in the lucrative Chinese mobile device market and also add to Lenovo's weak patent position. Lenovo would be able to leverage BlackBerry's technology know-how and add critical scale to its operations. A negative aspect, though not a deal-breaker, would be required regulatory approval for a Lenovo-BlackBerry deal as BlackBerry still has a fairly strong market position in the government sector providing it with vital encryption technologies. A sale to a Chinese company might face extra scrutiny from Canadian/US regulatory authorities on grounds of national security.
Alternative buyout offers
It is also at least a possibility that interested buyers form a consortium to purchase parts of the company. Cisco, Google and SAP could find interest in BlackBerry's security business. Microsoft's purchase of Nokia's device unit for $7.2 billion and Google's purchase of Motorola Mobility have proven that loss-making hardware businesses can be sold, too. While the messaging system/server network and patent portfolio are BlackBerry's crown jewels, the attached hardware business could simply be sold off as the above mentioned transactions have shown.
BlackBerry's operating losses cloud the picture of the true underlying value of BlackBerry's individual segments. Clearly, declining market shares and contracting sales are not necessarily raising BlackBerry's bargaining power in a proposed transaction. The following Sum-of-Parts table suggests that Fairfax is getting a steal at $9 per share.

Share performance
BlackBerry's share price reflects its losing competitive edge in its core smartphone market. Despite a strong market position in the government sector the market has lost confidence in BlackBerry and its service offering.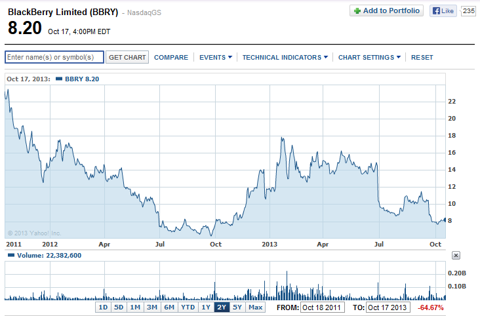 Where is the deal premium?
What I would expect as a shareholder in BlackBerry is that an acquirer pays a control premium for the proposed transaction. Microsoft's offer to acquire Nokia's device unit sent Nokia's shares materially higher. BlackBerry's shares have hardly moved on the buyout offer for two reasons: First, the buyout offer is significantly underpaying shareholders at $9 a share. Second, the market doubts the deal will go through and allows a discount of 9% to the proposed transaction price. The market is not too excited about BlackBerry's potential inclusion into the Fairfax Financial family.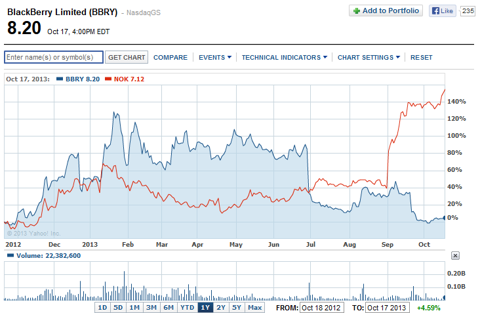 Conclusion
Prem Watsa's buyout deal isn't tucked in just yet. Lenovo's buy side due diligence suggests that the company has a serious interest in purchasing at least parts of BlackBerry's business. Other companies like Cisco, Google or SAP are also involved in talks but aren't providing details of how advanced those discussions are. It is possible that one or more companies launch bids for at least parts of the business which could quickly escalate into a bidding war. The loss-making hardware business could eventually be sold off and is not a fundamental obstacle to attract potential buyers. The $9 per share offer substantially undervalues BlackBerry which other sector players notice. The low estimate for BlackBerry's patents ($2 billion) and cash/investments alone cover 92% of the proposed transaction price per share. There is a good chance that alternative bids for BlackBerry are coming in any moment causing the Fairfax deal to fall through. After all, if the deal with Fairfax Financial is sealed why even bother allowing other companies check the books? I would expect a substantial deal premium similar to Nokia's sale of its ailing hardware unit. Nokia shares advanced over 40% immediately after the announced sale. If BlackBerry is being bought out by another player and/or a bidding war starts over its crown jewels, BlackBerry could quickly achieve Nokia's transaction premium and be heading for $12 a share or more. Speculative Buy on competing bids.
Disclosure: I am long BBRY. I wrote this article myself, and it expresses my own opinions. I am not receiving compensation for it (other than from Seeking Alpha). I have no business relationship with any company whose stock is mentioned in this article.