The drama queens in Congress finally approved a temporary fix and federal employees have come back to work. However, there was a gap in time where their absence meant some important economic data shifted to a parallel universe. It may take some time for the agencies to start publishing numbers again. We will see how much time.
But worry not, there is plenty of data out there to analyze with a cup of coffee; just relax and don't get absorbed by the ideological mind games that, sadly, some "investing" writers like to play and rant about. Usually the "sky is falling" ideas are portfolio-wrecking tornadoes.
So where are we now?
Toto, I've a feeling we're not in Kansas anymore.

-Dorothy; The Wizard of Oz
We haven't moved much really, despite Dorothy's weird feeling of being lost. There are no certainties in the market, only probabilities, and those are determined by conditions. Conditions have been fairly stable throughout the year. Here is what I mean by that. Back in June (4 months ago), I stated the following in my last article:
Given that many fundamental, intermarket and technical conditions still favor the uptrend in equities, and given deflationary forces are being seen as QE tapering deterrents, the "buy on dips and hold" strategy is still working.
That sentence pretty much summarized what happened in the first half of the year, and so far, it's also describing the second half. The 3 main bullets that are killing the volatility anxiety and keeping the bulls in control are basic, but also extremely important.
Reason #1: There is a reason why perma-bears have been crushed this year. When it comes to market performance, Bernanke is still dictating the rules. The Congress drama was bullish, as it may delay the possible taper. Even if tapering happens, it may not be by much ($10 billion?, $20 billion?). As of this day (October 17), the Fed is still distilling 85 proof. Any market correction should be seen as a buying opportunity. Keep it simple. Don't fight the Fed and its Jedi powers.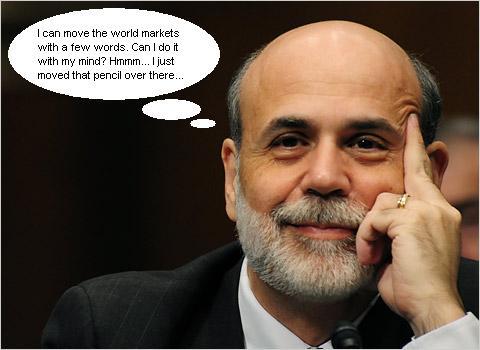 Inflation expectations, when used as a risk-on/risk-off switch or asset allocation tool/guide, are upside down in 2013 due to an easing monetary policy that is mostly unattached of calendar schedules and mainly tied to economic fundamentals. Low inflation expectations are giving a lot of flexibility to the Fed to continue its open market operations (which is bullish). That doesn't mean that corrections are not possible in this environment, nothing could be further from the truth. However, when reading the tea leaves, it is something very important to consider. It's good to be disciplined and follow the old wisdom that tells us about the inflation-to-stocks positive relationship, but sometimes we have to be willing understand that the Fed has the power to indirectly affect the dynamics of the moving parts. Right now, low inflation = good for stocks, not bad. That flexibility to adapt to changes is a major advantage that individual investors like us have over method-tied fund managers.
Reason #2: The main trend for the leading indicators is still bullish. Some of the components were negatively affected by the shutdown, like the initial unemployment claims for example, but this rocket is in a solid long-term uptrend. Why the ECRI Institute decided to blindly defend their recession call and become a perma-bear is beyond reason. If I were to initiate or close positions in equities based on their advice, I would have missed the huge rally that started in 2012's summer. If it hasn't paid for them to be nitpicky by choosing some numbers that fit their argument instead of following their own leading index trend (which has been bullish), then why should it work for us to be nitpicky?
If we go to the census page to look for manufacturer's new orders, we will find this (even today, October 17):
Due to the lapse in government funding, census.gov sites, services, and all online survey collection requests will be unavailable until further notice.
Well , if you trust the MAPI Manufacturing Index (which I do), there is good news to read:
The September 2013 composite index advanced to 66 from 58 in the June survey, the third straight quarterly advance and the highest level since the December 2011 reading of 66. For 16 quarters, the index has remained above the threshold of 50, the dividing line separating contraction and expansion.

"Most indexes improved in September, and several rose significantly," noted Donald A. Norman, MAPI senior economist and survey coordinator. "In particular, the large increase in the composite index and the jump in the U.S. prospective shipments and the backlog orders indexes point to an increased pace of manufacturing activity in the fourth quarter."
A jump in prospective shipments and backlog orders looks pretty good to me. Meanwhile, rate spreads still look bullish. The Libor/T-Bill spread narrowed sharply again in October, suggesting very low credit risk. It's at levels not seen since January 2011. The yield curve is still bullish, which can be conveniently illustrated by comparing short-term bonds (NYSEARCA:SHY) with long term bonds (NYSEARCA:IEF) or (NYSEARCA:TLT). It is also evident that bullish corporate bond investors have been seeking higher risk premium this year and, besides all the talk about fast rising interest rates, the S&P 500 (NYSEARCA:SPY) earnings yield is at 5.11%, still 236 bps over the 10 year treasury bond (about 86%).
A curious leading economic data point has been the average weekly hours of production for manufacturing. For the month of August, it was 41.9. That level was reached in February, and before that, is the highest level since 1998. A tenth of a point more would result in 42.0, a level not seen since 1945.
Reason #3: Remember those nasty corrections in 2010 and 2011? Many bears in the investing community were pretty sure that a market crash was imminent this past 1st quarter or during the summer. What many have seemingly forgotten is that those previous crashes mainly happened because of debt/liquidity problems in Europe. The sovereign debt markets went crazy back then for countries in trouble. Of particular importance were Spain (NYSEARCA:EWP) and Italy (NYSEARCA:EWI), given their big GDP's.
How is that tension faring now? Not bad at all. The outright monetary transactions (OMTs) kept the fire under control. Take a look at Spain's and Italy's 10 year bond yields below respectively. Both are currently well below 5%.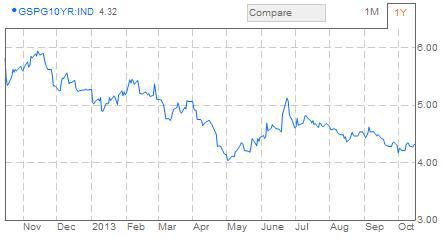 Source: Bloomberg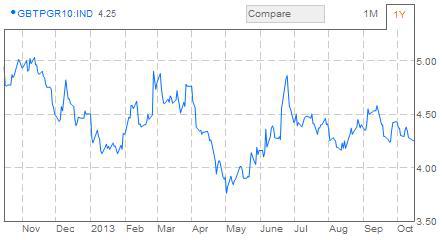 Source: Bloomberg
I do admit that some short-term technicals are not looking splendid and also recognize that we are in October, but as long as those 3 main factors remain true, the bulls should be in control and any corrections are buying opportunities. I'm mostly a stock picker and I have been watching and buying some stocks that I like this year. I mentioned some of them in my last article: Apple (NASDAQ:AAPL), Wal-Mart (NYSE:WMT), TGC Industries (NASDAQ:TGE), American Vanguard (NYSE:AVD), Insteel Industries (NASDAQ:IIIN), Japan iShares (NYSEARCA:EWJ), Cameron International (NYSE:CAM), Noble Energy (NYSE:NBL) and Thompson Creek (TC). As of today, I own shares of all of them except for Insteel (I thought it was a little expensive, but I could be wrong of course). I still believe these stocks should do well in the coming 4th and 1st quarters and I hope to write more about them in the future.
Until later, trade safe.
Disclosure: I am long AAPL, WMT, TGE, AVD, EWJ, CAM, NBL, TC. I wrote this article myself, and it expresses my own opinions. I am not receiving compensation for it (other than from Seeking Alpha). I have no business relationship with any company whose stock is mentioned in this article. Any content in this article should not be considered as a recommendation or investment advice given that financial objectives and individual needs of the end user have not been evaluated. Suggestions or tips are for information purposes only and there is no guarantee on stock returns or market performance. All readers must use their prudence and consult their financial advisors before acting on any of the securities or suggestions mentioned or engaging into any other high risk investment. I do not hold any responsibility and cannot be held liable for any losses incurred (if any) by acting on the information provided.