Tis the season for your photo to be printed on everything from a card to a calendar to a mug and dispersed to loved ones across the globe. Reflecting the rest of the retail market, the online photo services market garners much of its traffic and revenues in the last quarter of the year. Shutterfly (NASDAQ:SFLY) for example, reported 50% of its annual earnings in Q4 2008 alone. A snapshot of two of the leading online photo printing hubs reveals that recent weekly traffic well reflects this seasonality: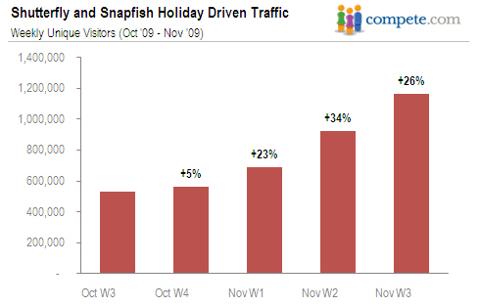 The two sites have been head to head in terms of unique visitors for years, with a slight lead for Snapfish in the past year. However Shutterfly's early launch of its holiday campaign proved to "outflash" Snapfish, magnetizing almost double the users to its holiday, gifts and cards sections on the site. Both sites have so far enjoyed rising immediate conversion rates; 9% of those who visited the holiday sections of the sites in mid October made an immediate purchase within the same browsing session. In mid November 13% of visitors made an order within the same browsing session.
Despite the holiday peak, the real buzz of this market is not seasonal at all. The online photo services providers have had to deal with users now electing to share their shots through their social network of choice (like Facebook) or favorite social photo sharing site (like Flickr). As a result, social photo platforms (including players such as Facebook, Flickr, Picasa, and TwitPic) have gained an additional 25% traffic since 2007, while the photo sharing section of printing sites (including KodakGallery, Snapfish, Shutterfly etc) have lost nearly 37% of their traffic in the same period. Overall, the photo printing sites have decreased 15% in the past year alone.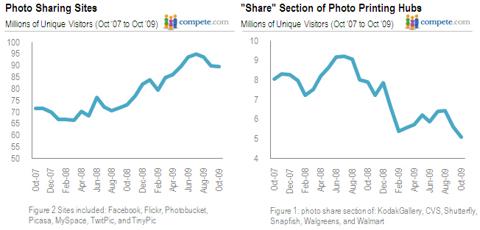 Classic photo printing hubs aren't just saying cheese and hoping for the best through continued online advertising. Instead, these companies are forging partnerships with the social photo sharing platforms. HP's Snapfish recently announced its new partnship with Yahoo's flickr and Kodak (EK) is now partnering with the Twitter photo sharing start up TweetPhoto.
With less than a month left for their busiest time of year, photo printing hubs are looking ahead at which new partnerships will prevent further traffic and revenue loss. The next peak during the Mother's-Father's day mini season promises to be an interesting photo finish.