This is the first part of a two-part report on NQ Mobile ("NQ", or "the Company"). In this part, we revisit our long thesis now that NQ has two quarters of history as a mobile platform company. In the forthcoming second part, we will share a detailed analysis of China's mobile Internet landscape and explain why we believe NQ is one of three structural long-term winners to whom the majority of the value created in the mobile sector will accrue (we believe Tencent and QIHU are the other two).
We have written several reports about NQ, the first of which was published in February of this year, when NQ was trading under $7/ADS. Since then, NQ has performed well, currently trading around $24, begging the question, how much more equity appreciation is there left?
We believe that NQ, the mobile platform company trading around $24, is more attractively priced than NQ, the security software company that once traded around $7. We set a new 12-month price target of $45.
We consider this call conservative and note that there is significant upside risk to our $45 target driven by continued industry consolidation (which favors leaders such as NQ) and the realization of a full pipeline of as yet unannounced strategic initiatives. Most imminently, the Company has a conference call scheduled for next week at 8 AM on October 22nd to discuss the release of a new product that could materially change our view of 2014.
We got our initial stock price call right largely on valuation and industry trajectory, but we admit to whiffing the most important call: We were wrong about management, whom we reluctantly gave the benefit of the doubt but should have valued more fully instead. We severely underestimated the strategic prescience and operational execution of Chief Executives Dr. Henry Lin and Omar Khan, and we were skeptical of how quickly the acquired teams at Feiliu (now FL Mobile, "FL") and NationSky ("NS") would create accretive shareholder value.
In less than a year, quietly, like a freight train running through the night as competitors were asleep, NQ has steadily established a pole position in China's emerging mobile Internet industry and now operates a leading multi-channel distribution network that offers consumers and businesses alike various products and services from both NQ itself as well as industry-leading content and platform partners (such as Tencent and Samsung).
Last week's sell-off coupled with the recently announced convertible note offering that cashes up NQ's balance sheet by an incremental $172.5 million provided the perfect setup to rectify our mistake of not buying much more when we initiated our position. Despite having never sold a share, we just got max long.
I. NQ's Metamorphosis a Major Change to the Long Thesis
NQ's Security Foundation
Investors who bought NQ at $7 were buying a mobile security software company that mainly leveraged Chinese smartphone supply chain partnerships and both domestic and global retail partnerships for distribution. The Company was basically the Chinese version of American company Lookout, although NQ's team would argue that their long-term strategy, technology, global footprint, and distribution relationships were differentiating. Either way, the key point is that NQ's value chain used to look like this:

Source: Toro Investment Partners
And the Company's financial trajectory looked like this: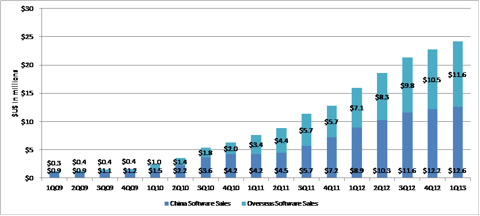 Source: Toro Investment Partners, Company filings
Then, NQ was primarily a deep value buy, with double-digit FCF yield and single-digit multiples of earnings despite two consecutive years of triple-digit sales growth with expanding margins. The Company had low monetization rates (<2% of registered users and ~5% of active users) that could drive significant upside to guidance with modest improvement. Investors got free upside from any of multiple ways in which the Company was preparing to transform itself as it executed its highly aspirational "1-2-5" corporate strategy, named after the goal of generating revenue run rates of 100, 200, then 500 million USD via diversification into the enterprise and other consumer services. That was the long thesis in a nutshell.
However, there were many strategic and execution-related uncertainties. Could NQ pull off its two acquisitions successfully? Could it then integrate multiple consumer services into one monetization platform? While doing all that, would management keep its focus and deliver financial results commensurate with expectations? And, perhaps most importantly, would NQ be able to innovate in mobile, the most hotly contested technology market in China, as it transformed itself?
Not quite a year later, we have answers to all those questions:
The acquisitions were pulled off successfully. Not only were the companies integrated quarters ahead of our expectations, every single executive from FL and NS is still in their seat, and the performance of each acquired business, and therefore also NQ's, has improved markedly - more margins, more growth, more deals.
Every consumer offering is now part of what we call the value-added services (VAS) division and is integrated into the centrally managed Business Operations Support System (BOSS) CRM system that has successfully delivered incremental overall monetization (this point is of utmost importance) two quarters in a row.
The management team beat (not just delivered) expectations while tackling a mountain of strategic activity.
NQ's commitment to R&D has not wavered and is likely to increase. One indicated use of the recently raised cash is to fund working capital for further innovation. If products such as the BOSS-powered "offer wall" advertising technology that connects all of NQ's consumer value-added services or the Music Radar search app are any indication, innovation may be how NQ most surpasses expectations in the future.
An Emerging Global Mobile Platform
NQ is a fundamentally different company today. The Company's business model changed from software sales to multifaceted monetization that includes consumer software sales, in-game purchases, advertising for third-party app developers, enterprise sales and, soon, handset insurance and search. NQ's value chain now looks like this: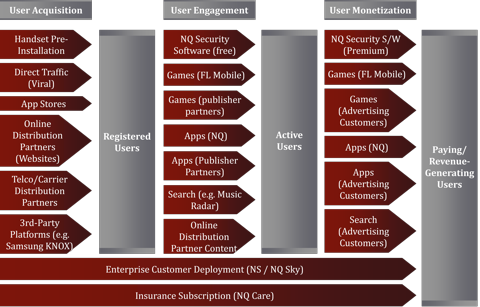 Source: Toro Investment Partners
And its financial trajectory, per the latest sell-side consensus estimates, looks like this: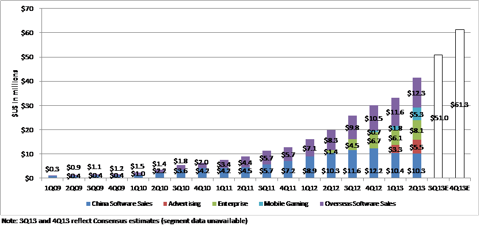 Source: Toro Investment Partners, company filings, Bloomberg
We consider these consensus projections incomplete because they do not include, at least not fully, several key announcements such as the America Movil deal, the handset insurance deal with Assurant, and others (more on this later).
A year ago, NQ's transition to platform and its more expansive market position were both aspirational, the product and business model innovation we are seeing today was speculative, and all the deals that NQ has now executed were uncertain. Investors who buy NQ today are buying an already successful multifaceted mobile platform that is rapidly taking share of its global market.
At $7, investors looking to double or triple their investment were hoping that any of numerous favorable strategic developments might occur. Today, those developments have already been realized or contractually locked up and announced, and investors are waiting for them to ramp. Big difference in risk/reward.
Moreover, the free option that $7 investors were getting through NQ's pipeline of unannounced strategic initiatives has never been more valuable than it is today, as the pipeline has gotten fuller and more robust. In other words, perhaps the most important part of the second value chain diagram above is what is not on it: all the new value-added services and service categories that will be added synergistically to NQ's quickly growing platform in the near future.
Valuation
One would think that such significant changes to the investment outlook would be reflected in the stock price more fully, but NQ's undervaluation relative to both the fundamental realities of the business and the valuations of comparable companies remains extreme, as our analysis shows below.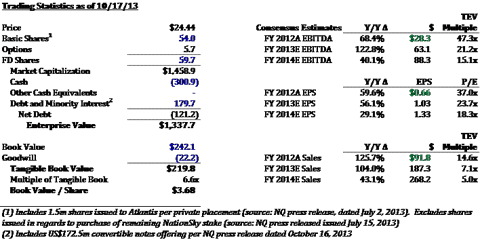 Again, we feel that the forward (2014) figures are substantially understated in the consensus sell-side estimates we used. In the ensuing section, we discuss some of the drivers of material upside incremental to the 2014 projections used in this valuation analysis.
But for now, even if we assume that the current 2014 consensus projections are accurate and all of the numerous drivers of incremental value do not pan out, the major valuation disconnect relative to comparable companies remains:
If NQ were to trade in line with the average 2014 EBITDA multiples for its comp set, its shares would currently be valued in the high $30s per share.
If NQ were to trade in line with the average 2014 earnings multiples for its comp set, its shares would currently be valued around $50-65 per share.
Share price levels in between those implied by earnings and enterprise multiples would result if NQ's 2014 PEG or growth-adjusted EBITDA multiple were to revert to the mean of its comp set.
Our 12-month $45 price target assumes NQ will re-rate due to either multiple expansion or earnings outperformance (driven by 2014 growth that is not currently modeled properly by the Street), but not both. As already mentioned, there is material upside to our price target if both multiple expansion and incremental earnings growth occur simultaneously, or if new initiatives beyond those currently announced materialize (one such initiative may materialize as soon as next Tuesday, when the Company plans to introduce a new product).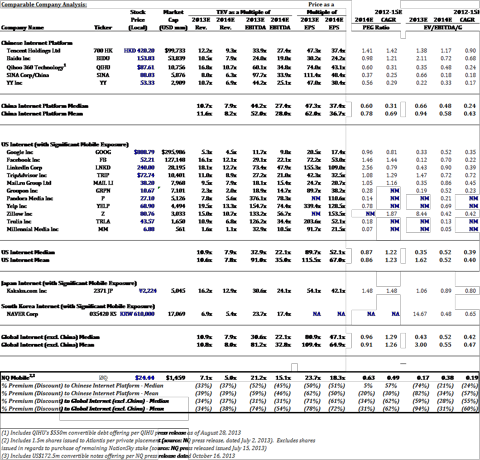 II. 2014: NQ's Banner Year
Lost in the flurry of strategic activity that has been disclosed so far in 2013 is the simple fact that the market has yet to price most of it in. Sell-side estimates have been raised incrementally every quarter this year, mostly on the improved quarterly outlook that the management team has guided to in the past three earnings announcements. But the step function increases in revenue we should expect in 2014 from recently announced new business categories (such as insurance and search) and new significant deals have not yet been modeled in.
Consequently, consensus estimates, which call for 41% revenue growth in 2014, understate the Company's prospects, thereby making NQ's undervaluation (as detailed in the prior section) not merely severe, but egregious once again. We believe today's discount is greater than it was at $7 (refer to our first report for past details) even though the current diversified state of NQ's business and its improved competitive position in a much larger addressable global market makes the risk/reward profile of the investment much more attractive. Really, the entire thesis has changed for the better while the dislocation between price and value has remained.
NQ's annual Investor Day event in mid-November is a logical venue in which the Company might provide some guidance on what 2014 will look like, if not financially, then at least from a strategic standpoint. While the sell side waits for that guidance before revisiting forecasts, there is a window of opportunity for investors to take advantage of the valuation disconnect.
To provide some perspective, we first list what we consider to be the major announcements of 2013 (so far) followed by selected analysis of how financially impactful some of these announcements are likely to be.
Significant Strategic Developments of 2013
We have organized all major strategic developments into five categories:
1. New product launches
a. 2/21/13: Commercial launch of NQ Sky, NQ's enterprise MDM solution
b. 9/3/13: NQ Care, a new mobile device protection and insurance service initially aimed at the Chinese market that will be launched in partnership with American specialty insurance company Assurant (NYSE:AIZ)
c. 9/13/13: Commercial launch of Music Radar, NQ's content-based music search application
d. 9/17/13: Launch of FL Mobile's 3D action-puzzle mobile game "Gods & Dragons" in the US and Canada
2. Business development
a. 7/9/13: Announced MDM services agreement with Guangzhou Overseas Chinese Hospital (in cooperation with GE Healthcare China) and AnBang Insurance Group
b. 8/2/13: Renewal of China Mobile contract for mobile monitoring, alerts and other security related services
c. 10/16/13: Integration of NQ Sky MDM technology with Samsung KNOX enterprise mobile security platform for enterprise Android deployments that use Samsung devices
3. Distribution deals
a. 1/7/13: Partnership with I-Mobile, a leading mobile handset provider in Thailand and Southeast Asia, to pre-install NQ Mobile Security in its Android phones
b. 2/1/13: Diamond Mobile, an authorized Verizon Wireless retailer, to begin offering NQ's mobile product suite to more than 210 retail locations in the Western and Southern US
c. 2/7/13: 4Q Wireless, a premier Verizon Wireless retailer, to begin offering NQ's mobile product suite in 120 retail locations in California and Nevada
d. 2/9/13: Agreement with US Cellular to offer a white label version of NQ Mobile Security
e. 3/4/13: Partnership with America Movil to offer NQ's mobile product suite to its 262 million customers in Latin America
f. 4/4/13: Partnership with Russell Wireless (Verizon Premium Wireless Retailer) to offer NQ's mobile product suite in 170 retail store locations
g. 4/11/13: Exclusive alliance with Axiom Telecom to pre-load NQ Mobile Security into Android phones sold to its customers in the Middle East
h. 4/22/13: Retail partnership with 114 Cricket and Metro PCS authorized dealer stores to market NQ's mobile product suite
i. 6/24/13: Agreement with Target (NYSE:TGT) to market NQ's mobile product suite in 1,500 Target stores in the United States
j. 6/26/13: Expansion of US Cellular relationship to include white label versions of NQ Mobile Security and NQ Mobile Vault
k. 9/26/13: Expansion of pre-installation agreements with Huawei, ZTE (OTCPK:ZTCOF) and Lenovo (OTCPK:LNVGY). Huawei and ZTE to include pre-installation outside of China.
l. 10/10/13: Partnership with TTPod and Kugou, two of China's largest online music players. TTPod and Kugou will utilize NQ's core audio and music search technology, as well as share its user traffic with NQ
4. Platform deals, i.e. deals in which partners leverage NQ's mobile platform to launch new products or services on the NQ network
a. 7/11/13: Signs a strategic agreement with Tencent's "Five Colored Stones" game studio for operating rights of a selection of the studio's games
b. 7/23/13: Signs strategic cooperation agreement between FL Mobile and Baidu (NASDAQ:BIDU), with Baidu Duoku becoming the exclusive publisher for FL Mobile's "The Martial Arts Champion" mobile game
c. 7/30/13: FL Mobile becomes a game content provider for China Mobile's Game Center
d. 9/4/13: Publishes Perfect World's (NASDAQ:PWRD) popular mobile game "The Condor Heroes" on the iOS platform
e. 9/23/13: FL Mobile becomes the exclusive publisher of Tencent's "Fight Three Kingdoms" mobile game, signaling a deepening of FL Mobile's relationship with Tencent
5. M&A
a. 7/15/13: Acquired the remaining 45% stake of NationSky for $25.2 million, completing the consolidation of the business into NQ Mobile
NQ has certainly been busy this year. The majority of this activity has not been priced into the stock. We analyze just three of the 25 announcements that we considered major (there were more) below.
America Movil Deal
America Movil (NYSE:AMX) is the third largest telecom wireless carrier in the world and the dominant Latin American carrier. It operates in 18 countries across Latin America, the Caribbean, and the US and has approximately 262 million customers.
Because details of the partnership are sparse at this point, we have kept our assumptions conservative in assessing the deal's potential impact to 2014 EPS, assuming that the deal only generates installations from 20% of AMX's customer base, of which only 5-10% generate revenue at a modest $20 subscription per annum with below-market revenue share of 25-30% to NQ. Since NQ's role is that of technology partner and AMX will bear all the marketing and distribution costs, we assume 95% margin on the revenue.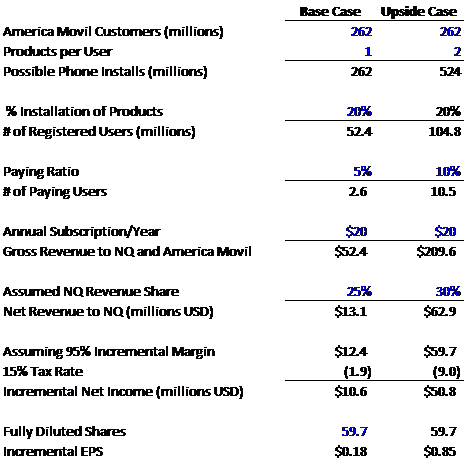 Sell-side consensus estimates (per Bloomberg) assume GAAP EPS of $0.913 and adjusted EPS of $1.334 for 2014. Taking the midpoint of a fairly conservative set of assumptions, our back of the envelope suggests an incremental $0.50 of EPS, or a 55% increase in GAAP EPS and a 37% increase in adjusted EPS for 2014.
NQ Care
In the handset world, the most lucrative add-on product or service, by far, is handset insurance. Handset insurance is so high in margin and has such a high ROI that in several developed markets, insurance is bundled with free software (security, productivity, etc., for which the insurance company pays full royalties) to increase attach rates at the point of handset purchase.
For a reality check, we interviewed a US-based handset insurance provider (unnamed for confidentiality) that operates the insurance service for a major carrier. The gross profit on their insurance product exceeded 85% and attach rates are north of 25%, although they vary by region and year. We substantially discounted this feedback in our analysis for conservatism.
Unlike the AMX deal, the NQ Care partnership with Assurant has NQ in the distribution driver's seat. Therefore, the rollout of NQ Care is largely in NQ's hands, which gives the Company more visibility on likely subscriber reach. Based on our interviews with management, we have more comfort that our assumptions are in the right ball park than with our AMX projections.
In distribution partnerships, usually, the distributor receives the majority share of revenue. However, given the specialized nature of the product, and for conservatism, we assumed a 50%/50% revenue share.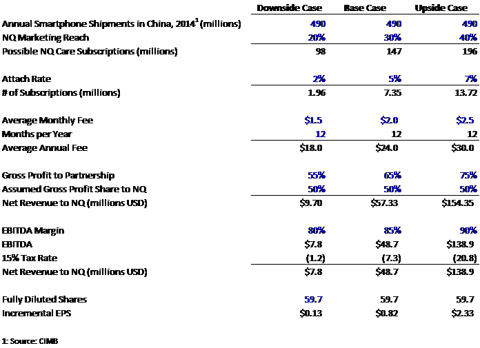 Our base case suggests an incremental $0.80 of EPS, or an 88% increase in GAAP EPS and a 60% increase in adjusted EPS for 2014.
Music Radar
Although the potential of the AMX and NQ Care deals is certainly exciting, we believe that the stunning growth achieved by NQ's music search service Music Radar, developed by a majority-owned (52%) subsidiary of NQ, is the most important development of 2013 from a strategic standpoint, even if Music Radar has yet to generate a single penny of revenue.
Developing a killer app is perhaps the most difficult feat in mobile Internet today. Throughout the world, entire companies and hundreds of millions of equity value have been created by the invention of a single app. We believe Music Radar is one such app and will pave the way to broader search monetization in 2014.
London-based music search company Shazam, which operates the world's most popular music search app, is an interesting case study. Although Shazam is largely a Western monetization phenomenon at the moment, with low penetration by revenue in Asian countries, the company's path to ubiquity and impressive monetization in the West lends clues to Music Radar's potential in China and beyond.
Shazam counts approximately 350 million registered users and 70 million monthly active users worldwide. Through its in-app song referrals to online music stores, Shazam generates approximately $300 million in annual digital music sales (for which it receives lead generation fees). That's roughly 10% of the entire digital music industry as of 2012. More recently, Shazam has leveraged its position as a leading music service to provide search and discovery services for TV and ads as well.
The Financial Times published that Shazam's most recent round of funding values the company north of $400 million, and management is targeting an IPO valuation north of $1 billion. Whether or not that valuation will be achieved or not remains to be seen, but it is undeniable that music search is an exceptionally popular and sticky service with significant monetization potential that the markets will recognize.
To provide some perspective on how impressive Music Radar's success to date really is, consider that Shazam, which has been around as long as iPhones have, currently processes about 100 million music searches a week. Music Radar, which just came out of beta on 9/13/13, is already processing 21 million searches a week. What's more, it has been downloaded 15 million times already and features several innovative technology features that even Shazam cannot replicate - for example, extremely fast music recognition (song identification in about half the time of Shazam) and the ability to accurately match the pitch and tone of a user's humming to a song.
The macro backdrop in China supports continued wild success for Music Radar. The massive Chinese populace has a voracious appetite for Internet-related activities, outpacing the media time spent online of even US consumers…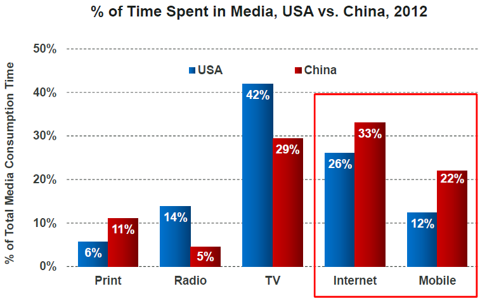 Source: Kleiner Perkins Caufield Byers
… with a high affinity for online music, the third most used mobile service after IM and search.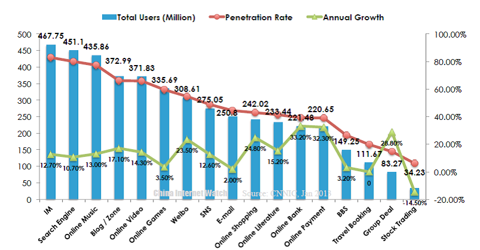 Source: CNNIC, June 2013
The most incredible thing about Music Radar is that NQ investors are getting its value for free anywhere near today's $24 levels.
All the calculations in this section are obviously directional in nature and were done for illustrative purposes, since it is impossible to be more precise at this juncture without specific guidance from management.
That said, even if our assumptions are wrong by as much as 50% or even 75%, or execution is delayed by, say, two to three quarters for any of these initiatives, the incremental EPS growth attributable to even one of these strategic developments points to substantial incremental upside beyond consensus forecasts.
III. An Ideal Setup with Imminent Catalysts
Short Squeeze Ahead
The pervasiveness of the short interest in NQ begs the question, what exactly do the shorts know that escapes the likes of co-CEO Omar Khan (a "hired gun" who chose mostly equity as compensation after doing the extensive due diligence that befits someone risking a highly pedigreed career), VP of Capital Markets Matt Mathison (a former hedge fund manager who also joined NQ mostly for equity and has had ample time to vet any allegations as an insider with full access), the entire management teams of FL and NS (who took the vast majority of their acquisition consideration in equity), Big 4 auditor PWC, leading HK-based mutual fund Atlantis (who had the benefit of doing full due diligence using third-party advisors such as Macquarie before their PIPE transaction), all the blue-chip local OEMs that agree to pre-install NQ on their handsets (e.g. Samsung, Lenovo, Huawei, ZTE, Nokia (NYSE:NOK), Motorola, et al.), all the blue-chip local carriers that choose to partner with NQ (e.g. China Mobile, China Telecom (NYSE:CHA), China Unicom (NYSE:CHU), Taiwan Mobile), all the blue-chip local consumer companies that enter into contractually binding partnerships with NQ (e.g. Tencent, Perfect World, TTPod, Kugou), all the foreign carriers that choose to partner with NQ (e.g. America Movil, Cricket), all the blue-chip foreign retailers that distribute NQ product (e.g. Target, Verizon Wireless), and recent investors such as Morgan Stanley and Deutsche Bank (both firms that conducted their own deep due diligence and have much more than their investment at risk, given their stature in the global capital markets)?
Really, what do the shorts know that all those people and then some don't??
Based on the occasional poor-quality hit jobs that float around the online investment community once every quarter or two, the answer is, absolutely nothing. If there is one short seller allegation with factual validity, we would love to hear it, because so far, nothing resembling a coherent argument has surfaced.
And yet:

Full disclosure: We have loaned all our holdings (total quantity of ADSs in the seven figures) to collect an incremental ~8-12% yield on our equity at the expense of short sellers who pay us to borrow our shares.
Another Strong Quarter Awaits
Q3 performance is no mystery given the pre-announcement of a sales beat. At the very least, we know the quarter won't be a negative catalyst. NQ's new integrated value-added service model should continue to drive margins upward as any incremental monetization from the advertising product (offer wall) largely drops to the bottom line.
The rate of advertising in app stores is increasing quickly in China as the market gets more competitive and user adoption of mobile skyrockets. This should not surprise anyone who followed performance-based online ad models in the past. BIDU, for example, experienced similar pricing power during the early days of search monetization and continues to see some price inflation even as its business matures.
One industry check we did last month with a top app store operator (name withheld for confidentiality) pointed to an increase in the CPA (cost per acquisition, which, in the case of mobile app stores, is a user registration) paid by game developers of over 35% quarter on quarter in Q3. We interviewed over a dozen mobile app developers who, on average, largely confirmed the trend.
Notable Post-Earnings Catalysts for the Remainder of the Year
Annual investor conference in November. NQ will host its annual investor conference in NYC after the Q3 earnings release. If last year's attendance, even as the Company was largely left for dead in the markets, and the turnout at various conferences in which NQ has since presented are any indication, we expect this year's event to be absolutely packed. The Company has never failed to make at least one major announcement at any of its scheduled events since going public. We expect some good news in November.
Full strategic pipeline. Omar Khan stated last week in the conference call to discuss the convertible note offering that NQ's pipeline of deals and major product launches remains fuller than it has ever been. As NQ has rattled off over two dozen substantial announcements so far in 2013, that is certainly saying something.
Continued progress in search. Now that NQ has reported monthly usage statistics for Music Radar, we should expect regular updates. Given Shazam's pending IPO and the $1 billion market cap valuation target, we expect investors to pay much more attention to NQ's progress in audio search going forward. Furthermore, we believe that Music Radar is just the first search service of many that NQ will introduce. Co-CEO Dr. Lin has already stated,
"Music Radar is just one use of this unique audio recognition technology. For the future, we plan on growing and enhancing the application and associated solutions to meet the needs of our changing world."
We expect NQ stock to go ballistic upon the announcement of new search products. As we discuss in a forthcoming section dedicated to competitive positioning, we believe search will be one of the most hotly contested segments of Chinese mobile Internet in 2014 now that Tencent and QIHU, the two large-cap Internet stocks with the most success in transitioning to mobile, both have search services (Tencent via its acquisition of SOHU's Sogou search engine). We predict that NQ will be a major player in mobile search in 2014, and that will become increasingly evident throughout the rest of this year, driving share price appreciation through multiple expansion.
Bulge bracket sell-side coverage. NQ has always suffered from poor Wall Street coverage. There are zero bulge bracket brokers who cover the Company. But that is about to change. NQ's recently announced convertible note offering was led by Morgan Stanley and Deutsche Bank. As is customary with these offerings, the brokers who participate will initiate research coverage. Timing sure seems ideal either right before or immediately after NQ's investor conference.
Strategic use of newly raised cash.
IV. A Fully Funded Growth Plan
On October 7, 2013, around US market close, NQ announced the pricing of $150 million worth of convertible senior notes due 2018, granting initial purchasers Morgan Stanley and Deutsche Bank a 30-day option to buy an incremental $22.5 million, an option they chose to exercise as announced on October 16. On October 8, NQ held a conference call in which it clarified various misconceptions about the offering and subsequently published the key details in a press release.
The conference call quickly squashed several unfounded concerns about the offering:
Dilutive acquisition. This one was the most perplexing to us. Given the Company's exceptional and recent track record of creating enormous value through highly accretive acquisitions, shareholders should cheer any potential M&A activity. In any case, the management team stated firmly that only accretive acquisitions like the FL and NS deals from last year would be considered.
Dilution on conversion. What a short-sighted concern. Conversion cannot even occur, let alone be dilutive, unless NQ trades up ~30% from the closing price on October 8, 2013, by which time a tremendous amount of shareholder value will have been created-potentially, in part, through the strategic deployment of the new capital. Many Chinese Internet leaders such as NQ have historically taken advantage of convertible notes to tap US capital markets for additional liquidity since access to capital in China is much scarcer. Two very recent examples include Qihoo 360 raising $600 million on September 5 and Ctrip (NASDAQ:CTRP) raising $800 million on October 17. Both used practically the same structure as NQ, which is by now a best practice in China for quickly growing market consolidators with imminent strategic opportunities
Those DSOs must be creeping up again… The team specifically stated that any use of cash for working capital would fund the development of high-potential products such as Music Radar, the wildly successful recently announced music search service that leverages internally developed audio recognition and search technology.
Why not a term loan? We too thought a term loan might have been a good alternative until we discovered the low 4% coupon on the convertible notes (as compared to 8-10% for a comparable term loan which would undoubtedly be coupled to a long list of restrictions on how the capital can be used). Aside from how cheap the deal was for NQ and its shareholders, when you consider the addition of two blue chip institutional investors upon conversion, the benefits of sell-side research coverage from said bulge bracket firms, and the optical benefit of their implicit endorsement of NQ's financials and market opportunity after rigorous due diligence, how can you not like this deal?
One topic that was not discussed on the call is NQ's need for that much cash. After all, NQ has cash equivalents worth only a little less than the capital it just raised and has one of the highest FCF yields in its sector. The question of why an offering of any kind is needed given NQ's robust net cash position is a fair one.
As we explained in our past writings, no major telecom carrier will take any business or macro risk with a commercial partner, and all require that any partner maintain a net cash balance high enough to guarantee the ability to withstand even major systemic shocks without service disruption.
Shareholders who bought NQ right before the closing of its FL and NS acquisitions have realized a 4x appreciation of capital in less than two years. Last week, NQ announced Music Radar's aforementioned stats along with a pair of distribution deals with China's two largest music portals TTPod and Kugou, which have yet to launch. Given these recent examples of how NQ uses cash, how anyone can see the new capital raise as anything but bullish is beyond us.
Disclosure: I am long NQ. I wrote this article myself, and it expresses my own opinions. I am not receiving compensation for it. I have no business relationship with any company whose stock is mentioned in this article.
Additional disclosure: Refer to additional disclosures here: toroip.com/disclaimer-nq.html.