Recommendation: Short Equity
12 Month Price Target: $52
Company Description:
Deckers Outdoor Corporation ("Deckers") (NASDAQ:DECK) strives to be a premier lifestyle marketer that builds niche brands into global market leaders by designing and marketing innovative, functional and fashion-oriented footwear developed for both high performance outdoor activities and everyday casual lifestyle use. Deckers believes that their footwear is distinctive and appeals broadly to men, women and children. Deckers sells their products, including accessories such as handbags and outerwear, through quality domestic and international retailers, international distributors, and directly to end-user consumers both domestically and internationally, through their websites, call centers, retail concept stores and retail outlet stores.
Deckers primary objective is to build their footwear lines into global lifestyle brands with market leadership positions. Deckers seeks to differentiate their brands and products by offering diverse lines that emphasize authenticity, functionality, quality, and comfort and products tailored to a variety of activities, seasons, and demographic groups. Deckers' continued growth will depend upon the broadening of their products under each brand, the appeal of their products to their consumers, expanding domestic and international distribution, successfully opening new retail stores, increasing sales to consumers, and developing or acquiring new brands.
Situation Analysis:
Analysts are divided on this name. The difference between the high and low price target is $50.
Some of the questions surrounding Deckers include:
Whether milder winters will persist? Answer: This winter is likely to be mild
Whether build out of owned retail stores is an effective strategy? Answer: Likely to boost SG&A, impacting margins. Management guided that new stores are lower margin business
Should investors accept management guidance for margins and revenue? Answer: On a case by case basis, looking at each line item
Is the UGG brand losing customers' interest? Answer: Appears to be
Will wholesale revenue continue to decline? Answer: Trend has been for decreasing orders, no imminent catalyst to reverse this trend
I am taking the position at the low end of the price target range. I believe the stock is relatively fairly valued at these levels and may be a short if 3rd quarter results are below consensus. My valuation does not yield a price target outside of plus or minus 20% of the current price, so because of this I am neutral. My argument of why I am not bullish is summarized below:
Brand shows signs of losing customer interest (per market research and Google trends)
COGS (Sheepskin pricing) is going to affect margins going into 4th quarter and forward, but is not likely to impact future earnings growth enough to justify 20% upside to current price, and growth of EPS will not be able to resume at high previous rates
Shortened holiday season and weak retailer traffic occurring in 2H 2013
Wholesale sales have been weak in past few quarters: indication of demand for brand waning. In June 13 quarter, wholesale was down over 10% year over year with UGG wholesale down over 20% year over year
The Bull Case and My Responses:
UGG Pure (Wool Substitute) likely to boost margins (It will boost margins, however, not enough to move this stock from current levels or change growth profile trends)
If weather is colder this year, could see boost in sales (Unlikely given September trends and predictions for weather)
Inventory level balanced, preventing large markdowns (Agree with this item, however, does not add upside just limits downside)
Overseas opportunities in U.K., Asia, and Europe likely to improve soon (Agree, but do not see growth occurring as quickly as investors might be expecting. International retail growth strategy is also going to have lower margins)
E-Commerce results were strong (I like the e-commerce growth potential but they are going to face competition, as every retailer is utilizing e-commerce and social media)
Input Costs: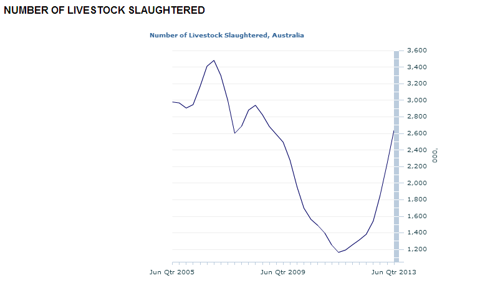 Number of sheep slaughtered has been increasing in recent quarters indicating potential input pricing benefits in the future
Management recently stated they are looking to use pure in 10% of their product by end of 2013 and 25% over longer horizon. Expect most of major impact to be in FY14
Weather:
Weather trends for September of this year do not show a colder fall season. No major difference from previous year of warming, suggesting limited benefit to be found in 3rd quarter due to weather
"It's a slow start to the winter season to the East," according to a meteorologist with Accuweather. "It's going to feel like fall going into next week and into late October. We're not really getting into the deep cold yet." The beginning of winter 2013 is expected to be mild with minimal snow. In January temperatures are predicted to drop and there should be more snow, though totals will likely not exceed previous years' levels
Wholesale:
Wholesale net sales for Q2 2013 of UGG brand decreased primarily due to the volume of pairs sold, partially offset by an increase in the average selling price
Customers had inventory carryover as a result of warm winter the previous year, reducing orders. This was aggravated by a new trend of on-demand purchasing whereby consumers shift the timing of their purchases to when they plan to actually wear the shoes
Brand Interest:
Looking at recent search trends, interest in the brand appears to be waning. Each season's search query peak is progressively smaller based on core search terms (UGGS, UGG, and UGG boots). Brand interest appears to be declining year over year as peaks continue to decrease. Ran search on uggs, ugg, and ugg boots which all had same trend. Google is a large driver of E-Commerce traffic and also is an indicator of overall interest in purchasing the product in retail locations
According to NPD, a market research firm, sales of UGG boots have been declining year over year in recent months (July and August)
E-Commerce Review:
E-Commerce has been a bright spot in otherwise weak results. Sales from E-Commerce were up 34% in the most recent quarter year over year
Metrics below suggest increased engagement on deckers.com
Source: Alexa (three trailing months data)
Shopping Traffic Trends Fall 2013:
Johnson Redbook Index data released October 15, 2013 showed national retail sales up 3.2% so far in October, below expectations for a 3.6% gain
Mall foot traffic is down per below graph
"Although the economy continues to recover slowly, consumers remain cautious about spending and are not ready to splurge," said ShopperTrak Founder Bill Martin
Retail sales are forecast to rise 2.4 percent during the holiday season of November and December. However, shoppers are expected to visit fewer stores. This means promotions are going to be heavy in order to get shoppers in and full-price offerings may not be able to be sold in large quantities
Source: ShopperTrak's data and analyses
International:
Continuing growth of retail overseas with a majority of new stores to be opened in 2H 2013 located overseas
In dollars, international sales increased for the six months ended June 30, 2013 versus 2012. The increase in the dollar amount of international sales was largely due to increased retail and e-commerce sales
Modeling international revenue to increase to $650 million by 2017, however, not a billion dollar opportunity for this retailer over five-year horizon
Recent Stock Run:
On the second quarter earnings call, management stated approximately 85-90% of second half earnings are expected to occur in the fourth quarter. However, if revenue is not as expected, the fiscal year results could be a disaster. Stock has already had a very strong run over the past six months, currently near its 52 week high, may be a good time to take profits.
Investor Base:
Notable value investors include Tilson, Cibelli and Kolatch
Valuation:
12 month price target is a weighted average of:
• Comparable Company Analysis to peer group (50%);
• Five Year Discounted Cash Flow Analysis (50%)
Weighted Price Target of $52
Disclosure: I have no positions in any stocks mentioned, but may initiate a short position in DECK over the next 72 hours. I wrote this article myself, and it expresses my own opinions. I am not receiving compensation for it (other than from Seeking Alpha). I have no business relationship with any company whose stock is mentioned in this article.