Netflix (NASDAQ:NFLX) has had a spectacular run over the last year rising from $54 to the current $322.50 for a return of 497%. The rise has been solely due to the streaming business and the quest for a piece of the future expected cash flows that investors believe will materialize and grow exponentially. The question becomes what is left to drive the stock higher from here?
Business Overview
NFLX is the world's largest internet subscription service for assessing TV shows and movies. In the US, subscribers can also receive standard definition or Blu-ray discs delivered directly to their homes. As of June 30, 2013, the company had about 37.6 million streaming subscribers (domestic 29.8 million, international 7.8 million) and about 7.5 million DVD subscriptions. The company offers a plethora of subscription plans, with no due dates, no late fees, no shipping fees, and no pay-per-view fees. (S&P)
The company uses a proprietary algorithm to determine which titles are presented to subscribers. This helps the company manage its inventory while keeping the customer engaged and using the service. The ability to generate demand for older titles while maintaining top-notch customer service helps the company maintain margins, subscriber acquisition costs, churn rate, and lifetime subscriber profit.
The Growth Story
NFLX is the differentiator and disrupter in the space displacing an entire brick-and-mortar industry (Blockbuster Video and Hollywood Video). The company made a successful transition from a mail-order DVD rental business to a streaming business video on demand (SVOD) model in the US and more recently internationally. In the US especially, there is a voracious appetite for supplemental video content to pay TV subscriptions.
Short Thesis
The stock is up considerably as the company has been adding subscribers at roughly 1.2 million per quarter (source). Investors believe that this subscriber growth with continue for years to come. However, the problem with the business model is that they need to provide an incremental value proposition meaning it must be continuously improving its content to the customer while staying competitive on price. The growth is more due to the company having a first-to-market advantage rather than a competitive advantage that keeps out new entrants. And that growth is likely to have drawn the attention of many of the operators and content providers.
Competition remains the largest threat to the company going forward and a comparison to an existing company is apt. Tivo (TIVO) was a first to market company with a service and business model similar to that of NFLX. TiVo today is mostly a patent-holding company as the firm was decimated by the broadcast and cable operators. For those who would cite the recent rumor that Comcast and others would allow Netflix on their set-top boxes obviating the need for an Apple TV or Roku device, should take note that cable operators did the same with TiVo, partnering with the company to add the service in their receivers while working on the same service behind the scenes.
NFLX remains extremely vulnerable to the same fate. You can bet the larger cable operators, namely Time Warner (NYSE:TWX), Comcast (NASDAQ:CMCSA), and Directv (DTV) are in the process of creating their own streaming/on-demand business that will rival NFLX's digital content library and technology. In fact, Comcast now offers a supplemental digital library option to over 24 million of its cable subscribers and is investing heavily in the technology.
Skepticism is also warranted for their international expansion that the company unveiled last year. Video content internationally is very different than in the US with consumers watching many fewer hours a day of television and are less willing to supplement their digital library by adding to their cable TV expenses. Additionally, the content is less protected in other countries meaning the competitive advantage is even weaker than here in the US.
Bulls would cite the inception and strong growth of original content as reason to own the shares. Tracking the HBO route and creating significant original content is likely to drive additional subs with decent margins. However, in NFLX's case, they don't own their original programming and thus has limited rights to its distribution and licensing revenue. Given the growth rate and the increase in subs from Arrested Development, their first original series, it is likely that they will move toward full ownership of content.
Valuation
Valuation is based on future sub growth and the company sees significant possibilities of penetration in the US with an objective of 60-90 million households. At 38 million, they are halfway to that goal but the low hanging fruit of subs has been picked. The bull argument is that NFLX pays a fixed amount for its content (as of now), which creates a business model based on operating leverage. However, that is likely to change with content provides in future arrangements likely to ask for a user-kicker to boost their own revenue.
The problem is that each incremental sub is harder to capture. If that economic principle did not hold, they company would not have seen a slowdown in growth and would be very close to that 60 million number today. In fact, the 20% yoy growth rate reported in the second quarter was largely driven by the Arrested Development series as second quarter seasonality and a continued slowdown in growth would have meant a decline in subs. (Earnings Release)
At this point, NFLX is priced for perfection with the sell side long-term annual growth forecast of 22.5% (Yahoo! Finance via Capital IQ). This is an unadjusted estimate of the growth rate after the sell-side analysts' forecasted time horizon. The sell side estimated growth rate including the shorter term is even higher at nearly 67%. However, the market is implying a much higher 122% growth rate. That is a massive spread above the sell side LTG forecast and in most cases, means that investors will easily be disappointed come earnings time.
DCF analysis isn't very compelling and my model assumes rapid growth and a low cost of capital and yet still shows an intrinsic value of $247.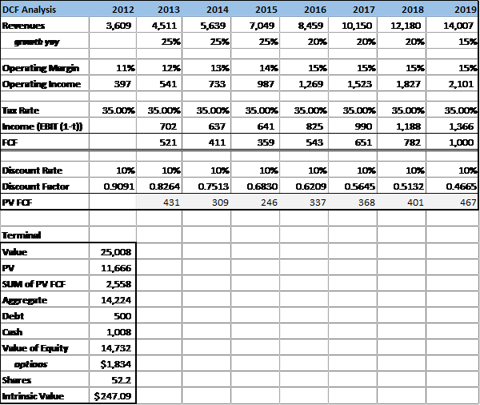 The more appropriate analysis would be to use a sum-of-the-parts valuation technique. I am using very optimistic 2015 estimates for their respective business units, especially on the international side where most sell side analysts have EBITDA at negative $300 million to negative $50 million.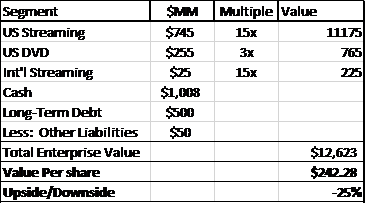 Catalyst
Catalysts for the move lower include:
1. Quarterly earnings not likely to live up to the very high expectations
2. Higher content costs
3. Increased competition from Amazon, Outerwall (RedBox), and Apple
4. Cable companies eventually implementing their own streaming technology that obviates the supplemental VOD business.
Overall, number four is the killer but is several years away from occurring. In the meantime, the first three risks are likely to knock the stock down to more realistic levels.
Conclusion
Despite the launch of two original series, the profitability and risks are just too great for the expectations built into the stock at this price level. The company just doesn't have any inherent competitive moats other than first mover advantage. I expect the cable operators as well as other technology companies like Amazon, Outerwall and Apple to move heavily into this profitable space. I am encouraging investors to use the recent run up back above $300 as an opportunity to unload the stock.
Disclosure: I have no positions in any stocks mentioned, and no plans to initiate any positions within the next 72 hours. I wrote this article myself, and it expresses my own opinions. I am not receiving compensation for it (other than from Seeking Alpha). I have no business relationship with any company whose stock is mentioned in this article.