Arlington Value Management is a value focused manager based out of Utah. They are far from the canyons of Wall Street, and philosophically far away from the money management norm. Their website is far from flashy, in fact, it's more like a sparse brochure. It's their results that get attention. Its founder, Allan Mecham started getting noticed when word got out about his firm's 400% return over the first twelve years of this century. That performance was considerably better than market and most other hedge funds over the same time period.
The combination of that exceptional record and its attendant publicity increased the company's assets under management. So much so, that they're now required to disclose their largest holdings to the SEC quarterly. The most recent data can be found here. Each company, and the value of the stake they hold (in thousands of dollars) is shown below.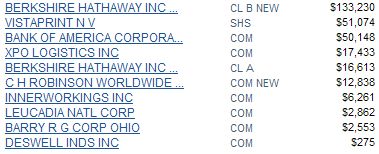 Even more remarkable than Allan's record is the methodology he has used to achieve it. He appears to eschew diversification, and instead concentrate his portfolio on his best ideas. In fact, 80% of the fund is invested in the top three holdings!
Berkshire Hathaway
Berkshire Hathaway (NYSE:BRK.A) (NYSE:BRK.B) is by far the largest holding, and is certainly appropriate for a value focused fund. Warren Buffet's company is the quintessential value investment, with its huge insurance float (provided effectively free due to excellent underwriting) and unbelievable collection of quality businesses. Berkshire has become a compounding machine in its own right, as its deal flow increases due to the size and patience of its capital. A great recent example of Berkshire's continued ability to add value comes from its acquisition of Heinz with a partner, where it will contribute significant capital in a preferred share position. That gives it a tax advantaged 9% return on its preferred share capital, plus equity like upside through the warrants. Other Seeking Alpha writers have great explanations of the value of Berkshire here and here. Suffice it to say that an endorsement of Berkshire by one of the young generations best investment minds (Mecham is in his 30s) implies upside to the shares even past the time when Buffet is running the company.
Vistaprint
Arlington Value's second largest holding as of its filing date was Vistaprint (VPRT). Vistaprint has been a battleground stock for years, and investors who are short doubt the ability of the company to keep selling business cards and office supplies in a digital world. However, with the company up substantially in the last few months (since the June 30th publication of Arlington's holdings) it appears the investment is going well so far. Personally, I believe business cards and stationary will always be used, but predictions about the future are difficult. The company's spend on marketing is also a potential issue. However, with short interest in the company at approximately 30 days to cover, there is potential for a short squeeze to drive the price higher. Seeking Alpha author Stephen Simpson has more here.
Bank of America
The third largest holding in the fund is the Bank of America (NYSE:BAC). Shares were beaten down dramatically during the crisis due to settlement on loans made by subsidiary Countrywide. However, at a significant discount to book value and a forward P/E of around 10x, the company is undeniably cheap. The company is getting its house in order, and should be solidly profitable going forward. The company has a deposit franchise that is unimpeached, and they are growing their low cost deposits, which are a key source of profits. The company is also starting to reduce charge-offs, which should give both earnings and book value a tailwind. Seeking Alpha author Achilles Research has an excellent summary here.
These three components make up the vast majority of the fund's holdings, and Mecham's record shows the benefits of a concentrated portfolio. Although it will certainly increase volatility, this is a great example of "putting all your eggs in one basket and watching that basket." Of course, these holdings are different businesses with different drivers (business card printing being quite different from banking) which provides a modicum of diversification. It's hard to argue with results, however, and these large positions will inevitably drive the returns for the fund in the future. That has to augur well for the future of these stocks.
Disclosure: I have no positions in any stocks mentioned, and no plans to initiate any positions within the next 72 hours. I wrote this article myself, and it expresses my own opinions. I am not receiving compensation for it (other than from Seeking Alpha). I have no business relationship with any company whose stock is mentioned in this article.