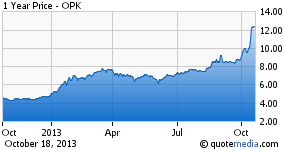 Opko Health (NYSEMKT:OPK) shares have soared 157% thus far in 2013 and now sports a fully diluted market cap of nearly $6 billion (pro forma for Prolor deal). One would suspect that such a meteoric rise in share price would be driven by a critical FDA approval or successful drug launch promising to produce significant sales, operating profit, and cash flow. Despite many press releases touting exciting compound developments and acquisitions over the past six years, the company produces very little revenue and has continually produced operating losses. Revenue growth produced in the first half of 2013 was solely a function of acquisitions. Why do shares keep rising? I suspect it is because the company continues to successfully divert investor attention to exciting new 'opportunities'. Similarly, the Opko's billionaire Chairman/CEO Dr. Philip Frost has continually purchased stock since 2007 which investors interpret as 'he knows something'. What is it that Frost knows? We will explore this below.
First let's briefly examine Opko's history. In 2007, Frost created OPK by merging three small companies. From 2007 -2009, Opko was focused on treating various ophthalmic diseases. None of these efforts bore fruit (eye disease is no longer included as a core focus area). Starting in 2009, Opko made a series of acquisitions including a Latin American distribution business (was majority of revenue until 2013) and the rights to an Alzheimer's diagnostic test). The company made additional acquisitions in 2010 and 2011 including an add-on acquisition to the Latin American distribution business as well as Claros Diagnostic (maker of a compact blood analyzer which would allow tests to been run on-premise at the doctor's office as opposed to having to send out to Lab Corp). OPK went on to make more acquisitions in 2012 including an Israeli Hepatitis B vaccine maker, a couple more deals in Latin America, a deal in Spain, Prost Data, a Canadian development company and most recently Prolor (I'm sure I missed a few). The company's most recent presentation shows that it is involved in an endless number of development activities. Today the company is touting the potential of Rayaldy (sounds kind of like reality - something investors will eventually need to face).
What is OPK doing? In my opinion, it is using a version of George Soro's property of reflexivity. If the market likes Opko's stock and pushes it up, Opko can use the stock to make a bunch of acquisitions. Hopefully something works out ultimately giving Opko some actual intrinsic value (ability to produce cash flow from existing products). How did Opko get people to like Opko stock in the first place? There are three ways: 1) Presenting Frost as the company/product. I am the great Phil Frost. I built Ivax and sold it to Teva (NASDAQ:TEVA) for $7.4 billion. This next venture of mine will be even more successful. (2) Continuing to make acquisitions and changing the focus of investors. OPK doesn't present its investors the same upcoming blockbuster product promise (read: lottery ticket). It continually buys companies in hopes of discovering a blockbuster - it temporarily touts their product/technology which boosts in the stock price enabling them to issue more stock to make another acquisition. Hopefully this next deal has the answer. Tout what you bought. Make another deal. Hopefully this is the answer. Wash, rinse, repeat. (3) Continual purchases by Frost himself. Investors have been trained to follow insider buys. As the saying goes 'there are many reasons insiders sell, but there is only one reason they buy'. This is generally true but I believe OPK to be an exception. I suspect Frost continually buys stock because he knows that his ability to turn OPK into something valuable would disappear without an acquisition currency. Without Frost's purchases, investors would wonder why the company hasn't commercialized products in anything resembling a meaningful way. But by purchasing stock - almost continuously, the investor community thinks 'he must know something' and follow him. With a strong stock price he can continue to make acquisitions. If OPK stock was really a precious commodity (with embedded value based on drugs/products it already has), the company wouldn't be issuing stock like water. Shares outstanding have increased 140% (including convertible dilution & pro-forma for Prolor) since December 31, 2007.
Of course the broker community is complicit in this which makes it easy for OPK to keep the stock price high. A serial acquirer is a perfect client! M&A fees, convertible debt issuances, equity issuance! All broker reports are focused on what could go right rather than an honest appraisal of the many, many things which have gone wrong. This isn't hard to do in today's very bubbly biotech environment (30 biotech IPOs thus far in 2013).
I suspect that there is very little (if any) value in Opko's shares today. However, I have not done an outright short of the shares (I am long puts). To the extent that Opko can continue to use its shares to make acquisitions, it may eventually stumble onto something which has actual value (this is their end game in my view). Put another way, I don't think the emperor is wearing any clothes but I don't think he was wearing any two years ago either - the longer the investment community believes he is wearing clothes the better his chance to end up with some pants. Should the market have the epiphany that there isn't any substance here and knock down the share price significantly, I do believe the game would end and the shares could wind up at zero fairly quickly.
Disclosure: I am short OPK. I wrote this article myself, and it expresses my own opinions. I am not receiving compensation for it (other than from Seeking Alpha). I have no business relationship with any company whose stock is mentioned in this article.