The US Dollar Index is lagging, and not at all acting like we figured it would. We have seen oil prices deflate from their run-up that was caused by the Syrian issue but with copper prices remaining strong and the US Dollar Index falling it seems to us that oil will rebound, especially as the pipeline infrastructure in the country is built out further.
One bit of interesting news is that some Bakken landowners are now suing the producers up there to get paid for the natural gas that is being flared at the well sites. We have talked about the practice before and how if the natural gas was collected how it could be a boost to earnings, but we never thought that the landowners would sue the energy companies for "lost" royalties. It has always been done in the industry and no one has ever really brought up the topic from the perspective of the destruction of a resource. At the end of the day we think that the landowners will lose as it is a cost of doing business.
Chart of the Day:
Some may think that we are making too big of a deal out of this, but at eight-month lows and falling through 80 it is a big deal. If the U.S. Dollar Index remains at these levels it will help with exports, commodities and earnings for the multinationals.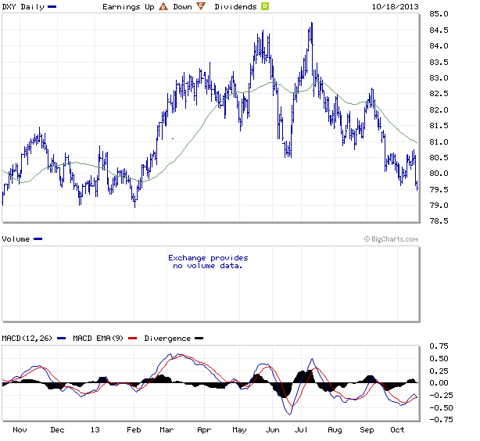 Source: BigCharts
Commodity prices this morning are as follows:
Gold: $1316.10/ounce, down by $6.90/ounce
Silver: $21.94/ounce, down by $0.007/ounce
Oil: $101.04/barrel, up by $0.37/barrel
RBOB Gas: $2.6568/gallon, up by $0.0089/gallon
Natural Gas: $3.713/MMbtu, down by $0.044/MMbtu
Copper: $3.3095/pound, up by $0.0125/pound
Platinum: $1439.40/ounce, up by $4.50/ounce
Oil & Natural Gas
After the market close yesterday one of our big holdings, EV Energy Partners, LP (NASDAQ:EVEP), announced that it would be offering five million units (see press release here) in order to raise capital to bridge the gap until it can sell its Utica acreage. It is something the market had been expecting, but we were optimistic that it would be able to squeak by until the revenues started coming in from its new Utica midstream assets. The units were actually priced last night (see press release here) and the offering will be at $36.86/unit. We are disappointed that this latest offering took place, but we still like the story moving forward...even though management has had more than a few missteps over the last year.
One name which we have discussed recently that we want to highlight for investors is PDC Energy (PDCE), which has seen its stock price rise dramatically in the past few sessions. Unlike many of its peers that have also been doing well, PDC Energy is actually still trying to take out its old all-time high, which is a bit under $80/share. The stock has been setting many new 52-week highs, as it did once again yesterday, but that all-time high will be a big milestone and could provide another springboard for investors. We would like to see a little sideways movement right now and think with the stock having just broke through $70/share that now might be the time for that. We are long this name and would look to get more involved on any type of serious pullback.
Oil Field Services
We received a few questions regarding our recent bullish comments on U.S. Silica (NYSE:SLCA) last night after Jim Cramer said he would be a seller of the stock when asked by a caller during his 'Lightning Round' segment. Now we did not see the show, but if the information we were given is correct we hardly think that our bullishness should be tapered at this point. The rails may be reporting lower shipments, but we picked the name as a long-term play rather than a short-term play. With the new shales getting more attention and the newer drilling techniques calling for more sand, we think that U.S. Silica could have higher to go before it is necessary to take profits. However, for those readers who do have significant profits already, remember that no one ever lost money taking profits.
From here on out investors should approach SLB and BHI as long-term investments rather than trying to trade them. This is a long-term shift they are dealing with in their industry and we suspect both names will perform well.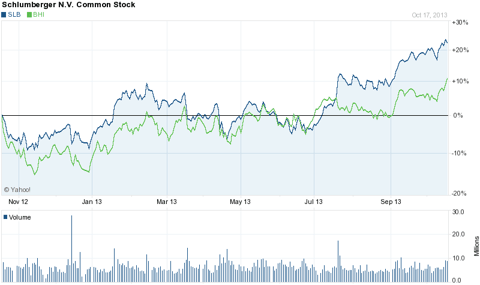 Source: Yahoo Finance
Looking at the results from the drillers this morning simply highlights how important it is to stay long positions when in a bull market and not try to time various market moves. Both Schlumberger (NYSE:SLB) and Baker Hughes (NYSE:BHI) reported strong quarters as Asia and the Middle East continue to remain strong and the North American deep waters remain active. The proliferation of national oil companies has created the need for these companies' expertise and as the deepwater and shales become more desirable targets for these entities and their governments they will demand more services from Schlumberger and Baker Hughes. The North American focused drillers are where investors should avoid placing capital, but those names with considerable international exposure should continue to do well for all the reasons we previously mentioned.
Disclosure: I am long EVEP, PDCE. I wrote this article myself, and it expresses my own opinions. I am not receiving compensation for it (other than from Seeking Alpha). I have no business relationship with any company whose stock is mentioned in this article.