The market is in that holiday daze. Stocks were just moseying along with traders pouring out early or simply not in at all Wednesday (or the rest of the week). There was a ton of economic data out Wednesday that for the most part canceled themselves out; on balance the news was okay but nothing to propel the market higher. The buzz is still all about gold and speculation that India is ready to step back up to the plate and pick up the remainder of that block put up for sale by the International Monetary Fund. That would be another tranche of 201.3 tons (Mauritius picked up 2 tons) at an all-time high. (Already, India's central bank is up $800.0 million on its November 3 purchase of $6.7 billion tons.) Interestingly, there were some high profiled earnings results that could have swayed the action, but for the most part, if investors were excited by the results they didn't bid up rival companies.

By the way, there is serious scorn for those companies that missed the Street, even those that missed by only a penny. (Click to enlarge)

Click to enlarge
The price of oil rose Wednesday as the value of the U.S. dollar continued to decline against a basket of other international currencies including the euro. During the trading session, the dollar declined to lows not seen in about 15 months against the euro as market participants sold their dollar positions in the wake of better than expected economic news. In addition, the price of the commodity was buoyed by the most recent inventory report which showed a build of just over 1 million barrels for the week ending November 20. The consensus expectation was for a build of about 1.5 million barrels. Light sweet crude for December delivery was trading at about $76.88 per barrel on the New York Mercantile Exchange. (Click to enlarge)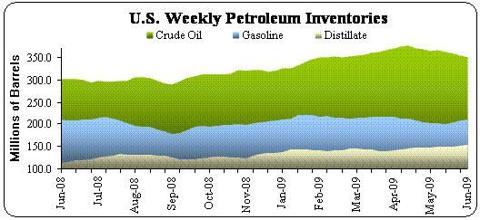 Click to enlarge
Sidebar
By: Brian Sozzi, Research Analyst

I received a great question from someone today pertaining to the rising price of commodities and the impact to earnings from Tiffany & Co. (NYSE:TIF). At the moment, the company is still working down the inventory it purchased at lower input prices earlier in the year. Moreover, the company's hedge contracts are starting to roll off. What these things mean is that Tiffany, as I see it, has a three quarter window in which to improve upon its gross margin. Combined with a lean expense base, and the fact 58.0% of the store base is now international, there is a strong case to be long the stock following today's earnings.
However, I would add that towards the back half of 2010, Tiffany's inventory will reflect the higher prices for gold, silver, and platinum. If the consumer continues to tepidly step back into the luxury goods market, which I expect to be the case, there will be an inability for Tiffany to avoid gross margin erosion while at the same time leverage a variable/fixed cost base that should bounce relative to 2009. In other words, look for a potential valuation readjustment in the middle of 2010.