Why Strayer?
The primary reason I'm giving Strayer Education Inc. (NASDAQ:STRA) further attention is because I have been following the industry-related headwinds and realize that most of these companies have become victim of a massive bear following, exhibiting short floats up to 20 to 30%. Most of these companies have sold off anywhere from 70% to 90% in total share value since 2010. So my question is why would you still want to be a bear at this point? Without even going into details, I find it to be risk averse by being a contrarian and not following the crowd here.
More recently, we can see that for-profit education companies have generated substantial returns to shareholders if entrances were timed (i.e. buying back in March and April). Although it seems like the large majority still think that the good times are over, will never return, and things will only get worse from here. I'm not being an optimist saying these companies will return to record highs or even half of what they once were, but I do think bears have become a little too comfortable with their positions.
One obvious but relevant point about the market is that stocks tend to be cyclical in nature. With that said, aside value traps, stocks tend to bounce around in price by what the market perceives to be most precise. Now I'm not going to go on about how value investors play the market, but frankly, coupling "cyclicalness" and strong value together sets up for massive returns. For time purposes, I'm going to avoid talking about how other companies in this industry are less attractive than Strayer. Needless to say, I find this company to be a "golden egg" that the broader market has left behind, especially because of sentiment. As outlined by other SA authors, Strayer is supported as a great value proposition: here and here.
In short, Strayer is not only one of the "best of breed" within the for-profit education industry but also a target of massive selling that has created a large margin of safety.
The Golden Egg
Since 2010 Strayer has lost more than 80% of its total market value while investors were continuously trying to find the best opportunity to catch a bottom. Well, that situation has never presented itself, and now everyone is asking "how low can Strayer go?" There are four primary factors that the market has not fully accounted for, which I will briefly describe:
A) Good relationship with accreditors. This element is positive for an education company to maintain its reputation, maintain support, and hopefully lead to growth. Essentially it tells people that a school has value or worth.
B) Strategic plans to combat falling enrollment. Strayer has implemented strategic plans to stop and reverse its falling enrollments. This is a very detailed, yet simple idea provided by management. The procedure is to not raise current tuition, and actually provide discounts for students to be competitively efficient against other for-profits. Therefore revenue will not increase by victimizing the student's financial position, but instead attracting a large student body and subsequently maintaining it.
C) Transparent and seasoned management team. Examining board member's track histories, listening to conference calls, and reading about the company and the environment on their website makes investors very aware of what's going on. But more importantly, seeing that management is taking a very aggressive position in maintaining quality for students is especially important to shareholders. Just as Buffett says, we want management that has integrity, intelligence and energy.
My friend, who is also a SA writer, explained how the current chief executive chairman is an extremely valuable asset to the company: here.Not going into too much detail, when Robert Silberman was appointed to the position in early May, share prices appreciated more than 25%. All things being equal, it's safe to assume that the market truly has value for this man given his reputable track history.
D) Dividend payout replaced with buyback program. Yes, a dividend is nice, but management changed this allocation of profits to reinvest it more effectively. How? In the company, through share repurchases.
Some Numbers
Strayer's free cash flow finally broke its falling trend this year and grew from 54 to 71 million. Simultaneously, the company's worrisome high debt levels have been getting paid off, reducing debt to equity from a historic high of 3.9 to 2.4, a 38% drop. Strayer also currently has a price to earnings ratio of 8.5 compared to the industry average of 26.8.
Strayer has a price target of $72.60 when using Peter Lynch's price method with a P/E of 15. When using the minimum P/E of 7, the share price is $34. Theoretically, this gives Strayer a downside of 17% and a potential upside of 76%, issuing a risk reward ratio of 4.4 to 1.
Analyst Estimates
The last three quarters have been pretty promising. Strayer has consecutively issued surprises between 1.3 and 8.9% for GAAP earnings per share. For the next quarter, analysts have EPS consensus expectations of $0.07 compared to the prior quarter of $0.36, which is about 80% less than the preceding forecast. Third quarter revenue reports from 2010 until 2013 were 148 to 136 to 124 to 109 million.
The average drop between those quarters was about 8.5%, but this upcoming quarter 11 analysts are predicting a whopping 12% drop ... this may be too drastic considering that the company implemented strategies to protect its falling revenues. Therefore, the company should be able to beat the estimates next quarter just like it did in the second quarter. Upcoming quarters will provide more information about how well management's strategies are working.
Bearish Argument
This seems to be the same old song and dance. Where do the bears think this company is headed to ... bankruptcy? Pretty unrealistic, but here is a list of what the bears are hoping will sustain or occur:
1) weak earnings reports
2) no recover or bullish cycle
3) industry rule-making will get even tighter
4) sentiment will worsen
5) growth will stagnate or decline
Technical History
I think technical analysts would say that this thing isn't a winner (being at a multi-year low). Given that shares just keep dropping and are sitting well below significant SMAs, people have a right to be bearish. Looking at the monthly and weekly charts, shares have broken through all potential support lines, temporarily holding but continuously failing in the end again and again. Dropping like a knife from over $200 per share to $40 in a relatively short period of time is very hard to embrace as a potential investment.
So what makes Strayer look like a buy now? Well a classic technical formation that many people tend to overlook or frankly not recognize is the "bowl" support formation. It has no linear aspects, but the bowl creates a price foundation where investors can buy in. Here is an example and technical forecast of Strayer's stock chart: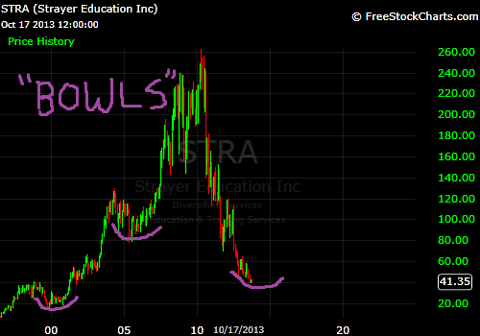 Yes this assumption is speculative, however the bowl is observably forming. It's not just about finding value, but having the virtue of patience to time your entrance as well.
Side note: Yearly and monthly technical indicators such as Relative Strength Index and Money Flow Index are extremely oversold, indicating this is a time to buy.
The last and most important technical chart is what is happening right now. Here's a picture of the six month time interval: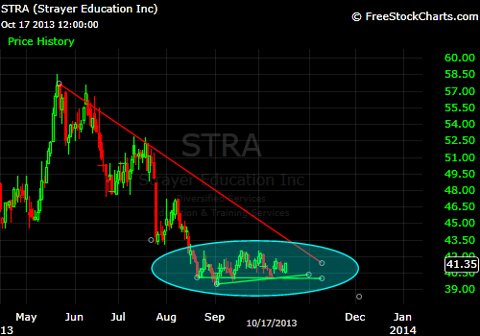 Yes, a descending triangle is traditionally considered bearish. However there are three important elements to consider here:
1) The share price has been consolidating in the teal oval for roughly two months, indicating selling has slowed or stopped. Support lines are apparent at price levels between $39-41 implying that the broader market of investors find it to be attractive at currently levels.
2) After a massive sell-off, technical formations, such as the descending triangle, can actually set up more massive bull rushes when shares break through the upper half of the shape.
3) Short float has dropped from 30% to 25.8%, a substantial swing in trading sentiment. In other words, more traders are seeing this formation as a time to go long, not short.
Bottom Line
Strayer Education is a company with great characteristics and a large margin of safety, given its ultra-low price there is little reason not to buy. Investors could consider being patient and waiting for a lower price but don't end up chasing it since it is already undervalued. Also keep an eye out for peers and see how the market reacts to its earnings reports. If other for-profits surge, logic would support buying Strayer shares. Why? Because earnings' reactions have remained pretty consistent across the industry.
Ultimately I would recommend initiating a small to moderate position at current levels, and average down if shares do become cheaper over the next couple weeks leading up to the company's third quarter report.
Disclosure: I am long STRA. I wrote this article myself, and it expresses my own opinions. I am not receiving compensation for it (other than from Seeking Alpha). I have no business relationship with any company whose stock is mentioned in this article.
Additional disclosure: I own shares at $41.