KU6 Media (NASDAQ:KUTV) is a Chinese internet video company focused on user generated contents (UGC). The stock has been on fire lately, and there is a very interesting opportunity here.
(click to enlarge)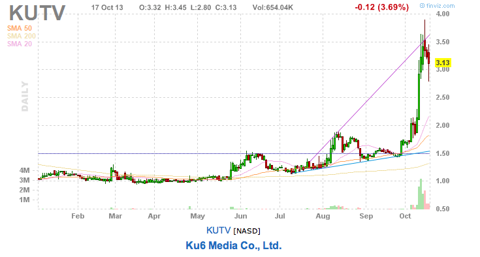 Click to enlarge
After being mostly range-bound for the past nine months, KUTV recent broke out to the upside. The stock is up over 170% YTD. The majority of that move has come in the last month, as the stock is up almost 90% in the last month. As of the close on Thursday, the stock was trading at $3.13 and has a market cap of $148 million. I shorted the stock in the middle up the day on Thursday; it has been on my radar to short the stock and felt like the 36% move up in the morning provided a good opportunity to do show. Here is the company's description from its own website:
"Ku6 Media Co., Ltd., ("Ku6 Media" or the "Company") is a leading internet video company in China, focusing on User Generated Content ("UGC"). By constantly providing the users with the most fresh and interesting video contents, Ku6 Media always performs an active role in China's online video market. Ku6 Media was founded in 2006 and became a subsidiary of Shanda Interactive in 2009. In 2010, Ku6 Media became the world's first video website listed on NASDAQ. In the same year, Ku6 was the exclusive video website entitled to broadcast World Cup. In the second half of 2011, we switched our business model from long-term content focus to short-term content focus through UGC. As we've always believed that UGC business model is healthy and promising, we are devoted to be the most popular UGC video website by continuously providing our value creating users the best services."
Judging by this description, it would not be wrong to think of KUTV as something like YouTube in China. This is what the homepage of the website looks like.
According to Alexa, Ku6.com is the 14th most popular site in China, so there is a pretty clear, if not simple bullish case. That simple bullish case is on increased Chinese web traffic to a media site which is already in a good position. There is a bearish case, and I think it is a pretty strong one.
Just so I'm being totally honest, I thought this stock would be an excellent short due mainly to the recent run-up on basically no news. However, a couple of things have happened recently that make me think this could be an attractive investment. Of course this is a very speculative situation, and you should exercise caution. Just so it is all out there, here is (was) my bearish case. The case essentially was based on the fact that it didn't have much money. The company is generating revenues, and although it hasn't generated much in the way of profits, it does not look terrible. It did turn a profit in 2009, though.
The company has a cash position of just $13,000 which is not great. In the 20-F, they had this to say in the risks section:
The operation of an online user-generated content, or UGC, video business requires continuous, substantial investment in content, technology, talent and infrastructure. In order to implement our development strategies to expand our infrastructure and optimize our services across Internet-enabled devices, and further expand and diversify our revenue sources, we may incur additional capital needs in the future. We will also need to fund our research and development activities in order to remain competitive on cost and technology. We reported net losses attributable to our company of $51.5 million, $49.3 million and $9.5 million for the years ended December 31, 2010, 2011 and 2012, respectively. As of December 31, 2012, we had cash and cash equivalents of $13.1 million and net current assets of $6.4 million. Our net cash used in operating activities in 2012 was $8.1 million. We cannot assure you that we will be able to generate sufficient cash flows or otherwise maintain sufficient working capital to finance our anticipated operations and capital expenditure requirements, as well as achieve projected cash collections from customers and contain expenses and cash used in operations. Achievement of better operating performance is not assured and management expects to continue to implement its liquidity plans, which includes reducing operating expenses.
As I said earlier, I thought there was a short case here. Given that the current cash position is ~$13mm and in 2012 the cash used in operating activities was ~$8mm, I thought that there could be a bad ending to this story. These numbers are from December 31, 2012, so they are admittedly a bit dated, but it does give you a good idea of the business.
Site Traffic
According to Alexa, the site has seen traffic has been increasing very rapidly in 2013. It is now the 14th most visited site in China and the 77th most visited site in the world.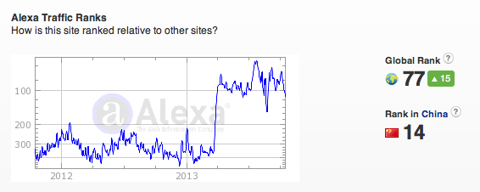 Click to enlarge
Source: Alexa
This is nice performance, and it right up there with larger competitors.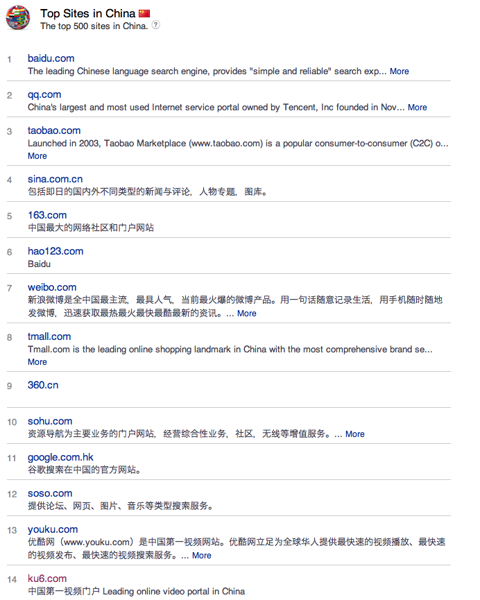 Click to enlarge
(Source: Alexa)
Ku6 is just below YouKu (NYSE:YOKU), which has a market cap of nearly $5 billion. YouKu has a very similar platform to Ku6 but generated ~$310mm in revenues over the last 12 months, compared to just $12mm for Ku6. Just based on traffic it appears that Ku6 has been doing something right, and especially when one considers that it changed the business model in 2011. It is effectively a 2.5 year old company.
There is another reason to be bullish, "The China Perspective" reported that Baidu (NASDAQ:BIDU) was in talks to buy Ku6 Media and another Chinese media company. The article said:
Baidu Inc is in talks to take over online video subsidiary Ku6 Media Co , an online video site operated by Shanda Interactive Entertainment Ltd, DoNews reported, citing a person with knowledge of the matter. Ku6's focus on user-generated content complements Baidu's own IQiyi.com and PPS.com, which focus on movies and TV dramas, according to the source.
If the Baidu deal goes through, I think we could see it taken over at a substantial premium.
Summary
I remain generally skeptical of the numerous Chinese stocks that have started ripping higher recently. I fully expected to be bearish on Ku6, however, the more I researched this company the more I think there is an opportunity here. This is a very risky investment, but one could be potentially lucrative. If it is taken over it will be at a premium to what it is currently trading at, and even if it doesn't, I think that Ku6 could reward shareholders that are interested in investing in the Chinese media sector.
Disclosure: I have no positions in any stocks mentioned, but may initiate a long position in KUTV over the next 72 hours. I wrote this article myself, and it expresses my own opinions. I am not receiving compensation for it (other than from Seeking Alpha). I have no business relationship with any company whose stock is mentioned in this article.
Additional disclosure: I may go long KUTV at any time. Additionally I may view the stock as a short if it reaches certain levels.