As most of my readers know, our aggressive retirement portfolio, "The Young And Restless," was developed to create as much wealth as possible in a short time frame. The portfolio itself is very actively managed and there have been significant moves made to actually create significant gains.
The "Young and Restless" portfolio now consists of Galena Biopharma (NASDAQ:GALE), Amazon (NASDAQ:AMZN), Facebook (NASDAQ:FB), Yahoo (NASDAQ:YHOO), Ambarella (NASDAQ:AMBA), and Zynga (ZNGA). Only six stocks right now, but that will soon change when Twitter (NYSE:TWTR) goes public (yes, I will be adding that stock to this portfolio, AFTER the stock settles down). I suggest you take a look at the most recent update to see how this portfolio has grown.
I will also be adding several other new issues as they develop, simply because I believe that in addition to having a core group of stocks that are proving themselves to be quite profitable for shareholders, there will be some IPOs down the road that I have been keeping tabs on; Twitter as noted, and Chrysler, if and when it goes public, and it will in my opinion.
All of this being said, this article will focus on one of the "underdog" stock that investors seem to love to hate; Zynga.
Zynga Has Changed For The Better
After the IPO, the stock tanked and investors began to unload shares relentlessly. Almost as relentlessly as the insiders who not only dumped their shares, but also left the company.
There seemed to be bad news just about every day, as the share price sunk and the imminent total failure of the company seemed more than a possibility. Then, a funny thing happened along the way to obscurity; the share price stopped falling, and the foundation of the company began to change. Not only that, but the founder and CEO himself, stepped down and replaced himself!
For all of his shortcomings, Mark Pincus seemed to realize that if things did not change, then the end actually was just around the corner.
First, ZNGA basically disengaged from Facebook. Realizing that paying FB to use its platform would only limit its growth potential over the long haul.
Next, the company began making some headway into the online gaming business in Europe and Asia. At the same time, it began feeling its way around the U.S. gaming business, in anticipation of applying for a license to operate here in the U.S.
The company decided to drop those plans when it realized that the competition here in the USA would be far too great. ZNGA withdrew from applying for a gaming license in the US, and with the direction of the new CEO, Don Mattrick, set a definitive course for social gaming as the cornerstone of its overall business.
While one might argue that the online gaming industry was the "salvation" of ZNGA (as I did in this really cool article) and it should not have abandoned it here in the USA, my opinion is that the company has made the right decision for now, and can always revisit that business.
Since the focus has been on the social gaming aspect of the business, there have been several key moves that have gone under-reported, which I believe pushed the share price higher and the stock has gained some traction.
Two Key Moves That Could Pave The Way For Stronger Gains
The first move that the company has made, is the move into the MOBA genre of social gaming. MOBA is short for "multiplayer online battle arena." This is where numerous players can play against each other in a virtual live reality.
As noted in the company website:
Zynga has announced a publishing partnership with independent game studio Wyrmbyte to help bring its free-to-play multiplayer online battle arena (MOBA) game, Dragons and Titans, to Facebook later this month.
This move comes along with the move to social gaming on mobile devices with the announcement of the game "Solstice Arena" for iOS devices. The free to play game has been slowly monetizing on mobile, and while the numbers are not yet in (ZNGA reports earnings on 10/24) we might be surprised. Something is keeping the share price up and stable. It might be MOBA on mobile for the company. I would not rule it out.
On the heels of this, now we learn that ZNGA has also entered the MOBA market via "Steam" for Windows PC users. Now, "Solstice Arena features cross-platform functionality across Mac and iOS, allowing users to transfer progress between the platforms," as reported. Time will tell if this cross platform model will pay off, but I suspect that we will see much more of this from ZNGA.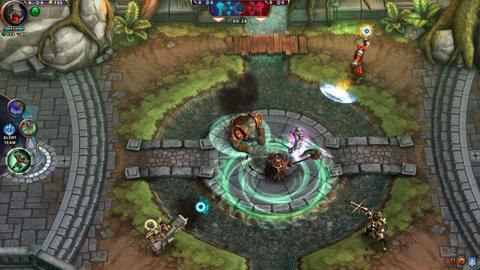 Click to enlarge
The next, more recent move is especially interesting. As reported in Fast Company, ZNGA is donating $1 million to Co.Lab Accelerator for the use of social gaming for
education
purposes.
"We really believe games can be a force for good--not just for good fun, not just for good entertainment, but to help people grow their minds more than they could watching TV," Zynga cofounder Mark Pincus said, addressing a small crowd at the company's office in San Francisco. "We're excited to lend not just our space, but also the talent at Zynga. There's already an outpouring from Zynga employees to get involved."
While the donation of not only money, but use of office space as well as ZNGA employees, comes out of the Zynga.org foundation, which is obviously tax deductible, I believe that this move is also an investment directly into the education arena of social gaming.
Forking over $1 million might not seem like that much, but to the small start ups that have been collaborating via Co.Lab, it is an enormous sum of money. Of course these "donations" are not done in a vacuum in my opinion, and ZNGA itself might be able to profit from this business sector.
The following graphic shows how this tool is currently being utilized by schools and teachers already:

Click to enlarge
Thus far the benefits are outweighing the concerns, and as this industry develops, I believe more use will be made for educational purposes. As this article noted last year:
Less than 20 percent of teachers use games in class on a daily basis, and of those, 95 percent use games specifically created for educational use. 70 percent of teachers say that games increase student engagement, and 70 percent of kids agree.
The big question is; how big is the market for all of these developments? Well, the business sector is simply enormous as this graphic shows: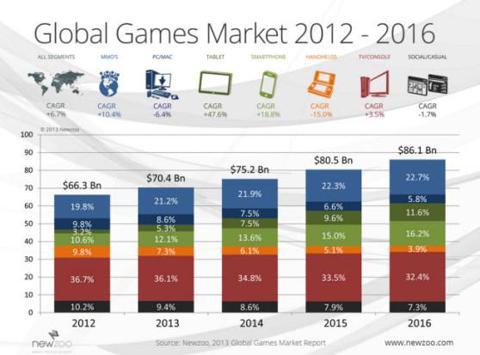 Click to enlarge
My thesis is that the more ZNGA can be a part of every business sector, whether it is via mobile, PC, educational, and yes even online gaming, then the company not only has a chance of actually making it, but also returning strong capital gains to shareholders.
To Buy, Sell, Or Hold?
As far as I am concerned, a company that currently has over $1 billion in cash, zero debt, and appears to be making some positive strides, is worth a place in my portfolio.
At the current price of $3.58/share, I believe there is far more reward, than risk. I would be a buyer at these levels. SOMETHING is keeping the share price up: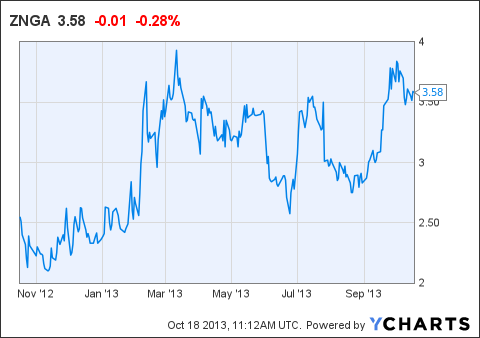 Could we be in for a "surprise" on October 24th? We shall see I suppose.
Disclaimer: The opinions of the author are not recommendations to either buy or sell any security. Please remember to do your own research prior to making any investment decisions.
Disclosure: I am long AMBA, FB, GALE, YHOO, ZNGA. I wrote this article myself, and it expresses my own opinions. I am not receiving compensation for it (other than from Seeking Alpha). I have no business relationship with any company whose stock is mentioned in this article.