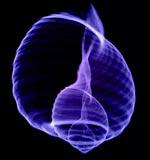 Back in March I wrote the article Will Permian Basin Royalty Trust Finally Reap The Benefits of Fracking? in which I wondered if increased capital expenditures by the trust's operator ConocoPhillips (NYSE:COP) would result in production, distribution, and reserve growth for Permian Basin Royalty Trust (NYSE:PBT). The answer to the question is "Yes" and the stock has gone from $12.34 to $15.15 as I write these words. After the 23% rise (not including distributions) in the stock, is the party over or is there more room to run? I will explain why PBT should continue to provide solid distributions and could reach $18-20/share over the next 12 months, for a 25%+ return.
I followed up my initial article with the report Permian Basin Royalty Trust: The Merry Merry Month of May in which I pointed out a nice increase in net-to-trust production and a resulting jump in May's monthly distribution. Since then, production and distributions have continued to grow: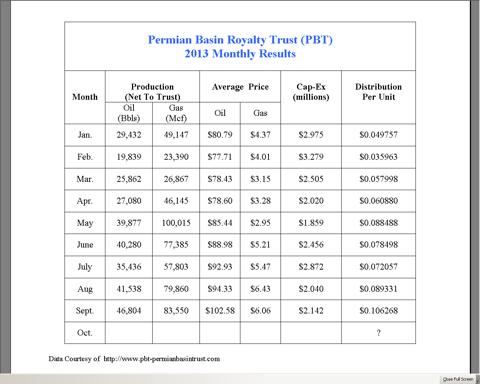 Click to enlarge
Note also the nice increase in realized prices for not only oil, but most surprisingly, for natural gas too.
From a big picture point of view, oil production (net-to-trust) has risen from 25,862 barrels in March to 46,804 barrels in the latest month (+81%) while the distribution has grown from $0.057998 to $0.106268 (+83%). Total year-to-date distributions are $0.6392 which equates to a 4.2% yield to date (at the current price) with 3 months left in the year. Annualizing the latest month's distribution ($0.106268) the yield would be 8.4%.
So, the trust's production, distributions, and realized prices have grown nicely in 2013. Notice too that cap-ex has stayed relatively flat at around $2.3 million (+/-) during this period of production growth.
Reserve Growth
For a depleting trust, proved developed reserve growth has been impressive over the past 5 years (13%):
Oil (Barrels):
Jan 1, 2009: 5,662,000
Jan 1, 2010: 5,429,000
Jan 1, 2011: 6,160,000
Jan 1, 2012: 6,150,000
Jan 1, 2013: 6,400,000
Based on the production increases seen in 2013, and the increased capital expenditures, I would expect year-end 2013 proved developed reserves to see an even bigger increase over 2012.
Summary and Conclusions
Permian Basin Royalty Trust is experiencing production, distribution, and reserve growth. Realized prices have also steadily increased during the year. If distributions in the last three months of the year simply meet September's 10.63 cents, total distributions for the year would be $0.96, but that is a low estimate. I would suggest distributions in the final three months will, on average, beat September's payout. In addition, operator ConocoPhillips will be ramping up its operations in the Permian basin in 2014 after focusing primarily on the Eagle Ford in Texas. This can't be a bad thing for PBT.
If WTI prices continue to stick around the $100/barrel level, PBT could easily distribute $1.25 to shareholders in 2014. At $20/unit, that would equate to a yield of 6.25%. PBT is a BUY, with a 12-month target of $18-20/unit.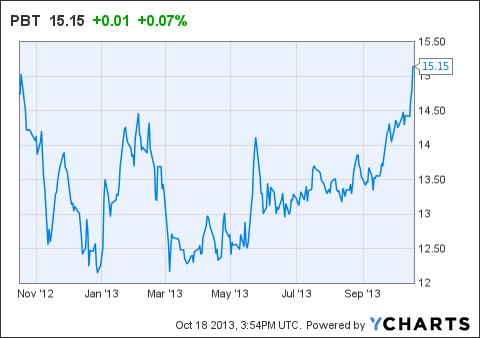 NOTE: PBT's October payout will be announced on 10-21-2013 (this coming Monday) and will be payable on 11-15-2013.
Disclosure: I am long COP, PBT. I wrote this article myself, and it expresses my own opinions. I am not receiving compensation for it (other than from Seeking Alpha). I have no business relationship with any company whose stock is mentioned in this article.
Additional disclosure: I am an engineer, not a CFA. The information and data presented in this article was obtained from company documents and/or sources believed to be reliable, but has not been independently verified. Therefore, the author cannot guarantee its accuracy. Please do your own research and contact a qualified investment advisor. I am not responsible for investment decisions you make. Thanks for reading and good luck!