It is nearly a year that we have been watching the BlackBerry ((NASDAQ:BBRY)) levitating act. At first we were highly skeptical of the new BB10 product launch. One of our first articles on BBRY titled "RIM's Launch Or Sale Poker Game: T-Minus 41" actually hinted at what was really going on behind the scenes at BBRY. Was it an auction disguised by a product launch all this time? The answer seems to point to yes in hind site.
We then tried the product in their developer's program and thought and still think that BBRY devices are a formidable product for many consumers. The problem that BBRY failed to overcome was the lack of availability of easy, customer friendly installation of apps. The marketing campaign was severely flawed, and CEO, Thortsten Heins, lack of transparency with investors only compounded the problem. Here we are about where this journey in BBRY share price began about a year ago.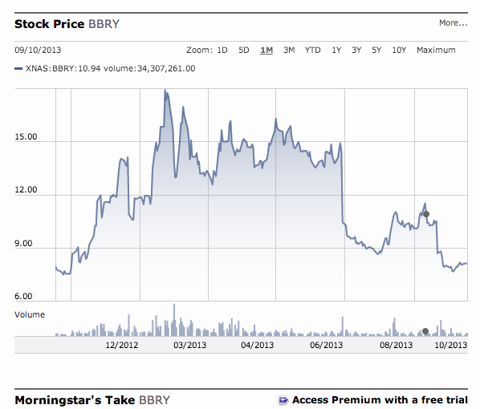 Click to enlarge
BBRY has moved up exactly $.44 over the last year; of course the chart above shows great volatility in that time period. There have been many predictions on the fate of BBRY over this period including the one reported yesterday about a renewed interest by Lenovo (OTCPK:LNVGY) in buying BBRY. We have done an in depth article about the intertwining relationship between BBRY and Lenovo via a board member titled "BlackBerry 'Evangelists' Luring Lenovo And Maybe TPG, Too". Here is an excerpt that describes the tie between the three players and some key data points:
1. Lenovo was a portfolio company of storied private equity firm TPG-Texas Pacific Group.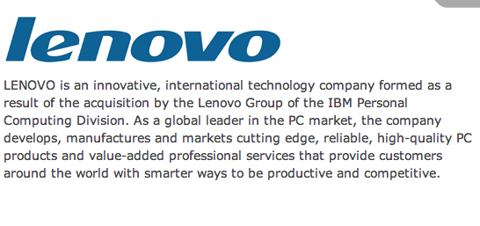 Click to enlarge
(Click to enlarge)
2. BBRY's new and existing board members include Timothy Dattels:

Click to enlarge
(Click to enlarge)
3. TPG founder/leader Bonderman's trusted lieutenant at TPG Mary Ma, was former CFO of Lenovo as pictured here in Forbes in 2005: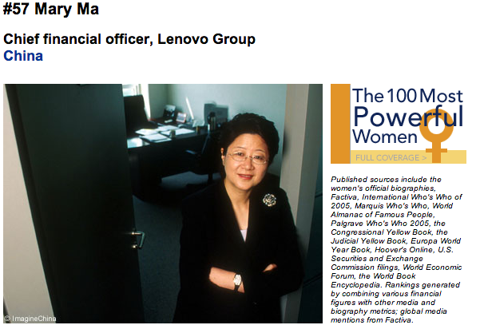 Click to enlarge
(Click to enlarge)
As you can see there continues to be a tie between TPG and BBRY. We think the Lenovo rumor circulating recently was not really because of renewed interest. More likely than not, it was old friends helping each other out creating a little more excitement in stoking the embers of the BBRY auction process. Of course we could be wrong, but we see many other Asian smartphone players with compelling hardware that Lenovo could buy at a fraction of BBRY's value. HTC (OTC:HTCKF) is just one example. Here is an excerpt from Bloomberg yesterday quoting Lenovo's CEO Ming:
Lenovo Group Ltd, seen as a suitor for everything from BlackBerry Ltd to International Business Machines Corp.'s server business, said it's hesitant to make deals because it wants to avoid overpaying.

"We will not buy for the sake of buying," Wong Wai Ming, chief financial officer of the world's largest personal-computer maker, said in an interview at the company's Beijing headquarters yesterday. "Even when an opportunity, on the face of it, makes perfect sense for us to do it, it may not happen."
Further on, the article adds:
Lenovo also has approached Taiwan-based HTC Corp., which recently posted its first quarterly loss, about possible cooperation including forming a joint venture or a share swap, the Taipei-based Apple Daily reported this month.
We think the Lenovo/BBRY talks as a smokescreen in its true quest for HTC, with the added benefit of helping its old friend, BBRY director and Special Committee Chair Timothy Dattels.
Conclusion
In retrospect, masking the ultimate goal of selling BBRY by its board and insiders such as Prem Watsa was a big mistake. There is still a considerably large short interest in BBRY because the shorts believe that management and the board will yet bumble this exit strategy as well. The shorts have certainly handicapped this correctly thus far, but probably will start to close out their positions soon as this auction draws to a close. Here is a look at the outstanding short position :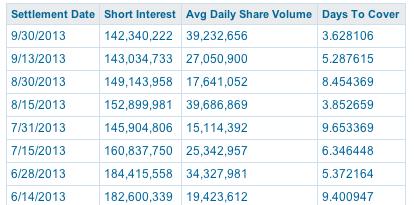 The sale of BBRY is purportedly imminent, as the November 4th deadline for due diligence completion approaches by Watsa's Fairfax Financial (OTCPK:FRFHF). Moreover, this date is also tied to opposing offers to that of Fairfax Financial. Here is an excerpt from the announced $9 offer by Fairfax:
The Special Committee, chaired by Director Tim Dattels, was formed in August 2013 to review strategic alternatives for the company. J.P. Morgan and Perella Weinberg are acting as financial advisors and Skadden, Arps, Slate, Meagher & Flom LLP and Torys LLP are acting as legal advisors.

Diligence is expected to be complete by November 4, 2013 ("Diligence Period"). The parties' intention is to negotiate and execute a definitive transaction agreement by such date. During such period, BlackBerry is permitted to actively solicit, receive, evaluate and potentially enter into negotiations with parties that offer alternative proposals ("Alternative Transactions").

If (A) during the Diligence Period (I) BlackBerry enters into any letter of intent or definitive agreement providing for an Alternative Transaction, (ii) BlackBerry ceases to negotiate with the consortium in good faith with a view to entering into the Definitive Agreement by the end of the Diligence Period, or (III) an Alternative Transaction is publicly proposed or publicly announced and is consummated within 6 months following the end of the Diligence Period, or (B) during the 3 month period following the end of the Diligence Period, BlackBerry enters into any agreement providing for an Alternative Transaction with a person with whom discussions were held before or during the Diligence Period, then BlackBerry shall pay Fairfax a fee of U.S. $0.30 per BlackBerry share, provided, however, that no such fee shall be payable if the consortium shall have reduced the price offered below U.S. $9.00 per share without the approval of the board of directors of BlackBerry. In the event that a definitive agreement is signed with Fairfax the termination fee will increase to U.S. $ 0.50 per share.
We think that the ultimate goal of selling BBRY should have been revealed and acted upon by its board of directors much sooner and in a more direct manner. Moreover, hiring a seasoned, professional auctioneer like the financial world's equivalent to famous art collectors' favorites Sothebys (NYSE:BID) or Christies could have saved oodles of time and money for investors in BBRY. As it stands, BBRY could conceivably fetch above $9 per share to a buyer for the whole company, such as Watsa is proposing. If sold off in pieces, which we recommend, BBRY could bring an ultimate selling price in the mid teens. We have valued the company in a 'sum of the parts' fashion in our previous article here on SA. Any way you slice this company, the board of directors and management in BBRY will go down in history as the example of what not to do with an industry icon like BlackBerry.
Disclosure: I have no positions in any stocks mentioned, but may initiate a long position in BBRY over the next 72 hours. I wrote this article myself, and it expresses my own opinions. I am not receiving compensation for it. I have no business relationship with any company whose stock is mentioned in this article.