Micron Technology (NASDAQ:MU) is one of the world's leading providers of advanced semiconductor solutions. Through its worldwide operations, Micron manufactures and markets a wide range of DRAM, NAND and NOR flash memory as well as other innovative memory technologies. They also offer packaging solutions, and semiconductor systems for use in leading-edge computing, as well as consumer, networking, embedded and mobile products.
Business Segment
The company operates under four reportable segments: NAND solutions group (NSG), DRAM solutions group (Pending:DSG), wireless solution group (WSG) and Embedded solutions group (NASDAQ:ESG).
Core Products
NAND Flash products are electrically rewrite able, non-volatile semiconductor memory devices that retain content when the power is turned off. NAND Flash is ideal for mass-storage devices due to its faster erase and writing times, higher density and lower cost per bit compared to other solid-state memories. Embedded NAND flash-based storage devices are utilized in mobile phones, MP3/4 players, computers, tablets and other personal and consumer applications. The market for NAND Flash products has grown substantially due to the rapid advancement of technology and will continue to grow due to high demand for these and other removable and embedded storage devices. NAND Flash sales were 44% of the company's total net sales in 2012, 36% in 2011 and 30% in 2010. DRAM products are high-density, low cost per bit, random access memory devices that provide high-speed data storage and retrieval. DRAM products are sold by the company's DSG, WSG and ESG segments. The company offers DRAM products with a variety of performance capabilities, varying price ranges and various other characteristics including high-volume DDR3 and DDR2 products. They also offer specialty DRAM memory products including Mobile Low Power DRAM, DDR, SDRAM, reduced latency DRAM and pseudo-static DRAM. DRAM products sales were 39% of the company's total net sales in 2012, 41% in 2011and 60% in 2010.
Financial Performance
The year 2012 was difficult for the company because the semiconductor industry was shifting its dynamics from personal computers to tablets and smartphones and offering lower selling prices for its products due to advancements in technology. This is why the company reported severe losses in 2012. However, the changing dynamics, rising selling prices and recent acquisition of Elpida Memory, one of the leading manufacturers of DRAM integrated circuits and Apple's (NASDAQ:AAPL) memory supplier, will attribute to future success for the company.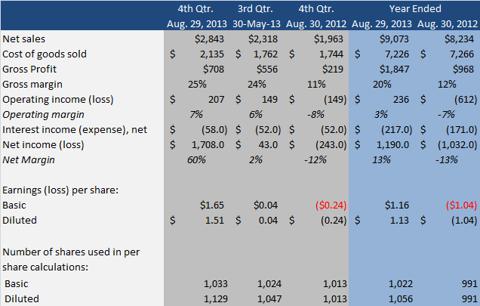 During fiscal year 2013 the company's financial performance was outstanding thanks to higher selling prices of DRAM. This was mainly because of a fire in the factory of one of its main competitors, resulting in a shortage of DRAM. Its successful performance is also attributed to the recent acquisition of Elpida Memory. Revenues for fiscal year 2013 increased by 10% to $9.07 billion from $8.23 billion in fiscal year 2012. Gross margins increased to 20% from 12% due to higher selling prices. Operating margins improved to 3% in fiscal year 2013 from negative 7% in fiscal year 2012. Substantial improvements in the net margins of fiscal year 2013 were the result of the one-time gain of $1.48 billion from the Elpida acquisition. This is why, despite the company's higher number of outstanding shares in fiscal year 2013, it is able to generate a higher EPS of $1.13 compared to the loss of $1.04 per share in fiscal year 2012. If I exclude this figure, the company showed a net loss of 3% or $0.28 per share compared to its net loss of 13% in fiscal year 2012.
Research and Development
R&D is an important department of companies in technology sectors and it is the reason behind their competitive natures. Micron's R&D efforts are focused primarily on the development of successively smaller line-width process technologies designed to facilitate next generation memory products. Currently, product design and development efforts include high density DDR3 and DDR4 DRAM and Mobile Low Power DDR DRAM products as well as high density and mobile NAND Flash memory, NOR Flash memory, specialty memory, phase-change memory, SSDs and other memory technologies and systems.
The company's R&D expenses were $931 million in fiscal year 2013, $918 million in fiscal year 2012, $791 million in fiscal year 2011 and $624 million in fiscal year 2010. Micron generally shares its R&D process and design costs for NAND Flash with Intel and its R&D process and design costs for DRAM with Nanya. As a result of its R&D sharing program, the overall R&D expenses were reduced by $225 million in 2012, $236 million in 2011 and $155 million in 2010.
Outlook
According to Digitimes Research Mobile DRAM bit demand is set to exceed 400 million gigabytes "GB" in the fourth quarter of 2013, an increase of 35.5% on a QoQ basis and 70% increase on YoY basis. The DRAM bit demand for smartphones will rise to 334 million "GB" in the fourth quarter of 2013. The DRAM bit demand for tablets will also increase to 41.9% on QoQ and 40.5% on YoY reaching up to 65.8 million "GB."
Conclusion
The last few years were quite tough for the company because of a slump in PC sales but the recent acquisition of Elpida will provide an excellent growth opportunity for the company. The acquisition will not only improve the company's financial position but also strengthen its product portfolio so that it can offer a wide range of products to its clients. Rising selling prices of DRAM will also aid the company's development. Moreover, the company has announced its plan to start production of its breakthrough 2GB Hybrid Memory Cube ((HMC]), which is designed for applications requiring high-bandwidth access to memory, data packet processing, data packet buffering or storage and computing applications such as processor accelerators. Micron expects future generations of HMC to migrate to consumer applications within three to five years. Growth potential seems to be quite high for the company.
Disclosure: I am long MU. I wrote this article myself, and it expresses my own opinions. I am not receiving compensation for it (other than from Seeking Alpha). I have no business relationship with any company whose stock is mentioned in this article.