The average stock that has reported earnings so far this season is up 0.45% on its report day. As we update each quarter, below is a list of the best and worst performing stocks on earnings since the season began back on October 8.
As shown below, Align Tech (NASDAQ:ALGN) has had the best one-day response to earnings with a gain of 23.58%. AthenaHealth (NASDAQ:ATHN) ranks second with a one-day gain of 21.35%, followed by MGIC (NYSE:MTG), Chipotle Mexican Grill (NYSE:CMG) and Google (NASDAQ:GOOG). NetScout Systems (NASDAQ:NTCT) and iGate (NASDAQ:IGTE) are the only other stocks to gain more than 10% on their report days this season.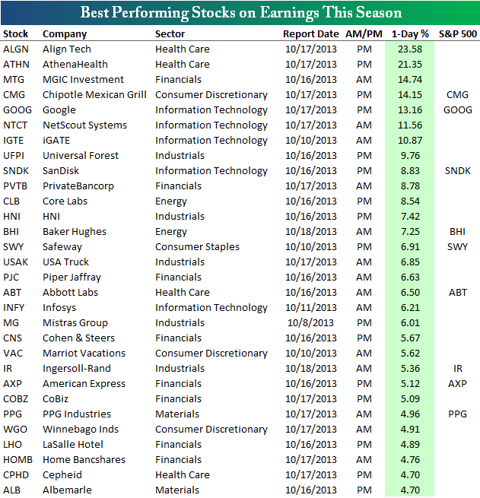 Click to enlarge
Not all stocks have been winners this season, however. Below is a list of the worst performing stocks on their report days since October 8. Acacia Research (NASDAQ:ACTG) and Select Comfort (NASDAQ:SCSS) have been the biggest losers with one-day declines of more than 21%. Ruby Tuesday (NYSE:RT) ranks third worst with a decline of 17.09%, followed by Stanley Black & Decker (NYSE:SWK) and Travelzoo (NASDAQ:TZOO). A few other notables on the list of earnings losers include IBM, Intuitive Surgical (NASDAQ:ISRG) and eBay (NASDAQ:EBAY).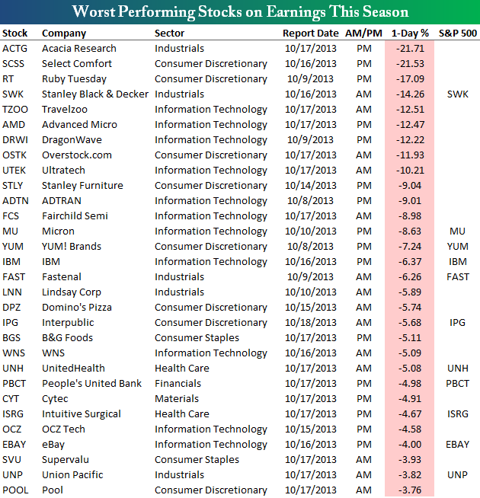 Click to enlarge