Shares of struggling retailed J.C. Penney (NYSE:JCP) are down more than 63% so far in 2013, and are trading at a 31-year low. The numerous challenges facing JCP are extremely well known and I believe possibly fully factored into the share price. However, there has not been as much talk about possible catalyst, which could drive shares higher. For this reason, I am considering buying JCP for a trade.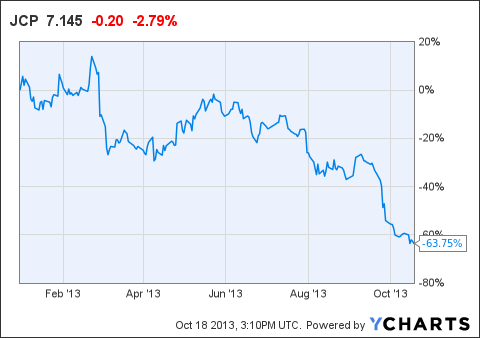 JCP data by YCharts
Recent Capital Raise
JCP recently raised nearly $1 billion in new equity. Of course, this news sent shares sharply lower as it was highly dilutive. While dilutive, it is also true that the stock issuance has put JCP on more sound financial footing. If it were not for this capital raise, I would be more inclined to believe the recent rumors that the company has hired bankruptcy lawyers. Essentially, in my view, the capital raise has bought JCP some time.
Takeover Target
Given the current valuation, JCP could be a possible takeover target. However, it should be noted that the company does have a plan in place to make a hostile takeover difficult. The two groups likely interested in JCP are competitors and private equity firms. So far, there have not been many rumors floating around about potential deals. For this reason, even the mention of interested parties could send shares surging.
Disney Stores
In early October, Disney (NYSE:DIS) announced plans to launch 565 store-within-a-store concepts in JCP. This has the potential to be a real game changer for JCP. In addition to bringing in additional revenue, the Disney stores will also be a driver of traffic. This should help JCP get customers walking through the stores and ultimately help drive higher sales for JCP itself.
Upcoming Holiday Season
For almost all retailers, the holiday season is the most important and most profitable time of the year. This is the case for JCP. With the Disney store draw, and low expectations, I think it is possible that JCP reports a better-than-expected holiday season. Furthermore, JCP has announced plans to open on Thanksgiving and bring back its snow globe giveaway.
Short Interest
Currently, short interest in JCP stands at more than 50% of the float. Given this, any positive news could ignite a short squeeze. Even without any positive news, short sellers may want to lock in gains leading to demand for JCP stock.
Conclusion
As a contrarian, I am interested in JCP because of the recent capital raise, potential for a takeover, the Disney store-within-a-store concept, possibility of better-than-expected holiday sales, and the high short interest. I have not yet decided how I want to gain long exposure to JCP. The options include purchasing stock outright, purchasing JCP debt as was discussed in this SA piece, selling put options at low single-digit strike prices, and buying call options. Currently, I am leaning toward purchasing call options to limit my risk but I have not made a final decision.
Disclosure: I have no positions in any stocks mentioned, but may initiate a long position in JCP over the next 72 hours. I wrote this article myself, and it expresses my own opinions. I am not receiving compensation for it (other than from Seeking Alpha). I have no business relationship with any company whose stock is mentioned in this article.