The leadership turmoil that Occidental Petroleum (NYSE:OXY) went through earlier this year did not go by without results. The resolution of senior level executive conflicts seems to have paved the way for major changes in the super-independent's portfolio strategy. This morning, the company announced a series of large-scale "initial actions" resulting from a strategic review. The company is taking steps to "streamline and focus operations."
It is difficult not to like the press release issued by Oxy this morning. The announcement unambiguously signals a radical restructuring aimed at focusing the company's effort on what it has considered, for quite some time now, its priority assets: the Permian and California (map below). The remainder of the company's vast and dispersed asset empire, which stretches from Latin America to Middle East, will likely be spun-off to shareholders in the form of more regionally-focused entities or divested.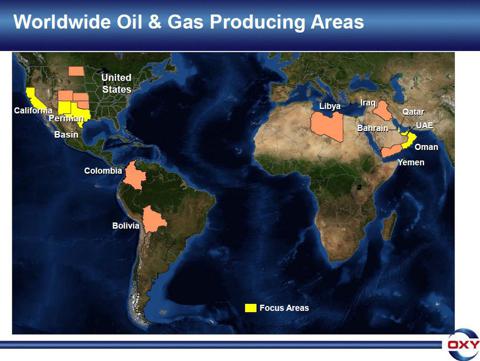 (Source: Occidental Petroleum's June 2013 Investor Presentation)
Among the several strategic steps announced, the most significant is the decision to pursue the sale of a minority interest in the company's Middle East/North Africa operations "in a financially efficient manner." The move appears to be the first phase in a tax-free separation of Oxy's legacy Middle East operation into a stand-alone company. The announcement also signals that this formerly foundational to Oxy and highly praised business may be up for bids by strategic acquirers.
Oxy will also pursue "strategic alternatives" for those North American E&P assets that the company no longer considers core to its strategy. Those assets include the Williston Basin (the Bakken), Hugoton Field, Piceance Basin and other Rocky Mountain assets.
The mention in the press release of Oxy's remaining interest in the General Partner of Plains All-American Pipeline, which is worth approximately $3.4 billion based on the IPO price, hints that this asset may also become a source of funds at some point in the future.
Importantly, the press release emphasizes that these initiatives are the first steps in redefining the company's strategic course and asset complexion going forward. The press release specifically states:
"These are the first formal steps in our effort to streamline the business, concentrate in areas where we have depth and scale and improve overall profitability. Our goal is to become a somewhat smaller company with more manageable exposure to political risk," said Stephen I. Chazen, President and Chief Executive Officer. "We will continue to consider additional strategic alternatives for the Company to maximize total returns to our shareholders."
Occidental's announcement reflects the disruptive challenge that the North American Shale Revolution has created for the traditional global Oil & Gas business model. An oil-focused producer, Occidental has seemed to be exonerated from the competitive pressures that natural gas operators have encountered in the past two-three years. With oil prices staying at very attractive levels, Occidental has been often perceived as a safe haven for energy investments. Maybe overlooked, however, is the fact that the Shale Revolution has rendered almost obsolete one of Occidental's core competitive advantages that the company has always prided itself on: access to resources in the Middle East and other international areas.
As the shale technology quickly moved from dry gas shales to oil shales, access to resources has become less of a critical issue for independent operators. The magnitude of the already identified oil shale opportunities in the politically safe U.S. and Canada (such as, for example, the Permian stacked-pay plays) is so tremendous, that many operators, including newcomers, now have a viable venue to build and quickly expand oil operations, often from scratch. Balance sheet size and deeply entrenched connections in the Middle East are no longer critical to success. Moreover, Tier I oil shales in the U.S have already demonstrated their ability to deliver large-scale growth and exceptionally high returns on investment, competing with or exceeding returns from PSA-style arrangements in areas dominated by national oil companies, such as the Middle East and North Africa.
Essentially a pure play oil producer, for many years Occidental has been blessed with a position in the sweet spot of the commodity cycle. However, like many of its mega-capitalization peers, the company has been slow to recognize the onset of the shale technology and the radical shift in operating models within North America's Oil & Gas. Oxy has not capitalized nearly enough on the remarkable asset platform it has had in the U.S. to capture prime positions in emerging shale plays. The Williston Basin is a clear example, where Oxy is in the second tier of operators measured both by the location of its acreage and well results.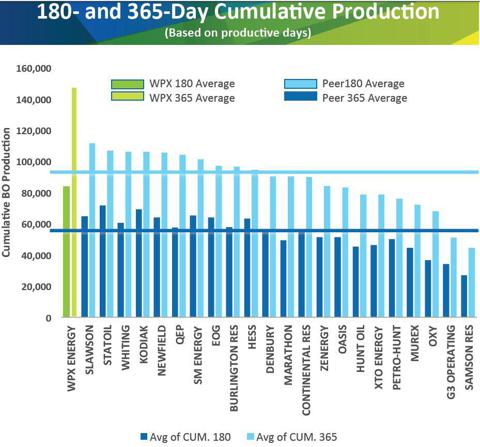 (Source: WPX Energy, September 2013)
While Oxy's shift in strategy is a much-needed initial step as the company is trying to adapt to the new industry realities, many more steps are required for ultimate success. Even after the company's portfolio is simplified, Oxy will still face the challenge of catching up to the leaders in its peer group (such as EOG Resources [EOG], Continental Resources [CLR] and Pioneer Natural Resources [PXD], just to name a few) in capturing access to the most productive sweet spots in emerging resource plays and re-building organizational culture for success in this somewhat new to Oxy technological area. Large size is not necessarily an advantage in that regard.
The announced new strategic course certainly opens many options for Occidental. The divestitures are expected to generate a significant amount of proceeds. Occidental's press release states that these funds, together with the excess cash on the company's balance sheet, will be used "to reduce Occidental's capitalization" (i.e., pursue stock buy backs or pay out special dividends). Strategic acquisitions to gain or expand critical mass in the company's core areas of operation also come to mind as an alternative.
Occidental expects to complete the strategic review in the coming months.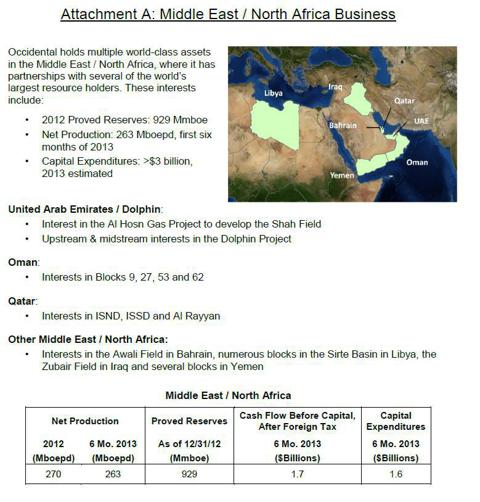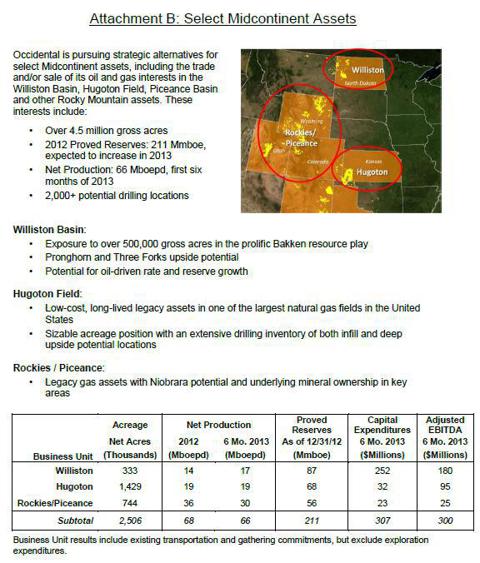 Disclosure: I have no positions in any stocks mentioned, and no plans to initiate any positions within the next 72 hours. I wrote this article myself, and it expresses my own opinions. I am not receiving compensation for it (other than from Seeking Alpha). I have no business relationship with any company whose stock is mentioned in this article.
Disclaimer: Opinions expressed herein by the author are not an investment recommendation and are not meant to be relied upon in investment decisions. The author is not acting in an investment advisor capacity. This is not an investment research report. The author's opinions expressed herein address only select aspects of potential investment in securities of the companies mentioned and cannot be a substitute for comprehensive investment analysis. Any analysis presented herein is illustrative in nature, limited in scope, based on an incomplete set of information, and has limitations to its accuracy. The author recommends that potential and existing investors conduct thorough investment research of their own, including detailed review of the companies' SEC filings, and consult a qualified investment advisor. The information upon which this material is based was obtained from sources believed to be reliable, but has not been independently verified. Therefore, the author cannot guarantee its accuracy. Any opinions or estimates constitute the author's best judgment as of the date of publication, and are subject to change without notice.