The 'Cheerios' maker, General Mills (GIS), is known for the steady returns it has been providing since inception, and the stock has moved up 18.5% this year. The company keeps its shareholders happy by consistently paying dividends over the past 12 years. General Mills announced a dividend of $0.38 on Sep 24, 2013, after observing an 8% rise in revenue to $4.37 billion in the first quarter of 2014, ended in August this year. The $0.38 dividend is a 15% increase from the dividend it paid in the first quarter of this year.
The reason behind this impressive performance is General Mills' increasing focus on international markets, which account for approximately 30% of its total revenue. International acquisitions such as Yoki Alimentos in Brazil and Yoplait Canada during last year contributed 5% to sales growth and guided the company to build a strong foothold in the international markets. Due to this, General Mills experienced a 27% year-over-year rise to $1 billion in international sales in the first quarter of 2014. Moreover, the acquisition of Yoplait International led European sales to rise by 51% in comparison to the sales in the first quarter of fiscal year 2013. New product launches including Yoplait Greek yogurt and Lucky Charms in the U.S., new Yoki Kit Facil dinner mixes in Brazil, and Wanchai Ferry frozen dumplings in China were also growth drivers for this year. This makes us anxious to see how the stock price will move in the coming quarters and what initiatives will it take to continue providing similar returns.
Cereal market in the U.S. to recover
Despite the strong performance in the international market, General Mills is struggling to sustain its business in the U.S. More than 70% of the company's total revenue comes from the U.S., where cereals are the major contributor. In the last quarter of 2013, which ended in May, it experienced a 2% drop in sales for cereal brands including Cheerios, Big G, and Chex. This was due to consumer boredom with cereal, inclination towards higher protein products like yogurt, and a need for on-the-go breakfasts. We believe the company can increase cereal sales as it has a healthy market share of 40% in the U.S. cereal market, a $10 billion market last year.
General Mills is taking various initiatives to promote the sale of its cereals in the U.S. and to make the brand even more popular amongst the population. It is ramping up its innovative "Hello, Cereal Lovers" campaign, which promotes General Mills cereal brands, by launching National Cereal Lovers Week Oct. 14-20. This campaign focuses on driving engagement and interaction with consumers through sharing cereal-based recipes, ideas, news, and crafts activities. The consumers will also be able to share the same on its dedicated website and Facebook, Twitter, Pinterest, Instagram and Tumblr. Through this initiative, we expect General Mills will get more ideas and recipes, which it can implement to make new products according to the changing taste and preference of the U.S. population.

Source: nydailynews.com
In addition to the innovative campaign, General Mills also rolled out five Halloween-theme "Monster Cereals" last month to promote cereal sales. These cereals named Count Chocula, Franken Berry, Boo Berry, Frute Brute, and Fruity Yummy Mummy, which have a selling price of $2.50 a box, will be targeting kids for the upcoming Halloween season. We believe this will create more awareness for its cereal brands amongst the younger population in the U.S. We are confident on the success of these cereals, as the company has reduced the amount of sugar content in Monsters Cereals from 15 grams per serving to 9 grams. This will ease the growing concern for nutrition in the U.S. population, as it also has 8 grams of whole grain per serving and calcium and vitamin D. This will eventually affect the revenue share coming from the U.S., and it can use the same strategies to build stronger brand value in the international markets.
Along with General Mills, its closest competitor, Kellogg (K), is also feeling the heat from the declining trend of the U.S. cereal market. Kellogg, the maker of Fruit Loops and Corn Flakes, posted a 3% year over year drop in revenue for its morning breakfast division, cereal being one of the contributors. Kellogg is trying to capture a higher market share in the U.S. and win back consumers, as cereal is one of its biggest businesses. According to the company, it will increase the advertising budget and will engage in new product development over the coming quarters. To make its brand more familiar, the company has sponsored two U.S. Winter Olympians with two of its cereal and granola brands Bear Naked and Kashi. We believe the company is also trying to position its kids' meal according to the nutritional needs of adults. Recently, Kellogg came out with Raisin Bran with omega-3 and a multigrain version of Special K to meet these nutritional needs.
Yogurt to strengthen U.S. business
As discussed above, the U.S. population is more inclined to have yogurt for breakfast instead of a bowl of cereal, which is one of the reasons for weakness in cereal sales. General Mills is emphasizing yogurt sales and has been experiencing growth in the yogurt business lately. In the first quarter of 2014, the company observed a 100% year over year sales growth for its Greek Yogurt. The yogurt sales started to gain momentum with the launch of Yoplait Greek 100 last year, and in its first year, the sales reached $150 million. General Mills intends to capitalize on the opportunity and is bringing in new products to increase its share of the growing yogurt business in the U.S., which is expected to grow 3% year over year to reach $4.2 billion this year.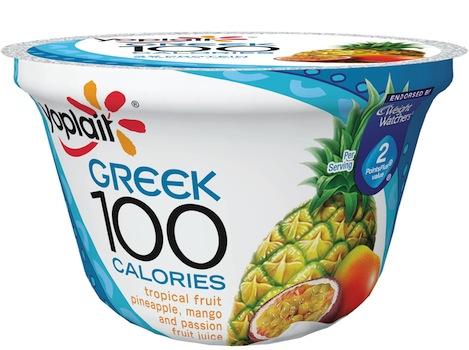 Source: bizjournals.com
In August this year, it launched blended Greek yogurt, which is now available in six unique flavors including Blueberry, Strawberry-Raspberry, Tangerine, Coconut, Pineapple, and Vanilla. To target kids, it launched Yoplait Go-Gurt Protein, which has 5 grams of protein per serving with no artificial colors, or flavors and no high fructose corn syrup. Going forward, the company is engaged in promoting the brand through various marketing initiatives. It is trying to include the healthy yogurt product line on elementary school lunch menus. It is participating in various events held at schools to promote the brand and give kids a healthy choice for lunch. We believe this will help the company to further gain traction in the U.S. market, which will boost the sales volume. General Mills, with the help of discounts and new flavors, could grab customers' attention and dominate the U.S. yogurt market.
On the other hand, Danone (OTCQX:DANOY), a major player in the yogurt business, is proving to be tough competition for General Mills. Danone has partnered with Starbucks (SBUX) to launch a unique line of Greek-style yogurts at Starbucks outlets in spring this year and in grocery stores by next year. The new lineup will be marketed under Starbucks' Evolution Fresh product line and will prove to be beneficial for both companies. We believe Starbucks will entice customers to include yogurt in their everyday diet, which will positively impact the sales growth of both companies. Also, with the growing trend of yogurt consumption and health benefits attached to it, the diet conscious U.S. population will also prefer the product.
Conclusion
In our view, General Mills is positioned well in terms of securing future revenue growth. Its strong international presence and various initiatives to build a strong foothold in the market build our confidence in the stock. Despite the tough competition from Kellogg and Danone, we expect the company to perform well based on its marketing and advertising initiatives. When we compare PEG ratios, General Mills seems to be undervalued and indicates future growth potential. The company has the lowest PEG ratio of 2.12 compared to Kellogg's 2.23 and Danone's 4.62. Therefore, we believe the stock is a good option to invest for long-term gains.
Disclosure: I have no positions in any stocks mentioned, and no plans to initiate any positions within the next 72 hours. I wrote this article myself, and it expresses my own opinions. I am not receiving compensation for it (other than from Seeking Alpha). I have no business relationship with any company whose stock is mentioned in this article.
Additional disclosure: Fusion Research is a team of equity analysts. This article was written by Madhu Dube, one of our research analysts. We did not receive compensation for this article (other than from Seeking Alpha), and we have no business relationship with any company whose stock is mentioned in this article.