by David Russell

One big trader is looking for lower prices over the next year in Dean Foods (NYSE:DF), which has been falling since its last earnings report early this month.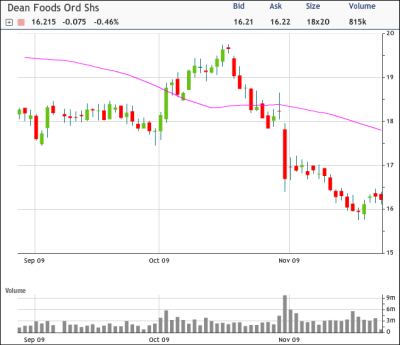 optionMONSTER's Depth Charge tracking program detected unusual activity in the January 2012 12.50 puts, which traded 4,500 times against no existing open interest. A single large purchase for $1.75 accounted for more than three-quarters of the volume.

DF fell 0.46 percent to $16.22 in Wednesday midday trading and is down 11 percent in the last month. Although its earnings report on Nov. 2 beat the consensus estimate by a penny, management forecast a weak fourth quarter.

The dairy stock needs to lose 34 percent of its value in the next 25 months for the puts to turn a profit. The trade may have resulted from an investor who owns the shares and is looking to implement put protection.

It may also be an attempt to profit from potentially higher levels of implied volatility in the stock, which would drive up the value of the options. Implied volatility on the stock is now about 36 percent and has climbed from 32 percent on Oct. 22.

Overall options volume in DF is three times greater than average Wednesday. Puts account for 96 percent of the activity.
(Chart courtesy of tradeMONSTER)