At the end of March 2013, three smaller Canadian E&P companies merged to form Spyglass Resources (OTC:SGLRF), under the leadership of Tom Buchanan, former CEO of Charger and founder of Founders Energy, (which became Provident Energy Trust - a multi-billion dollar enterprise).
The idea behind the amalgamation was to take three smaller, resource rich, companies (Pace, Charger and Avenex) - reduce costs by uniting under one management, and sell non-core assets to reduce debt, thereby allowing Spyglass to focus on moving towards a greater percentage of light oil production, and away from lower priced natural gas. Unfortunately, for Spyglass, but fortunately for new investors, the path to amalgamation was not a happy one, resulting in a proxy fight and many disgruntled investors, which had a significant negative impact on the Spyglass share price as seen below: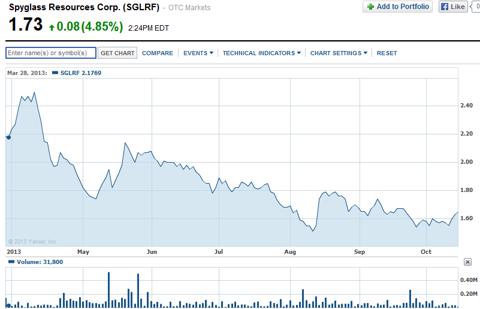 (Source: Yahoo Finance)
From a high point at the close of the amalgamation, Spyglass dropped from over $2.40 down to a low of $1.50, from which it has begun to recover, based upon Spyglass beginning to execute on the plan to sell non-core assets and refocusing the combined company on light oil production.
Like a number of Canadian E&P companies, Spyglass pays a monthly dividend. Originally, the proposal was for C$.03 but Spyglass settled on C$.0225, paid monthly - currently around 15% annually. Since Spyglass is a Canadian corporation the dividend is subject to a 15% withholding tax on regular brokerage accounts, which can be reclaimed on your tax return as a foreign tax credit (up to certain limits).
On October 15, 2013 Spyglass provided an operational update, announcing non-core property dispositions of $20 million (exceeding their target by $5 million), representing the sale of 275 BOED of Saskatchewan oil and natural gas production for approximately $67,300 per BOED. Spyglass also provided information about the successful execution of the 2013 drilling program:

(Source: Spyglass October 15, 2013 Press Release)
One consistent driver of the share price of any stock is an assessment of management's ability to express a clear plan, and follow through on that plan. Spyglass, as a recently merged business is untested in this area, but the October 15th update provides a degree of confidence that under the leadership of Mr. Buchanan Spyglass is beginning to perform.
The news release from Spyglass concludes with an update to 2013 exit guidance to 16,000 - 16,500 BOED, with the 3Q average production guidance estimated at 16,400. Spyglass has also continued to work on cost reduction, resulting in a 10% staff reduction - good progress on their goal of general and administrative expenses of less than $3.00 per BOE. The market reacted favorably to the Spyglass update, moving the shares up over 6%, and they are currently in the $1.76 range.
Dividend Safety and General Considerations
The current annual dividend of $.27 targets a payout ratio of between 30-35% for 2013, with the all in payout ratio of about 100% taking into consideration capex. Spyglass plans to grow modestly by selling lower netback production focused on natural gas and developing additional light oil production from its inventory of prospective drilling locations, taking oil/liquids production from 48% in the first half to approximately 50-52% in the second half.
Spyglass has an active hedging strategy, with approximately 56% of oil and 50% of gas production hedged until the end of the year (at WTI C$95.04 oil and $3.44 McF gas), dropping to 42% of oil production at C$94.51 hedged in 2014 and 35% natural gas. In order to establish that the current huge dividend is sustainable Spyglass needs to continue executing well on the plan to incrementally move towards oil production, reduce costs and sell non-core assets.
Although an OTC stock like Spyglass is not for the faint of heart, I think the most significant risks are continuing increases in North American oil production leading to erosion in oil prices, which is a risk that applies to all oil producers. Spyglass is beginning to show progress but of course no one can guarantee continued good execution with a new company. Overall debt is manageable, with net debt of 296.9 million and over 100 million available in credit capacity.
Reserves and Discount to NAV
Spyglass has 635,000 acres in undeveloped land and 15 years of production based upon an estimate of 17,000 BOED production. The most recent Spyglass presentation calculates NAV of $3.69 per share, based upon total proved reserves and ignoring proved plus probable.
Although some discount to reserves might be reasonable I think the current discount will not last.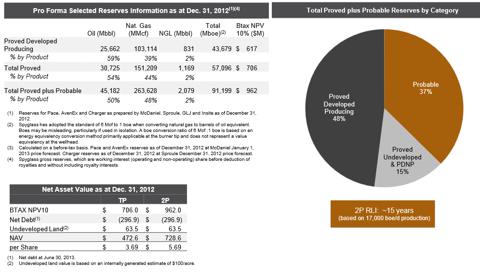 (Source: Spyglass October 2013 Corporate Presentation)
Investment Conclusions
Spyglass is undervalued because the company is new and the merger was contentious. The new management team has provided a reasonable plan to integrate assets, reduce expenses and incrementally move to more oily production. I expect Spyglass's share price to move up from the current $1.76 into the $2.25 - 2.50 range within the next year while continuing to pay a C$.27 dividend.
Highlights:
15% monthly yield
Currently trading below 50% of total proved NAV based share price
Experienced CEO and senior management
Current operational update positive
Non-core dispositions above target
Large undeveloped land position
Disclosure: I am long OTC:SGLRF. I wrote this article myself, and it expresses my own opinions. I am not receiving compensation for it (other than from Seeking Alpha). I have no business relationship with any company whose stock is mentioned in this article.