Women in the age group of 45 years to 59 years are expected to go through menopause, and there are more than 33 million women in the U.S. that are currently going through this process. Among these, 50% of the women that are post-menopausal also experience moderate-to-severe vasomotor symptoms, known as hot flashes, which is the most common symptom of menopause.
Pfizer (PFE) is the leader in developing menopause drugs. The company, with its subsidiary Wyeth Pharmaceutical, collaborated with Ligand Pharmaceutical (LGND) to develop the menopause drug, Duavee. This drug will be used to treat women suffering from moderate-to-severe menopausal symptoms and to prevent post-menopausal osteoporosis, a kind of bone disease, which can increase the risk of fractures. By introducing this new drug, Pfizer has deepened its footprint in the market for menopausal treatment that also includes Hisamitsu Pharmaceutical (OTC:HTSUF) and Eli Lilly (LLY).
FDA approval for Duavee
On October 03, 2013, the FDA approved Duavee, which combines conjugated estrogens and bazedoxifene in ratio of 0.45 milligram/20 milligram tablets for the treatment of moderate-to-severe menopause symptoms and prevent osteoporosis after menopause. This is the first and only therapy that combines estrogens and bazedoxifene (instead of progestin) to reduce the chances of uterine lining cancer.
Looking at its superior efficacy and safety profile in treating moderate-to-severe menopause, the FDA also issued a Complete Response Letter regarding the 0.625 milligram/20 milligram dose of Duavee. This higher combination of conjugated estrogens and bazedoxifene is the only medication the company submitted for the additional indication for vulvar vaginal atrophy, or VVA, a change in the vaginal tissues which leads to dryness, itching, and burning in and around the vagina and vulva.
Approval well supported by Clinical trial studies
Under phase III SMART trial, Pfizer evaluated the safety and efficacy of Duavee in treating women suffering with moderate-to-severe menopause symptoms like hot flashes. It demonstrated significant reduction in moderate-to-severe hot flashes by 74% compared to the placebo's 47%. After the 12-week intake of Duavee, women patients experienced three hot flashes per day while those taking the placebo experienced six. The company also runs other trials for Duavee that help in building bone mineral density in the total hip and lumbar spine. Duavee was found superior to the placebo in all aspects, which has added an advantage in gaining FDA approval.
Backed by Duavee efficacy and the FDA approval, the company expects Duavee will be available for sale in the U.S. by the first quarter of 2014. We also believe Duavee's strong trial results and Pfizer's leadership in developing menopause drugs will help the company launch this drug comfortably. Further, Wyeth, with it strong marketing abilities, will commence Duavee marketing by February 2014 in the U.S.
Performance of its previous drugs with same composition
Premarin is Pfizer's previous menopause drug that was developed with the same component conjugated estrogens. It was used to treat osteoporosis in post-menopausal women. Premarin is used to treat six problems associated with menopause, and Duavee will treat two of them. Premarin uses only conjugated estrogens, which may increase the probability of developing uterus cancer, but Duavee's combination of conjugated estrogen and bazedoxifene reduces the chances of this cancer. Premarin is one of its blockbuster drugs and generated revenue of around $1.07 billion in 2012, with the year-over-year growth of 6%.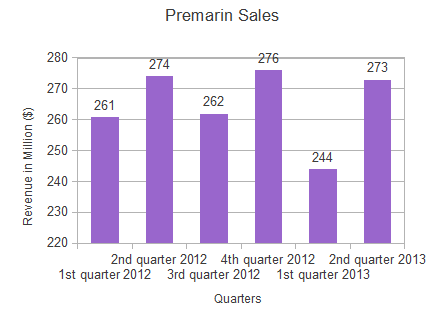 Premarin has consistently performed in the past and generated significant revenue for Pfizer. We expected Duavee will perform similar to Premarin, generating significant revenue for the company. The strong abilities of Wyeth will help in building a solid marketing agenda for Duavee, which may boost its sales, resulting in higher earnings for Pfizer.
Benefit to its partner
Ligand, as the biopharmaceutical company, is focusing on generating revenue from the licensing agreement. Under this agreement with Pfizer for developing Duavee, it received the milestone payment of $425,000 upon FDA approval. On the day of this approval, its share prices jumped by around 9.5% to the high of $49.19.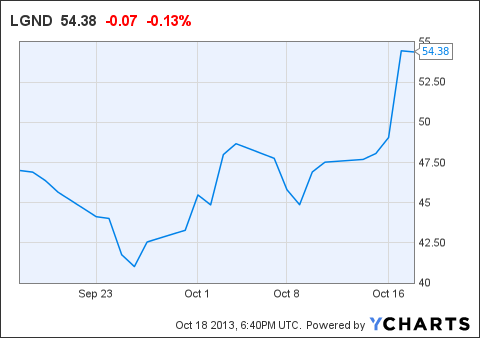 Additionally, on October 8, 2013, the FDA approved Ligand's investigational new drug application for its Glucagon Receptor Antagonist program with LGD-6972 for treatment of type II diabetes patients. In the pre-clinical trial on animals, LGD-6972 significantly reduced the glucose level in the type I diabetic animals and lowered the glucose level in rats and monkeys suffered with type II diabetes. With the positive results in its pre-clinical trials, the company is expected to start phase I trial of this drug by the end of this year.
Competitors in menopausal drugs
When it comes to competition, Eli Lilly's Evista drug is used for preventing and treating osteoporosis in women after menopause. Evista was approved by the FDA way back in 1997, and its patent will expire in March 2014. It contributes nearly 4% of the company's revenue and generated $1.01 billion last year. As Evista is going off-patent next year, this will hamper the company's revenue. However, with its strong drug portfolio, Eli Lilly is expected to strengthen its establishment through other drugs like Amyvid, Alimta, Cialis, Effient, Erbitux, and Tradjenta.
Two of its large drugs are Cialis, an erectile dysfunction treatment drug, and Alimta, a lung cancer drug. These two drugs generated revenue of $1.04 billion and $1.29 billion respectively in the first half of 2013. With the strong drug portfolio that has performed well for the company in the past, we believe it will provide numerous opportunities to sustain its long-term growth.
Additionally, Eli Lilly has a strong pipeline of almost 60 drugs, and some of them are in phase III trial study. The company has filed New Drug Applications with the FDA for five of its drugs, which will help it in treating diabetic and cancer patients. It has around eight molecules that are currently in phase III trial study. Among these eight molecules, three will treat cancer, two to treat diabetes, and the other will be used to treat lupus, psoriasis, high cholesterol, depression, and rheumatoid arthritis. We expect these will help Lilly build a solid base for its future growth.
Conclusion
Lilly's Evista patent expiration will provide an opportunity for Pfizer to capture the large market share in the treatment menopause osteoporosis. We expect Pfizer's new drug, Duavee, should perform similarly to Premarin and it should help the company raise its future revenue and earnings. Additionally, Pfizer raised it EPS guidance from $1.44-$1.59 to $3.07-$3.22 for this year. We expect the company will easily achieve its EPS target, as it has already been able to generate EPS of $2.34 in the first half 2013. We expect Pfizer's strong presence will allow it to market Duavee, which in turn will boost investors' confidence and may drive the stock price higher than the current level.
Disclosure: I have no positions in any stocks mentioned, and no plans to initiate any positions within the next 72 hours. I wrote this article myself, and it expresses my own opinions. I am not receiving compensation for it (other than from Seeking Alpha). I have no business relationship with any company whose stock is mentioned in this article.
Additional disclosure: Fusion Research is a team of equity analysts. This article was written by Satya Prakash, one of our research analysts. We did not receive compensation for this article (other than from Seeking Alpha), and we have no business relationship with any company whose stock is mentioned in this article.