What a difference a couple of days can make. Just a couple of days ago shares of Parkervision (NASDAQ:PRKR) were hovering around $2.50. As of right now, shares just jumped over $7 for a gain of over 30% today. On the weekly chart, we can see that shares of Parkervision are up more than 180%. The chart below shows the monster run that Parkervision has been on.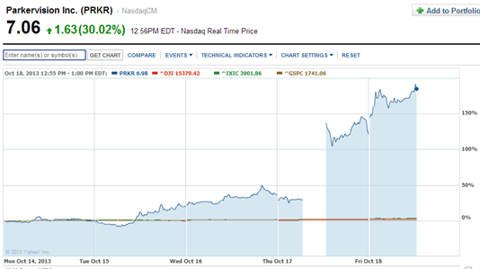 Click to enlarge
Yesterday, Parkervision won the first phase of its patent infringement lawsuit against Qualcomm (NASDAQ:QCOM). The second phase is now underway which will determine the amount of damages. According to sources, the US district judge is allowing Parkervision to ask for $432 million in damages. If found guilty of willful infringement, damages may be increased by up to three times ($1.29 billion).
With Parkervision's market cap hovering around $250 million at the start of the week, you can see why shares popped. While it's fun watching stocks pop like that, there are a couple of things that investors should be on the lookout for so that they are not blindsided. Yes, those two dreaded words; secondary offerings.
Yes, I said it. I know what you are probably thinking right now. Who does this guy think he is, he has no idea what he's talking about. Nevertheless, let's think about this for a moment and dig into the details.
Another Secondary Offering?
So far this year Parkervision has had two secondary offerings. The first offering came on March 21, when Parkervision placed 4.1 million shares at $3.25. This gave the company an influx of more than $13 million.
So with $13 million that the company raised, plus the $8.3 million they already had, Parkervision had over $21 million on the books. Sounds like they were set right? Nope!
A couple of months later Parkervision announced another secondary offering placing 3.7 million shares at $3.80. This raised an additional $13 million.
So with an additional $13 million that the company raised, plus the $13.7 million that the company had as of June 30, Parkervision had over $26 million on the books. They were certainly set now... right? Not really. Let's look over the numbers.
| | | |
| --- | --- | --- |
| | Parkervision | Vringo |
| Market Cap: | $625M* | $230M* |
| Cash On Hand: | $26M** | $46M** |
| Cash Used in 2013: | $9.1M | $10.9M |
| 2011 Revenue: | $0 | $718K |
| 2011 Net loss: | $14.5M | $7.4M |
| 2012 Revenue: | $0 | $369K |
| 2012 Net loss: | $20.3M | $20.8M |
| 2013 Revenue: | $0** | $1.2M** |
| 2013 Net loss: | $13.6M** | $23M** |
* As of Friday 12:30 p.m.
** As of June 30, 2013
As we can see Parkervision is on track to spend over $18 million by the end of the year. That would mean Parkervision would be left with $8 million heading into next year. As we have seen, $8 million does not get you very far in the IP world. Just look at a recent example of Vringo.
Vringo (VRNG) issued two secondary offerings last year and just like Parkervision, issued them right before they went to trial.
Vringo Secondary Offering (Round 1)
In August of 2012, Vringo issued a secondary offering of 9.6 million shares at $3.25 for a total of $31.2 million. One of the purposes of the offering was to pay off remaining debt as well as purchasing the 500 patents from Nokia for $22 million.
Vringo Secondary Offering (Round 2)
In October of 2012, Vringo issued another secondary offering of 10.3 million shares at $4.35 for a total of $45 million. One of the purposes of the offering was to raise cash for the trial against Google (NASDAQ:GOOG).
Heading into the trial against Google, Vringo had around $10 million in cash. Vringo knew what it was up against and saw the need for additional capital in order to accomplish what it wanted to do against Google. The secondary offering showed Google that they would not be able to drag out the trail in hopes Vringo would run out of cash. Vringo was locked and loaded.
Last November, a jury unanimously returned a verdict award in favor of Vringo. Vringo was awarded past damages along with a royalty rate of 3.5% going forward. So what has Vringo done with all its cash? Unfortunately it hasn't been able to do much of anything since it has not been able to collect any money from Google yet.
You have to remember that companies do not roll over and hand over hundreds of millions of dollars without a fight. Parkervision looks like it might run into the same challenges as Vringo and VirnetX (NYSEMKT:VHC) are going through right now.
Conclusion
Looking at Parkervision's history, we can see that they would need around $30 million (a good cushion) to run operations next year. Like any company or family, it's always a good idea to have an emergency/rainy day fund in place.
In Parkervision's situation shares are up almost 200% this year. Why not make the most of this opportunity since shares haven't reached this high in more than 5 years. Doing so can only help your bargaining position and allow timely execution of future business plans.
Instead of waiting and placing 4-5 million shares at $3-$4 again, why not dilute less and sell 2-3 million shares now around $6-$7. In the long run it would not only benefit the company, but long-term investors as well. Because of these reasons I feel that investors should be aware of these circumstances and that something like this could very well be in the works, if not already.
Investors are always reminded that before making any investment, you should do your own proper diligence on any stock mentioned in this article and to make sure you are comfortable with your investment strategy.
Disclosure: I am long VRNG. I wrote this article myself, and it expresses my own opinions. I am not receiving compensation for it (other than from Seeking Alpha). I have no business relationship with any company whose stock is mentioned in this article.