Growth in revenue, profit margin stays high
Monster Beverage Corp.'s (NASDAQ:MNST) revenue has grown at an amazing rate over the past couple of years, and analysts expect this growth to continue. Between 2008 and 2012, revenue doubled from $1.03 billion to $2.06 billion. By 2014, revenue is expected to reach $2.5 billion.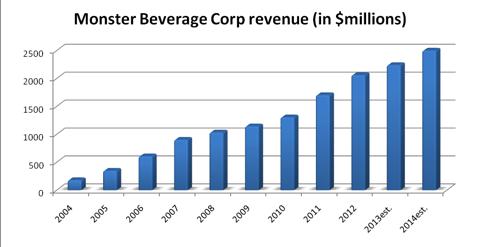 Click to enlarge
During its transformation from a small company, with revenues of only $200 million in FY2005, into one of the leading names in the energy drink market, MNST has managed to maintain pretty much the same profit margin. In the next graph, I have added the profit margin for Dr Pepper Snapple Group (NYSE:DPS) as comparison. We can clearly see that not only is MNST's profit margin stable, it is also quite high compared to its competitors. In fact, at 16.9% in the most recent fiscal year, it's close to The Coca-Cola Company (NYSE:KO), which had a profit margin of 18.8% in 2012.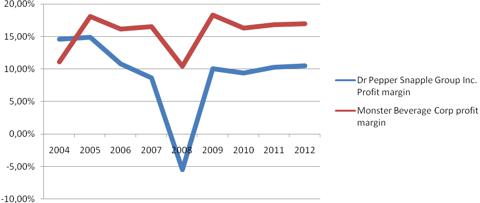 Click to enlarge
Giving money back to shareholders
The large amounts of money coming into MNST, however, are not at this point in time being paid out to shareholders in the form of dividends. What MNST does, however, is buy back its own stock. Last April, MNST announced a new share repurchase program for $200 million. The previous repurchase, for $250 million, was completed in just 5 months. The total number of shares has gone down from 198 million in 2007, to only 177 million today. The combination of growing income and share buybacks has increased MNST's earnings per share at an amazing rate in recent years. In 2009, EPS was at only $1.11. By 2012, this had grown to $1.86, with analysts forecasting $2.45 as soon as FY2014.
MNST has no debt and quite a bit of cash:
One more thing I really like about MNST is its balance sheet. It doesn't have a single dollar in debt, but it does have over $400 million in cash. Its current ratio (which is current assets divided by current liabilities) was at 2.37 in the most recent quarter. This is far better than its competitors: Coca-Cola, PepsiCo (NYSE:PEP) and Dr Pepper all have current ratios of close to 1.
What if Monster Beverage paid out dividends?
Right now, MNST doesn't pay its investors dividends, although it does buy back its own shares. However, if MNST grows its revenue and EPS as expected, I wouldn't be surprised if MNST would decide to start paying out dividends in the near future. There's plenty of money coming in and no debts to pay off. MNST's competitors all pay dividends of around 40-50% of EPS. MNST could easily pay investors $0.25/quarter in dividends. This would give it a relatively low payout ratio of only 40.8% in the next fiscal year, and a yield of 1.7% at the current price per share of $57.72.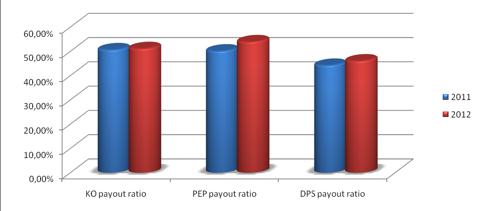 Click to enlarge
Disclosure: I have no positions in any stocks mentioned, but may initiate a long position in MNST over the next 72 hours. I wrote this article myself, and it expresses my own opinions. I am not receiving compensation for it (other than from Seeking Alpha). I have no business relationship with any company whose stock is mentioned in this article.