Low interest rates and low yielding fixed income assets do not make it easy for investors who need steady income streams to either finance retirement or portfolio growth. A few sectors in the equity space, however, do offer attractive income streams with yields that are more than double the yields of treasury bonds or even corporate bonds. The expansive monetary policy of the Federal Reserve has led to an unprecedented surge in corporate debt issuance at record low yields. Debt booms are not healthy for the economy in the long term (remember 2007/2008) and low interest rates do not necessarily allow investors to meet their return targets.
Pipeline companies structured as MLPs offer investors exposure to strong operating cash flows that back unit distributions. Pipeline companies such as Plains All American Pipeline (NYSE:PAA) or Kinder Morgan Energy Partners (NYSE:KMP) make good additions to income oriented portfolios for four reasons:
1. Pipeline owners/operators provide essential transportation and storage infrastructure to connect producers and consumers of oil and natural gas.
2. The US oil and gas exploration sector is booming. Higher production requires more transportation, storage and fractionation capacity. Higher drilling and processing activity benefits pipeline operators. In addition, the US is expected to become a net exporter of energy commodities in the short-term. This offers additional expansion opportunities as crude oil for instance is being sold abroad.
3. Probably the most important reason for investors: MLPs offer high distribution yields. Plains All American Pipeline offers a 4.75% yield but gives investors exposure to outsized distribution growth (see further below). High dividend yields are backed by relatively low-risk, recurring cash flows and yields are higher than current corporate bond yields.
4. Plains All American Pipeline provides some commodity exposure and is essentially a crude oil-driven bet on the expansion of US energy production. As such, MLPs can add diversification benefits to investment portfolios.
Share performance
Shares of Plains All American Pipeline have done really well over some time now and PAA's high distributions likely play a big role in it. Plains All American Pipeline units are up 170% over a five year period. Enbridge (NYSE:ENB) gained 179%, Magellan Midstream Partners (NYSE:MMP) 265% and Spectra Energy Partners (NYSE:SEP) 132.17%. Kinder Morgan Energy Partners returned 60% and is significantly lagging in share performance (it does have the highest current yield at 6.41% though).
What makes Plains All American Pipelines a BUY?
The MLP sector is of prime importance for the future growth of the US economy. There are three specific reasons why PAA makes a smart addition to portfolios and performs at eye level with sector large-cap Kinder Morgan Energy Partners.
Reason 1
PAA operates an extensive, high-capacity pipeline network that connects the most relevant in-play shale operations across the country. PAA is heavily reliant on crude-oil though natural gas liquids, natural gas storage and refined products add cash flow diversification to PAA's business. A vast network of pipelines connected to terminal and interchange facilities sets Plains All American up to profit from the ongoing shale oil and gas boom and is an equally attractive BUY candidate than dominant Kinder Morgan Energy Partners.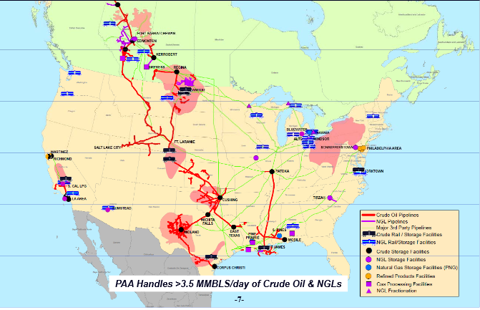 Click to enlarge
Reason 2
Many pipeline operators are hedged against changes in the underlying commodity price. Around 65% of PAA's cash flows are fee-related reducing its sensitivity to volatile energy prices. Payments based on predetermined fee schedules significantly reduce cash flow and business risk and provide relative stability to the company and its distributions.
The following slide from PAA's presentation for the Barclays CEO Energy-Power conference summarizes PAA's ability to weather fluctuating prices. Besides depicting PAA's resilience to macroeconomic conditions it is especially noteworthy to point out that the company has a track record of outperforming its EBITDA guidance (center graph) over 11 years. This shows that the company is not only conservative in its guidance (and still posting impressive growth rates) but manages to beat guidance consistently for long time periods. This signals that PAA's future guidance is of substance and carries a high degree of quality.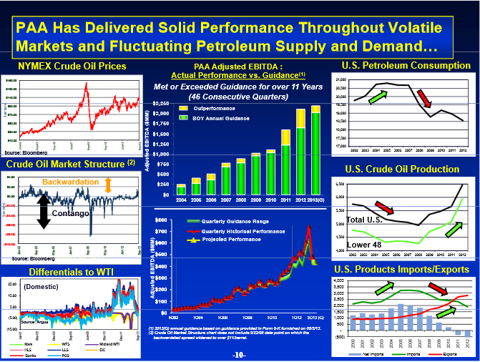 Click to enlarge
Reason 3
I have previously written about Kinder Morgan Energy Partners (in which I am invested for two years) and its outstanding shareholder remuneration record. Plains All American also has a great distribution history that I feel isn't fully acknowledged in the market because its yield is a bit lower than KMP's yield.
PAA has increased distributions by a compound annual growth rate of 7.7% since 2001. In 2001 PAA paid $1.03 per unit and now pays a quarterly distribution of $0.60 (annualized $2.40): A total increase of 133%. It has increased distributions by 10.6% since 2012 alone and hiked distributions in 36 of 38 quarters (November distribution not included in calculation below). At the beginning of the year CEO and Chairman of Plain All American Pipeline, Greg L. Armstrong, has already indicated that the company planned to achieve a 9-10% y-o-y distribution growth and I expect this trend to continue. Both 5- and 10-year annualized PAA unit returns beat the S&P 500 return by a wide margin and underline the strength of PAA's distribution record.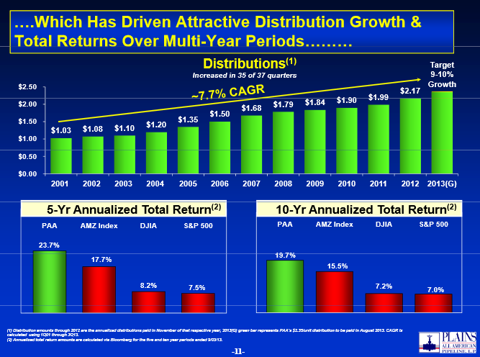 Click to enlarge
PAA's yield only exceeded by KMP
In the table below I have compared the unit yields of top-tier pipeline companies in the sector. KMP has the better unit yield at 6.41%. PAA scores with 4.75% which is still a decent-sized yield given the prospects of PAA's future distribution growth.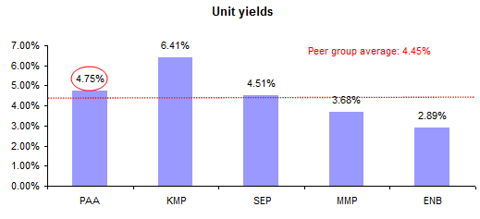 Click to enlargeSummary
Plains All American Pipeline is a top-in-class MLP with a great operations footprint and distribution record that make PAA a valid alternative to Kinder Morgan Energy Partners. Just like KMP, Plains All American is positioned to profit from increased oil and gas production from America's gigantic shale plays. More importantly, PAA has a consistent EBITDA, cash flow and distribution growth record that suggests that management is able to continue PAA's growth path. The underlying sector fundamentals are very attractive and support an investment in either PAA or KMP. PAA's returns have historically left both the S&P 500 and the DJIA in the dust. In addition, income investors profit from an initial unit yield approaching 5% with prospects of higher yields down the road. Long-term Buy based on yield, sector economics and portfolio diversification benefits.
Disclosure: I am long KMP, PAA. I wrote this article myself, and it expresses my own opinions. I am not receiving compensation for it (other than from Seeking Alpha). I have no business relationship with any company whose stock is mentioned in this article.