The share price of Seagate (NASDAQ:STX) is making higher highs. This makes me think that I should have bought into the dip the last time I wrote about Seagate, which was in August. You cannot win them all.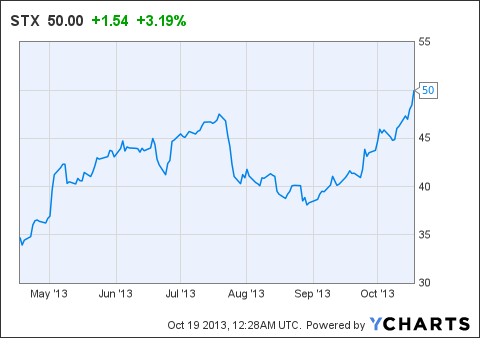 That said, in this report I update and extend my analysis of Seagate. I include a fiscal 2016 revenue forecast and a portfolio management section. Seagate should continue to face a headwind from the slumping PC market, but the share repurchase program should offset this headwind.
I'm not going to purchase shares of Seagate with the share price being at a bull market high, but one of these weekends I will probably model a short position to determine the potential ROI.
Recent Developments
Hopefully the speculation that Seagate is planning to acquire Fusion-io Inc. (NYSE:FIO) is accurate.

Seagate shipped over one million drives using shingled magnetic recording.

Seagate is redefining the tablet market with a 500GB storage HDD. For me, that could be close to a lifetime amount of storage space in a device that I will probably use for less than five years.
Financial Performance Forecast & Valuations
Of the three operating segments -- Enterprise Storage, Client Compute, and Client Non-Compute -- Client Non-Compute is a revenues tailwind and Client Compute is a revenues headwind; the net impact should be declining revenue, but acquisitions offset some of the effect.
For fiscal 2014, I'm forecasting revenue between $11.11 billion and $15.21 billion, which is an expanded range relative to my previous forecast. The difference is attributable to the model inputs. The low end of the range is 22.6% below fiscal 2013 revenue, which is attributable to forecasting confidence. On the other hand, revenue could increase 6% or more next fiscal year.
In fiscal 2016, I'm forecasting revenue between $12.3 billion and $16.8 billion. The fiscal 2014 and fiscal 2016 forecasts will be dependent on the results of the Client Compute segment. On the low end, revenue would decline at a CAGR of 5%; the high end suggests a CAGR of 5.4%.
All else equal, the share price downside should be limited by the share repurchase program: a revenue decline may not have a severe adverse impact on the share price of Seagate.
Western Digital (NYSE:WDC) appears to be set to outperform Seagate on a top-line basis in fiscal 2014 and fiscal 2016.
With the share price near a peak, the multiplier model will probably suggest that Seagate is overvalued.
On a time-series basis, Seagate is overvalued: the valuations are at recent highs. Relative to its five-year average valuations, Seagate is overvalued. On a multiplier basis relative to Western Digital, Seagate is overvalued. Consequently, using the multiplier models, Seagate is overvalued.
Overall, the valuations and the financial performance forecast favor being long Western Digital. At the right price, I would accumulate shares of Seagate.
Portfolio Management
Seagate is trading in a bull market of primary and intermediate term degree. The bull market of primary degree is nearing an end.
Seagate's share price has been increasing at a compound monthly rate of 4% since March of 2009, which is unsustainable.
The return distribution, since March 2009, is positively skewed and lacks tail risk.
The bull market of primary degree has lead to valuations that are nearing extremes and a rate of share price appreciation that is unsustainable. Buying shares of Seagate at this point is like trying to jump into a moving car, it is not a good idea. If you are already in the car, good for you. I'm staying neutral on Seagate, for now, but I may be able to sell Seagate calls within the next month.
Disclosure: I have no positions in any stocks mentioned, and no plans to initiate any positions within the next 72 hours. I wrote this article myself, and it expresses my own opinions. I am not receiving compensation for it (other than from Seeking Alpha). I have no business relationship with any company whose stock is mentioned in this article.