On Thanksgiving, when Americans celebrate their first bailout, the big story is that the planned "orderly" decline in the Greenback is starting to be anything but. With most US investors probably thinking more about holiday than markets, it should be no surprise that markets have traded quietly for the most part overnight. The main action has been in currency markets, where the Dollar has been sold across the board after breaking through 1.50 against the Euro and slumping to a 14 year low versus the Yen. Indeed the Dollar index has depreciated to levels last seen in August last year. Risk assets are generally a little firmer, helped by a global dataset that was generally better than expected. Treasuries are slightly stronger after another very good auction, with $32 billion of 7-year Treasuries drawing a yield of just 2.835% and a bid-to-cover ratio of 2.76%. Probably the main news in debt markets overnight is state-owned Dubai World's request to creditors for a 'standstill' agreement as it seeks to negotiate to roll over some of its $59bn in liabilities. Dubai World's CDS rose 116bps to 434bps, wider than Iceland's yikes! Dubai is a train wreck that I first drew reader's attention to many moons ago on these pages. It would mark the biggest default since Argentina back in 2001. The market is assessing which banks have the largest exposure. Sadly public info is a tad sketchy. But, using Bloomberg data, HSBC (HBC), Standard Chartered (SCBFF.PK), ING (ING), Calyon, Barclays (BCS) and Lloyds look to have the most to lose.
Today's Market Moving Stories
More FX moves this morning. Apparently there is a £4 billion Sterling coupon due today, as the UK Government gilts have gone ex-div. It is likely that a large percentage of this coupon will be swapped out into other currencies, hence the softer British pound again today in terribly illiquid conditions. Not good news for Ireland Inc or ISEQ companies with large GBP earnings.
Chinese banking shares continued to be weighed down, as a poor debut for China Minsheng Bank's H-shares contributed to the negative sentiment for the sector.
Wal-Mart (WMT), Target (TGT) and Kohl (KSS) are competing for customers with discounts and extended Black Friday hours as cost-conscious shoppers say they plan to spend less on gifts than they did last year. Kohl plans to open at 4 am on November 27 and offer more than 300 early-bird specials, including $34.99 cashmere sweaters. Macy's (M) cut the prices of some wool coats as much as 70%. Wal-Mart is staying open all night so shoppers can grab $3 pajamas and $15 Miley Cyrus jeans. The day after Thanksgiving is known as Black Friday, the traditional beginning of holiday buying. Explanations of the phrase's origins differ, one holding that it's the weekend when retailers go to being in the black, profitable for the year.
California, one-time hub of subprime mortgage lending and the nation's leader in home foreclosures, has turned the corner toward a housing recovery, according to the state Association of Realtors. Single-family home prices in California rose for the eighth consecutive month in October. The median cost of an existing, detached house gained 0.3% from the previous month to $297,500. Prices dropped about 3.2% from a year earlier, compared with annual declines of 7.3% in September and 17% in August.
Gold advanced to a record for the third time this week after Sri Lanka's Central Bank purchasing bullion and the dollar extending its decline, spurring investors to find an alternative. Sri Lanka bought 10 metric tons from the International Monetary Fund for about $375 million, following India, Russia and Mauritius in the rush for gold. The metal, which typically moves inversely to the dollar, touched $1,195 an ounce.
China's foreign-exchange reserves face a "triple whammy" as inflation, oversupply and the "inevitable" decline of the dollar threaten to erode the value of its holdings of US Treasuries, said Yu Yongding, a former adviser to the Chinese Central Bank. China needs to divert its trade and investment surpluses away from US debt if it is unable to reduce them, Yu said. The nation, with the world's largest foreign-exchange reserves of $2.3 trillion, is the US's biggest creditor, holding $798.9 billion of Treasuries as of September. "Capital losses, let alone obtaining decent returns, seem inevitable," said Yu. "There is no question whatsoever that the US dollar will go south, which started in April 2002 and, after a short interval, restarted in March 2009."
Yu went on to say that China's government-funded economic growth faces an "inevitable" slump because the nation's export-led strategy isn't sustainable. "The investment rate cannot increase forever. The growth rate of China's exports cannot remain persistently higher than that of the global economy. Overcapacity will surface and correction is inevitable."
China's excess industrial capacity is "wreaking far-reaching damage on the global economy," stoking trade tensions and raising the risk of bad loans, the European Union Chamber of Commerce in China said. A $586 billion stimulus package is worsening overcapacity, especially in the steel, aluminium, cement, chemical, refining and wind-power equipment industries. The world's third-biggest economy has rebounded this year on stimulus spending and a $1.3 trillion credit boom. China is adding capacity when global demand is yet to recover from the financial crisis, increasing the risk of trade frictions undermining commerce and making the threat of non-performing loans within the nation "ever larger," the EU Chamber said.
Eurozone M3 growth (one of the ECB's twin pillars) slowed further to a mere 0.3% year-over-yer in October from 1.8% yoy in September, slightly below market expectations of a more moderate slowdown to 0.8%. The fall in private sector loan growth, which began in September, continued. Total private sector lending fell 0.8% yoy as the ongoing decline in corporate sector lending more than offset the improvement on the household side. As in past cycles, corporate loan growth is expected to lag the upturn in the real economy and is unlikely to rise on a yoy basis much before the end of 2010. Rates are going nowhere fast.
Seven things you didn't know about Thanksgiving.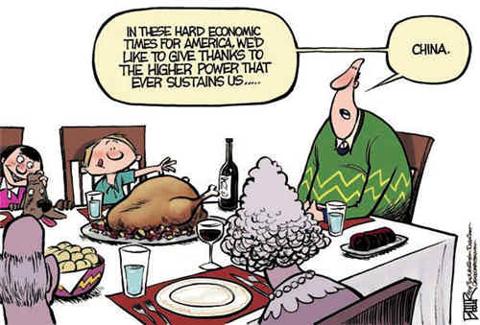 Risk Aversion Rising On Dubai World "Restructuring": Dubai is broke. The Middle Eastern Ponzi state asked bondholders of its Dubai World holding company for a standstill agreement until May 30, causing an outcry of epic proportions. Dubai World is asking creditors for a six month 'standstill' agreement as it seeks to extend maturities on debt, specifically the USD3.52 billion of its Nakheel Bonds (property unit) maturing. The decision raises the prospect of Dubai's state default. Dubai, a Mega Las Vegas with a beach, was in many ways a symbol of the exuberant pre-crisis world. Bond markets reacted sharply to the news as the prices of Dubai debt fell to $460,000 on $10 million nominal. It is another irony that the rating agencies are among the last to get the message. Moody's, late to the carnage as usual yesterday cut Dubai to junk status only after the bond market had already downgraded the Bonds.
Adding to the confusion DP World (port operator) has stressed it is not part of the restructuring agreement. This has led the ratings agencies to downgrade banks in the UAE and is having a knock-on effect on credit spreads across the region; Saudi Arabia and Qatar also sold-off yesterday. The problem is that such restructurings 'may be considered a default' under the criteria S&P use. As a measure of the problem, Dubai now trades more cheaply than Iceland, with the CDS widening 120BP to 438BP yesterday. Although the long holiday weekend will provide an opportunity for an agreement to be made (local holidays extend to 6 December), the uncertainty for Emerging Market debt and general risk aversion is expected to prevail.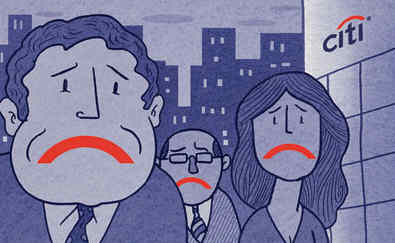 Company News
UK insurer Aviva (AV) has agreed to set up an asset management joint venture with Central China Securities, a Henan province-based brokerage, the China Daily reported. Aviva will hold a 49% stake in the venture, which is subject to regulatory approval, and Central China Securities will hold the remainder. Aviva already has a life insurance joint venture with China National Cereals, Oils & Foodstuffs, known as Cofco.
Michael Evans, the Hong Kong-based vice chairman who was Goldman Sachs' (GS) highest-paid executive officer last year, sold $12 million of stock this week, according to a company filing. Evans, 52, sold 70,000 shares at prices ranging from $170.98 to $173.47. The filing showed he retained 714,953 shares, which are worth $121 million at today's closing share price of $168.92. Goldman Sachs, the most profitable securities firm in Wall Street history, set a record for compensation in 2007. The company slashed pay last year and had its first quarterly loss. Chief Executive Officer Lloyd Blankfein, 55, and his six top deputies, including Evans, agreed to forgo annual bonuses.
National Express Chairman John Devaney said a £360 million Rights Issue will be "resoundingly agreed" at today's extraordinary meeting, despite opposition from Jorge Cosmen, the company's largest shareholder and deputy chairman. The company has the commitment of 20 institutional shareholders to the share sale.
Hershey (HSY), the US candy-maker controlled by a charitable trust, is seeking the approval of the attorney general in its home state of Pennsylvania for a possible $17 billion bid for Cadbury (CBY). Under state law the attorney general has powers to regulate charitable trusts, rules that in the past have been used to block the sale of Hershey. Company executives want to be sure the regulations aren't used in a bid to stop any potential Cadbury bid.
BHP Billiton (BHP) said that demand from China's steel sector is surprisingly strong and general market sentiment has improved in the past month. The miner also dismissed speculation that Rio Tinto (RTP) may be cooling on plans for an iron ore joint venture in the Pilbara region of Western Australia and talked down the prospects of a share buyback, saying it was instead focused on spending its cash on growth projects. BHP Chief Executive Marius Kloppers said the rebound in commodity prices over the past six months has been driven by a surprising recovery in China, although restocking in China now looks to be essentially complete.
DSG's (think Curry's & PC World) H1 results came in ahead of expectations, with the Group reporting a loss before tax of £17.6 million against a £29.5 million loss expected in the seasonally weaker first half. The performance was driven by a strong performance in the Nordic region, where like for like sales rose 11%, but also by improving trends in UK and Ireland. Given the recent weekly John Lewis electricals figures (up 15-20%) and other retail surveys, DSG looks set for a reasonable Christmas, particularly given that many consumers are likely to bring forward purchases ahead of the 2.5% VAT rise in the UK. The new year is likely to be a different story however, given the expected impact of the VAT increase, rising unemployment and increased rates of personal taxation on consumer disposable income. Hence, traders are recommending scaling up the short position post the Xmas trading statement. That said the stock is up 2-3% today.
SAP (SAP), the world's biggest maker of business-management software, believes demand stabilising in emerging markets. The order situation has improved and clients in the region are spending more money for information technology. SAP cut its sales forecast on October 28 for a second time this year as clients in emerging markets and Japan spent less than it anticipated.
Snippets, in a case of guilty by association LSE, is off 5% today as Borse Dubai is LSE's largest shareholder. Porsche is off 7% on a UniCredit and Equinet downgrade to hold and reduce respectively and Legal and General is similarly suffering after Citigroup (C) cut the stock to a sell (off 4% today). In other up and downs Goldman Sachs upped Adidas (ADDYY.PK) to Buy, from Neutral; Goldman Sachs cut Saint-Gobain to Sell, from Neutral; HSBC cut ABB (ABB) to Neutral, from Overweight. UK water utilities are stronger today after industry regulator Ofwat ruled that they would reduce household water bills by less than had been expected. Banking stocks are of course under some selling pressure today on the Dubai panic until someone figures out the relative exposures but Deutsche Bank (-4.5%) and French financial Calyon / Credit Agricole (-4.2%) are particularly out of favor today.
And Finally…

Disclosures: None