General Electric (NYSE:GE) keeps on rolling: The company has returned $13.9 billion to shareholders of which $8 billion relate to share buybacks and $5.9 billion to dividends this year alone. Another $4.1 billion is earmarked for the fourth quarter. What's impressive about GE's Q3 results is the strength of its segments across the board that allows it to pay shareholders an estimated $18 billion this year.
Total industrial segment revenue in growth markets increased to $10.2 billion in Q3 2013 and is up 13% from $9.0 billion a year ago. Services revenues also increased by 7% from $10.3 billion in Q3 2012 to $11 billion in Q3 2013. GE's backlog increased 12.8% since Q3 2012 to $229 billion of which 73% relate to services and 27% to equipment. Sectors aviation and oil- gas continued to do really well for General Electric with revenues up 12% and 18% respectively (profits were up 18% and 11%). Total segment profits increased 12% y-o-y and indicate that GE has strong market positions in a variety of segments. This strength also shows in GE's operating profit margins which increased 1.2 percentage points to 15.4% in the third quarter 2013 compared to 14.2% in Q3 2012. Margins are up 40bps YTD and seem to be on track to increase by 70bps for the full year 2013 according to GE's guidance. Transportation, Aviation, Healthcare and Power & Water are GE's most profitable segments achieving operating margins around the 20% mark and y-o-y increases of 1-3.3 percentage points.
Share performance
General Electric is a great company with a great shareholder remuneration record, but its share price is still lagging compared to peers Honeywell (NYSE:HON) and Siemens (SI). GE earned investors only 43% over the most recent five year period while Siemens gained 139% and Honeywell 211%. Nonetheless, GE is performing well operationally, keeps on restructuring its business ($0.02 EPS Q3 2013 impact), pursues a long-term minted acquisition strategy and does all the right things for shareholders.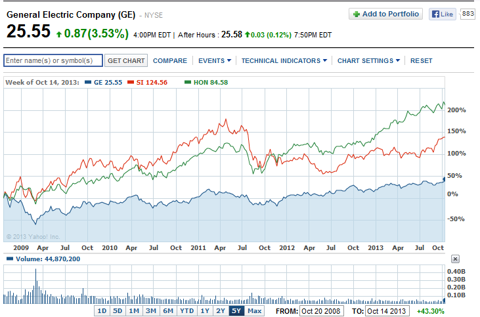 Free cash flow
General Electric is an operating cash flow strong company that achieved positive core investing cash flows in four of the last five years and its debt repayments have increased markedly over the last years oftentimes exceeding $100 billion. General Electric's average core free cash flow to equity per share over the last five years stands at $1.80. I estimate that GE will be able to increase FCFE based on continued restructurings, margin expansion, earnings contributions from growth markets and acquisitions. With conservative growth rates of 3.55 to 4.00% and higher equity capital costs of 10% for a cyclical conglomerate, I estimate the intrinsic share value of General Electric to be $33. GE shares have another 30% upside potential even after they popped to $25.55 on Q3 results on Friday.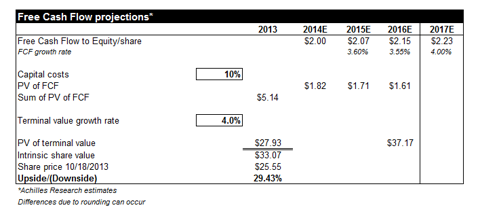 Peer group comparison
In terms of earnings valuation General Electric is neither cheap nor expensive. It trades at 14.20 times earnings which is lower than Honeywell's P/E of 15.27 and higher than Siemens' 13.46. GE trades just below the peer group average of 14.31.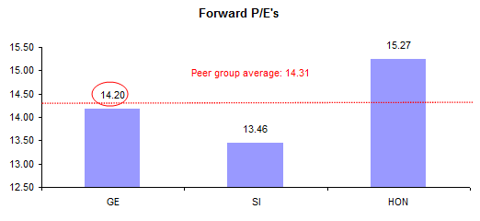 General Electric is a core holding of many income portfolios. Its steady dividend is backed by recurring cash flow and supported by outsized growth prospects in emerging markets. GE currently pays investors a 2.97% dividend yield which is the best of the industrial goods peer group.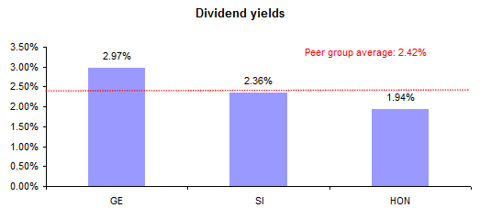 A summary regarding capitalization data and valuation metrics is provided below. GE trades at just about the peer group average P/E ratio of 14.31. Its dividend yield is 23% higher than the peer group average dividend yield of 2.42%.

Summary
Record backlog, strong order growth, double-digit growth in segment profits, margin expansion and significant shareholder remuneration make General Electric an attractive, yet diversified, conglomerate play on a continued economic recovery. Outstanding dividend and share buyback records make General Electric both suitable for dividend and growth investors. General Electric pursues an extensive acquisition/divestiture strategy that has proven to be shareholder value accretive over decades. Investors looking for a cyclical play on a global economic recovery with a US tilt could consider General Electric. My free cash flow estimates suggests that GE shares have room to advance another 30%.
Disclosure: I am long GE. I wrote this article myself, and it expresses my own opinions. I am not receiving compensation for it (other than from Seeking Alpha). I have no business relationship with any company whose stock is mentioned in this article.