As everyone following digital ad-tech companies already knows, Rocket Fuel Inc. (NASDAQ:FUEL) executed an initial public offering, or IPO, of 4 million shares on September 20th. The company's closing stock price ended up at $56.10/share for a first-day market capitalization of $1.8 billion on volume of 5.6 million shares exchanged. Since then the stock price has risen above $66/share with a market capitalization above $2 billion.
The first thing investors need to consider with Rocket Fuel is an understanding of the company's digital presence. The prospectus mentions the fact that the majority of the company's revenues come from Web display advertisements. However, Rocket Fuel also provides services for mobile, social, and video ad campaigns. The company's fiscal year ends in December so there will probably be a third quarter earnings call sometime in mid-October to November. Investors need to key in on what percentage of the business comes from mobile, social, and video and their respective growth rates; analysts will most likely inquire into this.
Probably the most significant driver for the market's reception of Rocket Fuel is the fact that the company has an average growth rate of 156% since 2010 through 2012. This annual growth rate has not abated by much during the first 6 months of 2013, which stands at 134% growth year-over-year, or YOY. Investors need to consider the company's potential based on growth estimates and what this means from a valuation perspective relative to the company's competitors and peers.
Another point of interest for Rocket Fuel is how the company is utilizing Artificial Intelligence, or AI technologies to provide solutions for the digital advertising space. Investors should understand how this relates to existing ad exchanges, ad networks, demand-side platforms - DSP, real-time bidding exchanges - RTB, and digital ad-tech environments in general.
By considering these areas we can attempt to gain as much perspective as possible in order to understand the pros and cons for taking a stake in Rocket Fuel. There are more IPOs on the way in this space including Twitter and Criteo; with many new companies going public, investors can begin to see how this space is shaping up.
Rocket Fuel Business Overview
Rocket Fuel has caught everyone's attention with some catchy words like 'Artificial Intelligence' and 'Big-Data'. However, the true strength to the company's focus with predictive and automated systems lies mostly within the ad market's interests in, and shift to RTB. From an industry standpoint, according to IDC, RTB is expanding faster than any other segment of the digital advertising industry, with total RTB sales increasing from approximately $3 billion in 2012 to approximately $14 billion in 2016, representing a 47% CAGR.
Similar statistics provided by eMarketer below for U.S. RTB digital ad spending provide similar trends with a 40% CAGR, just below IDC's estimates.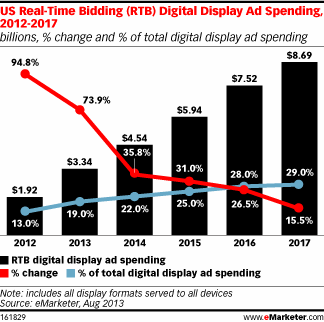 Getting back to Rocket Fuel's solutions, the company's offerings serve brand and direct-response advertisers across major digital advertising channels, as noted in the introduction including display, mobile, social and video. The company states that there are tens of billions of daily trades across all digital advertising exchanges, thousands of times more than the number of daily trades executed by NASDAQ and the NYSE combined.
Rocket Fuel's AI system autonomously purchases ad spots, or impressions, one at a time, on these exchanges to create portfolios of impressions designed to optimize the goals of the company's advertisers, such as increased sales, heightened brand awareness, and decreased cost per customer acquisition.
Within the company's prospectus, the company identifies its offerings as Brand Booster, Direct Response Booster, and Other Offerings. The Brand Booster offering is focused on the following brand objectives:
Reach, frequency, and engagement which tracks, measures, and optimizes these goals through customer actions such as clicks, advertisement interactions, and video completions. Rocket Fuel values and bids on billions of individual advertising impressions per day.
Brand equity lift incorporates surveys to measure objectives such as consumer awareness, recall, message association, purchase consideration, favorability, and recommendation intent. Survey responses are automatically incorporated to improve campaign performance.
Through offline sales, the company is able to connect online activity to offline sales or responses by integrating industry-specific offline data sources, such as retail purchase activity, coupon usage, and grocery store purchase activity.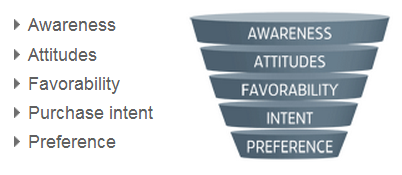 The Direct Response Booster offering is focused on the following direct-response objectives:
Prospecting solutions including the tracking of every impression and continuously learning from campaign results to refine the delivery of impressions to the appropriate consumers and achieve each advertiser's direct-response objectives.
Retargeting solutions involve the company's real-time optimization engine to help return consumers who have already experienced an advertiser's website, back to the advertisers' websites, focusing specifically on the consumers most likely to perform a desired action. This offering focuses on consumers who represent high-value opportunities for re-engagement, aiming to reach them at the best time and in the best context, to achieve the advertiser's goals.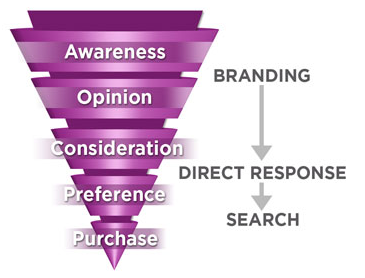 Other offerings include Brand Awareness which protects advertisers from unsafe or inappropriate websites, and Insights which help advertisers understand what strategies are effective and why, and allows them to better understand the quality, composition and characteristics of the consumers their campaigns reach, including which consumers are most responsive to their messages. For case study examples please refer to the prospectus page 94.
Rocket Fuel has 784 customers and similarly as other ad-tech companies, claims that their customers include over 65 of the Advertising Age 100 Leading National Advertisers and over 40 Fortune 100 companies. The company claims to have a diverse advertiser base across industry verticals, such as automotive, cable, computer manufacturing, education, finance and insurance, health care, hospitality and food services, retail, and telecommunications. Of the Fortune 500 companies, during 2012, Rocket Fuel's customers represented 4 of the top 5 airlines, 7 of the top 10 commercial banks, 5 of the top 10 food consumer product manufacturers, 7 of the top 10 general merchandisers, and 7 of the top 10 telecommunications providers.
At this point it is important to point out that Rocket Fuel's primary competitors as listed in the prospectus are Google Inc. (NASDAQ:GOOG), Facebook, Inc. (NASDAQ:FB), and Yahoo!, Inc. (NASDAQ:YHOO), as well as digital advertising networks, demand-side platforms, agency trading desks, and others. It is also worth pointing out that the company is one of 20 other companies which have access to the Facebook Exchange, or FBX.
Rocket Fuel is attempting to generate the most efficient programmatic system for advertisers to directly use for the facilitation of their ad campaign needs, specifically direct-response campaigns and brand campaigns geared towards lifting brand metrics.
Revenue Growth Potential
Rocket Fuel has displayed some of the most robust growth for any ad-tech company which has gone public during the past couple of years. Whether this growth can continue is what all of us would greatly like to know.
As more and more ad-tech companies go public, we are able to really begin to develop an excellent monitoring process to track financial performance for this group of companies. In order to include some of the major competitors, there are a couple of tables which will be needed to understand revenue growth and financial performance.
Companies not mentioned above which will be included in the list are as follows; AOL, Inc. (NYSE:AOL), Criteo S.A., Hipcricket, Inc. (HIPP), LinkedIn, Inc. (NYSE:LNKD), Marin Software, Inc. (NYSE:MRIN), Millennial Media, Inc. (NYSE:MM), Pandora, Inc. (NYSE:P), Tremor Video, Inc. (NYSE:TRMR), TripAdvisor, Inc. (NASDAQ:TRIP), Yelp, Inc. (NYSE:YELP), and YuMe, Inc. (NYSE:YUME). The information below is not meant to distinguish between Web-based ad-tech versus mobile, social, or video ad-tech companies. All information is as of the September 20, 2013 stock market close.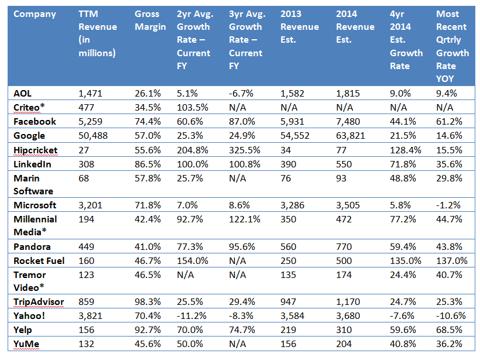 Click to enlarge
The table above provides quite a few insights. First, it should be noted that Criteo has not yet gone public and therefore, there are no estimates for calendar year 2013 information or future revenues. The company's TTM revenues are based on Friday's Euro currency conversion price. Millennial Media's estimates include the Jumptap deal, however, historical information does not. Tremor Video's four-year 2014 estimate growth rate includes a three-year average as a result of available data.
Before considering Rocket Fuel it is worth assessing the other companies' growth trends. Observations include the fact that only Hipcricket and LinkedIn have grown 100% or more historically, and only Hipcricket has a 2014 four-year growth estimate above 100%. The most telling comparison is the four-year growth estimate trend against the most recent quarterly performance. Facebook and Yelp are great examples where actual growth is beating estimates and serves as a significant driver for recent stock price appreciation.
This point puts a damper on a majority of the companies as recent growth has underperformed estimates. This is most notable among Hipcricket, LinkedIn, Marin Software, and Pandora. Tremor Video is the only other company to display recent substantial growth beating estimates, however, over the next two quarters, growth is estimated to significantly slow.
Rocket Fuel Growth
Rocket Fuel has grown 134% during the first half of 2013. Over the previous two quarters, YOY revenue growth has increased from 130% to 137%. The company currently does not have any estimates for 2013 or 2014 so assumptions need to be made. For 2013 Rocket Fuel's first half revenue growth has been assumed for the remainder of the year. For 2014, a growth rate of 100% has been assumed.
The primary catalyst for Rocket Fuel of late is their number of growing customers. During the past two quarters this has increased by 111% and 130% respectively YOY. The company also has strong revenue retention rates. There is a report that was produced by Forrester Research, Inc. in March 2013 which concluded that Rocket Fuel's programmatic media buying technology delivers an average return on investment, ROI increase of 229% for agencies and 192% for advertisers over a three-year period. Additionally, the report highlighted when comparing ROI to alternative platforms on a campaign-by-campaign basis, Rocket Fuel consistently delivered gains of up to 193% vs. DSPs with a mix of automated and manual optimization of algorithms, as well as gains of up to 144% vs. ad networks with limited automation/optimization.
If Rocket Fuel is able to sustain growth rates near 100% for 2014 and 2015, the company will be approaching $1 billion in revenue. This growth trajectory follows suit to LinkedIn's growth from 2009 of $109 million to current levels. If growth remains consistent or intensifies, Rocket Fuel's stock price could possibly leap ahead as LinkedIn's price performance has shown. Regardless, the majority of Rocket Fuel's information puts it on a current growth trajectory above its competitors and peers.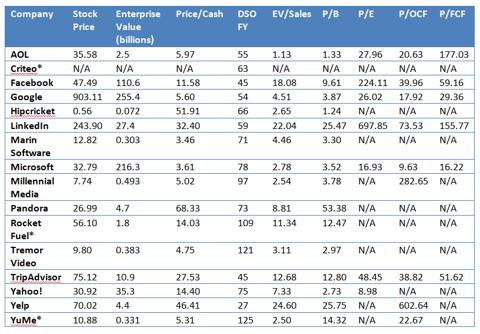 Click to enlarge
When considering fundamental analysis in the above table, it is quite clear that the digital advertising industry is all over the place. Both Rocket Fuel and YuMe include their most recent IPO cash additions. Also, YuMe's P/OCF is based on 2012 results whereas all other companies' information is based on trailing twelve-month, or TTM information. As mentioned in the previous section, Criteo has not gone public and does not have a stock price to generate sufficient information.
The hodgepodge of company valuations above is telling with respect to the previous table's revenue growth rates. Generally, companies with higher growth rates are trading with higher valuations. However, there are some anomalies within the table as well. One could argue that companies like Hipcricket, Marin Software, Millennial Media, Tremor Video, and YuMe are at a discount despite having strong growth trends and estimates.
Apparently the market is valuing companies with any sort of earnings, operating cash flow, and free cash flow at a significant premium over companies with growth but no earnings, operating cash flow, and free cash flow.
Rocket Fuel Valuation
As of its first trading day, Rocket Fuel is already at a premium. It is not at the stratospheric levels of LinkedIn or Yelp, but it is currently near the average high-end premiums of the companies above. The question is, based on Rocket Fuel's growth estimates, is the company trading at a discount? The enterprise value to sales metric is the clearest way to answer this question, which would be yes. However, it is not that simple.
The key catalyst appears to be profits and cash flow. So a second question is will Rocket Fuel be able to generate profits and operating cash flow in the near-term in-line with growth? It is too early to be able to answer this question and speculation is probably not going to do much for anyone.
What is worth noting is that the French-based company Criteo provides a similar predictive and probabilistic technology system, and that the company is profitable and produces operating cash flow. Rocket Fuel's most recent quarterly financials do indicate positive trends towards reduced net income losses and increased EBITDA. More detailed quarterly financials are needed to consider the cash flow implications.
It is highly possible that Rocket Fuel will experience an increased premium if the company is able to meet or exceed growth approaching $1 billion in revenue whether or not the company is able to achieve profitability and/or produce operating cash flow.
Investors should think about these prospects and whether this fits within their portfolio objectives and strategies.
Innovative Technology
Rocket Fuel states that the company's proprietary AI-driven solution is built on a real-time optimization engine, which leverages Big Data and the company's computational infrastructure to deliver highly-automated, measurable digital advertising campaigns. The company believes it has a disruptive technology in place and that key benefits for advertisers are based on the following:
The company's technology considers millions of attributes to consider how to respond to tens of billions of bid requests for advertising impressions received daily. The company bids on these billions of impressions in approximately 100 milliseconds per bid request.
The company is able to utilize its technology to learn and adapt as campaigns run providing for more rapid optimization and campaign results. The company refers to this process as "Advertising that Learns" that is comprehensive across channels.
The company is able to leverage large amounts of inventory available through real-time advertising exchanges, and solutions enable advertisers to efficiently connect with large audiences while it maintains a focus on results-driven optimization.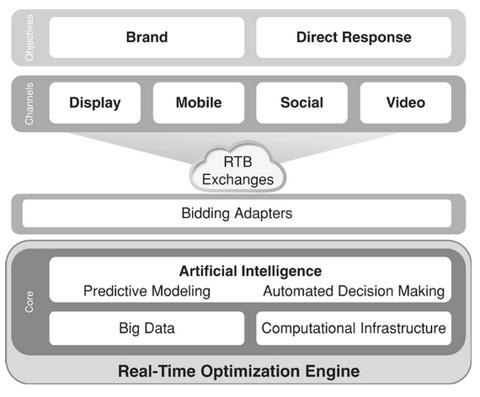 Click to enlarge
The figure above provides an illustration of the Rocket Fuel platform. In order to understand the significance of the technology, investors should consider the details of the platform components which include the following:
AI technologies estimate the probability of a consumer performing an advertiser's desired action and predictions are derived from campaign-specific modeling across millions of simultaneous attributes, including third-party data, website and content-category information, time-of-day and day-of-week components, and geography. These predicted consumer response probabilities are translated into a precise monetary value for each advertising impression. The platform adapts to real-time market price fluctuations, advertisement performance, consumer behavior, and other market dynamics to bid on inventory and achieve advertisers' campaign goals. During the course of this process, predictive modeling and automated decision-making technologies continually update and refine algorithms to increase the accuracy of the AI-driven predictions, without requiring human intervention.
Rocket Fuel's real-time optimization engine processes tens of billions of events per day which include online activity, including market events, consumer responses to advertisements, bids won and lost, advertising impressions served, consumer interaction with brands and sometimes first-party data supplied by advertisers about their customers. This process is able to support bidding decisions on real-time advertising exchanges for over 1,000 campaigns at a time.
Bidding adapters enable Rocket Fuel to receive bid requests from real-time advertising exchanges, evaluate each request and respond with a bid. The adapters then present a proposed bid and advertisement to the advertising exchange in the format required by the exchange. Bidding adapters allow the company to expand and adapt the platform across multiple inventory sources, including across different channels, such as display, mobile, social and video.
This enhanced automated process is what differentiates Rocket Fuel from its peers. As evidenced by the Twitter acquisition of MoPub, and Millennial Media's acquisitions of Jumptap and Metaresolver, and partnership with AppNexus, RTB exchanges and access to inventory are being sought after to effectively compete. Rocket Fuel is building of off the intensive growth in advertising data and rapid change towards programmatic bidding exchanges by attempting to improve this holistic process for advertisers through a quicker and more efficient method.
The company has extensive experience and depth of management provides Rocket Fuel with a strong competitive position. The company has attracted a highly qualified employee base with substantial experience in the digital advertising and technology industries, including an engineering team that includes employees with PhD and Master's degrees from many top-tier institutions, as well as two SIGMOD best paper award winners and one author of a machine learning top 10 most cited academic publication.
As digital advertising spending continues to grow along with the further developments of mobile advertising, investors need to think about the technology infrastructures which are developing to serve as exchanges for ad inventory as well as the predictive systems being provided by both Rocket Fuel and Criteo.
Risk Assessment
There are many risks which are typically disclosed by a company. Rocket Fuel states that they may not be able to generate profits in the future and that their revenues may decline. This is a typical risk disclosure as Google in their prospectus stated that they expected growth rates to decline and anticipated downward pressure on operating margins in the future. All companies need to be conservative disclosing risks, especially in a sector like technology where things change rapidly.
Investors need to dig through the risks to find "red flags" if you will, which present more than just execution or economic-related risks (not that these are not equally important). In other words, there are risks which you can expect to see in almost all company filings, and then there are risks specific to the particular company being assessed.
For Rocket Fuel, there are many risks associated with the company's operations, execution and relationship with customers, competition, reliance on a small number of customers, international expansion, future acquisitions, among others.
The remaining risks are listed to highlight information specific to ad-tech companies and Rocket Fuel. One risk is the company's use of third party cookies and the potential of these cookies being restricted by Internet users, and/or restricted or subject to unfavorable regulation. This may impact revenues and advertiser customers. The European Union directs EU member states to ensure that accessing information on an Internet user's computer, such as through a cookie, is allowed only if the Internet user has given his or her consent.
On the U.S. side, the "Do-Not-Track Online Act of 2013" was introduced in the United States Senate in February 2013. If a "Do Not Track" browser setting is adopted by many Internet users, and the standard either imposed by state or federal legislation, or agreed upon by standard setting groups, prohibits Rocket Fuel from using non-personal data as currently used, then that could hinder growth of advertising and content production on the web generally, cause the company to change its business practices, and adversely affect its business. This could have a material cost impact.
Another risk which seems fairly prevalent within the digital advertising space is the fact that the company does not have long-term commitments from its advertisers. Business with the company is achieved through insertion orders for particular advertising campaigns. If the company performs well, then the advertiser customer may place new insertion orders for additional advertising campaigns. There is rarely any commitment from an advertiser beyond the campaign governed by a particular insertion order. In accordance with the Interactive Advertising Bureau, or IAB, insertion orders may also be cancelled by advertisers or their advertising agencies prior to the completion of the campaign without penalty.
Similar to the above risk the company depends on quality advertising inventory. The amount, quality, and cost of inventory available can change at any time. Suppliers are generally not bound by long-term contracts. The number of competing intermediaries that purchase advertising inventory from real-time advertising exchanges continues to increase, which could put upward pressure on inventory costs. Suppliers control the bidding process for the inventory they supply, through the bidding process, the company may not win the right to deliver advertising to the inventory that was selected and may not be able to replace inventory that is no longer made available.
The company's social media offering is currently limited to Facebook's FBX platform, which was launched in the second half of 2012. There is no guarantee that Facebook will continue to make its advertising inventory available to Rocket Fuel at all or upon reasonable terms, and the company may not be able to replace the FBX advertising inventory with inventory that meets its advertisers' specific goals with respect to social media.
The company relies upon advertising agencies to purchase its solution on behalf of advertisers. The company's contracts typically provide that if the advertiser does not pay the agency, the agency is not liable to the company, and payment must be sought solely from the advertiser and subjects the company to greater credit risk than were the company to contract with advertisers directly. Even if Rocket Fuel is not paid, the company is still obligated to pay for the media purchased for the advertising campaign, and as a consequence, results of operations and financial condition would be adversely impacted.
Reliance on third party open source software components creates potential risks to the company's proprietary software which may become available to the public and usable by competition.
The growth of Rocket Fuel depends in part on the success of its strategic relationships with third parties. The company's agreements with channel partners and providers of technology, computer hardware, co-location facilities, content and consulting services, and real-time advertising exchanges are typically non-exclusive, do not prohibit them from working with competitors, or from offering competing services, and do not typically have minimum purchase commitments.
Lastly, the company has identified material weaknesses in its internal controls in the past, and if the company does not continue to develop effective internal controls, it may not be able to accurately report financial results or prevent fraud, and business may suffer as a result. In connection with the audit of the company's financial statements for the year ended December 31, 2010, certain material weaknesses were identified in internal controls resulting from a lack of qualified personnel within the company's accounting function that possessed an appropriate level of expertise to perform certain functions.
The company is continuing to develop internal controls, processes, and reporting systems to comply with these requirements, by hiring qualified personnel with expertise to perform specific functions, implementing software systems to manage revenue and expenses, and to allow the company to budget and undertake multi-year financial planning and analyses. This process has been and will be time consuming, costly and complicated. Rocket Fuel may not be successful in implementing these systems or in developing other internal controls, which may undermine the company's ability to provide accurate, timely, and reliable reports on its financial and operating results.
Investors should always read through all risk factors before considering any company's prospects.
Conclusion
Many of today's technology companies are entrenched and interwoven within complex infrastructure systems. For ad-tech there are multiple ad networks, ad exchanges, demand and supply-side platforms, and other platforms which all are dependent in some way or form on ad agency customers and digital infrastructure. Recent consolidation points towards accelerated competition in the industry, and more importantly a continued significant expansion of data and information which is vital to successful ad campaigns.
Based on Rocket Fuel's risk factors, third party cookies, social media reliance on FBX, and the material weaknesses identified in internal controls are worth spending more time on. The other factors, while equally important, are prevalent within the industry and gravitate more towards the ability of management to execute and the competitive nature of the industry.
Rocket Fuel is definitely a company worth consideration if an investor is interested in getting into the digital advertising space. Depending upon risk appetites, the company may or may not be a little too much. The key things to weight are the company's revenue potential and innovative technology versus the identified risks.
Disclosure: I am long LNKD, MM, TRIP, and may initiate a long position in Rocket Fuel over the next 72 hours. I wrote this article myself, and it expresses my own opinions. I am not receiving compensation for it (other than from Seeking Alpha). I have no business relationship with any company whose stock is mentioned in this article.