The Chinese Internet space has been a fantastic growth story through the course of 2013. Shares of Best Ideas Newsletter portfolio holding Baidu (NASDAQ:BIDU), Qihoo (NYSE:QIHU), Sohu.com (NASDAQ:SOHU), and Tencent (OTCPK:TCEHY) are all up at least 50% year-to-date. What do all of these companies have in common? They all have exposure to China's rapidly-growing Internet usage as well as the country's Internet search market.
Search growth in China is phenomenal.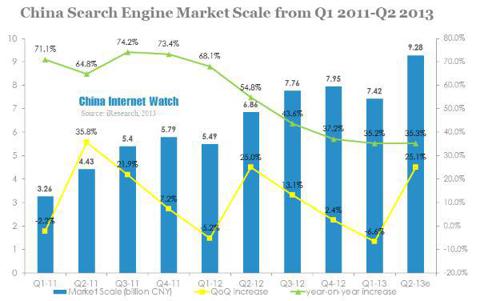 Image Source: China Internet Watch
In the second quarter of 2013, the value of the Chinese search market surged approximately 35% year-over-year (shown above), lapping a very robust growth rate well above 50% during the same period of 2012. Chinese search is benefiting from the same secular tailwind that domestic search giant Google (NASDAQ:GOOG) is riding in the US coupled with continued economic growth and Internet adoption that has only been accelerated via smartphone growth.
Internet penetration has a long runway.
Though the US Internet penetration level has plateaued at 81%, Chinese penetration currently sits at 42.1%, suggesting the country has tremendous room to expand Internet usage and accessibility. An even more promising comparison, the US has over 250 million total users, while China already has 591 million users (and will likely grow to 800 million by 2015). Thanks to accelerated adoption of smartphones and other mobile devices, the 800 million user mark seems like an achievable figure.
That being said, we don't expect firms to just sit back idly and ride the wave of broader market expansion. Rather, we think firms will continue to plough resources into building a better platform and stealing market share from competitors (peers). We envision some competitors going the way of now-defunct AltaVista, which was once one of the most popular search engines.
Baidu is the market leader.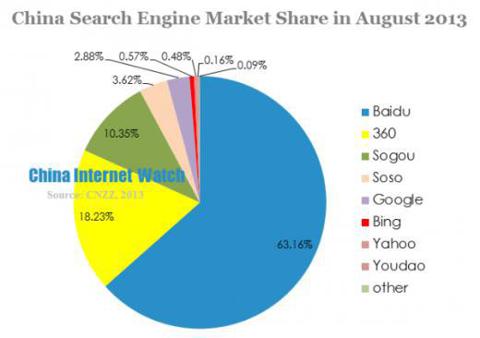 Image Source: China Internet Watch
Baidu remains the dominant search engine in China, with over 63% market share as of August. However, that figure is 1% lower sequentially as Qihoo's 360 and Sogou/Soso (owned by Sohu and Tencent) saw their market share inch up. Baidu's share has fallen substantially from peak levels of around 80%, but we haven't seen share losses weigh on the pace of the firm's revenue or earnings expansion. With Google, Yahoo (NASDAQ:YHOO), and Bing (NASDAQ:MSFT) largely on the sidelines, the Chinese players will be able to earn the lion's share of China's industry profits, at least in the near term.
Baidu draws comparisons to Google due to its strong search business that generates robust cash flow, which can be re-invested elsewhere as desired, particularly in mobile. In spite of the modest share losses we highlighted above, Baidu is one of the best secular growth stories in China, in our view.
Tencent: A little bit of everything
While Baidu is king among the search players, Tencent has exposure to various different Internet businesses including search, where the firm recently invested money in Sogou and merged it with its internal effort, Soso. Tencent also owns leading web portal QQ.com, which can be seen as a Chinese equivalent to MSN.com or Yahoo.com as it provides instant messaging services and links to various stories on the web.
Tencent also makes multiplayer games, has China's most popular social network in Qzone, has online payment services akin to eBay's PayPal (NASDAQ:EBAY), has web browsers, media players, and an auction site. Tencent can be viewed as a combination of Facebook (NASDAQ:FB), Google, Skype, eBay, PayPal, MySpace, and Yahoo, though it isn't necessarily as dominant as each respective company, nor are its products identical.
As we can see from the image below, Tencent's revenue growth during the past five years has been nothing short of spectacular. Although we don't think revenue growth will be quite as strong going forward, our 5-year forward CAGR estimate of 25% revenue expansion is still exceptionally strong.

Image Source: Company Filings, Valuentum
Sohu: Diversified Online Company
Sohu isn't quite as diverse as Tencent, but it is no slouch itself. Sohu.com is a leading internet portal, and the company co-owns search engine Sogou with Tencent. Sohu also has an online advertising business that drives the majority of revenue, as well as a gaming business.
After receiving a cash injection into Sogou from Tencent, we think the firm is better-positioned to compete with Baidu on the mobile front. We're also fans of Sohu's strong video business, which we view as a combination between Hulu and YouTube.
Given the explosive popularity that YouTube has seen since it was acquired by Google, we think Sohu has tremendous room to grow its video business. Online video is already among China's top Internet applications, and Sohu is best-positioned to capitalize on additional growth in a market that already dwarfs the US in absolute size.
Qihoo: Security and Search
Qihoo came to prominence thanks to its "freemium" software security business that leads users to the Qihoo 360 search home page. We've seen the model prove very successful thus far, as Qihoo 360 has eaten into Baidu's search dominance.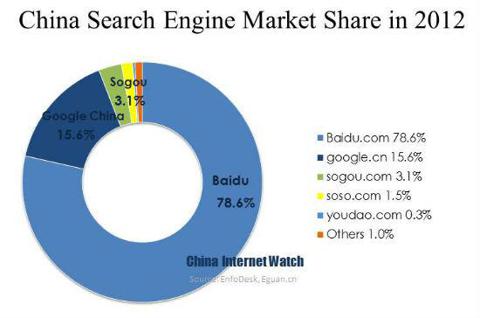 Image Source: China Internet Watch
Qihoo unsuccessfully attempted to acquire Sogou in order to consolidate competition against Baidu, but the failure hasn't negatively impacted Qihoo's market share grab yet. In 2012, Qihoo wasn't even a serious competitor, but it now possesses over 18% of the market. We expect the firm to continue to ride the powerful Internet search tailwinds even if market share gains slow materially.
Valuentum's Take
As with the US in the 1990's and early 2000's, Chinese Internet companies are riding incredibly powerful secular trends to success. The only difference is that mobile devices have made accessing the Internet even easier, so penetration and usage are growing relatively faster.
Though we have a healthy level of skepticism regarding the growth of the broader Chinese economy, the factors driving growth at Chinese Internet companies should be powerful enough to combat any macroeconomic headwinds. At this time, Baidu remains our favorite idea in the space and a holding in the portfolio of our Best Ideas Newsletter.
Disclosure: I have no positions in any stocks mentioned, and no plans to initiate any positions within the next 72 hours. I wrote this article myself, and it expresses my own opinions. I am not receiving compensation for it (other than from Seeking Alpha). I have no business relationship with any company whose stock is mentioned in this article.
Additional disclosure: BIDU is is included in the portfolio of our Best Ideas Newsletter.