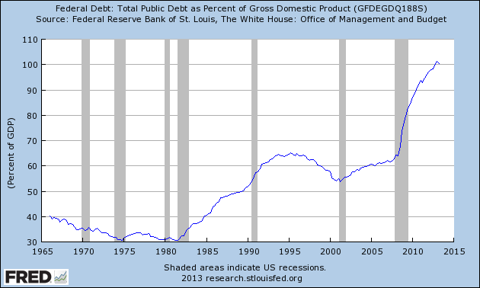 Click to enlarge
If you have ever heard the saying, "The market climbs a wall of worry," but you weren't quite sure what it meant, the events of the past two weeks should have completely clarified it for you. Large portions of the government were shut down and the debt ceiling was about to be breached. Some institutional investors were even selling short-term Treasury securities just in case there was a default. Many economists argue that the shutdown and the failure to pass a bill until the 11th hour (or the 23rd hour if you prefer military time) hurt the nation's credibility and cost the economy as much as 0.5 percentage points of GDP growth. Under the circumstances, a rational investor might reasonably have expected a sell off in stocks. On the contrary, stocks rallied strongly. In fact, the S&P 500 is at an all-time high. It might not make any sense, yet here we are.
Most voters blame the Republicans, especially the so-called Tea Party Republicans, for the latest crisis in Washington. There is no doubt that they were less than diplomatic and completely intransigent. They certainly deserve a large portion of the blame for almost bringing the economy to a standstill and possibly causing the U.S. government to default on its debts. Yet the Republicans are right to say that we cannot keep kicking the can down the road. As shown in the graph above, the national debt is as large as the GDP. We cannot keep doing what we are doing. We must take steps to bring the debt down. If we don't, we run the risk of becoming a third world nation at a time when China's stature is rising. And we cannot reduce debt unless we are willing to do something about the elephants in the room: Social Security and Medicare. As for the Affordable Care Act, even if you love it, you have to at least admit that it won't help reduce the debt.
For the most part, stocks are ignoring these issues. Friday's impetus came from Google (NASDAQ:GOOG). The company announced better-than-expected financial results and the stock surged 14% to well over $1,000 per share. On the other hand, International Business Machines (NYSE:IBM) also announced better-than-expected earnings, yet that stock plunged because revenues were light. GOOG is at an all-time high. It's up 43% this year alone. IBM is 20% off its 52-week high and it is down 9% so far this year. GOOG's market capitalization is almost twice IBM's, but IBM generates almost twice as much revenue as GOOG does. GOOG is a relatively new company, while IBM has been around for 130 years. Yet investors are shying away from blue-chips like IBM and are chasing after stocks like GOOG. At least one could reasonably argue that GOOG is not a very expensive stock. However, the same cannot be said for other current market leaders such as Tesla Motors (NASDAQ:TSLA), LinkedIn (NYSE:LNKD), Netflix (NASDAQ:NFLX), and Amazon (NASDAQ:AMZN). Those stocks are selling at crazy multiples.
We are in the heart of third quarter earnings season and when it comes to driving stock prices over the long run, earnings are what really matter. I took a look back at the week's announcements. I identified 162 companies that announced financial results this week. Of these, 62% beat their earnings estimates, 11% met their estimates, and the remaining 27% missed their estimates. It is not unusual to see more companies beating than missing their earnings estimates. This happens because the estimates are often revised down as the announcement dates get closer. Furthermore, corporate managers don't like to set the hurdles too high. They often issue guidance they know they can beat. However, the results were not as favorable for revenues. I found that almost half the companies missed their revenue estimates. All in all, I can't say the results are so outstanding that they justify stocks rallying to all time highs.
The recent crisis in Washington has made one thing clear: Our politicians are crazy, but at least they aren't stupid. When push came to shove, they got the job done and kept the country from defaulting. Yet that's not a reason to celebrate by pushing stocks to all-time highs. The bottom line is that the economy is still struggling, the jobs market is still too weak, and our fiscal situation is no better off than it was two weeks ago. And to top it all off, we may go through this crisis all over again as we approach the next shutdown deadline on January 15. Given all these troubles, I have to conclude that investors are being a little too euphoric (or irrationally exuberant as one recent Nobel Laureate might put it).