Increasing oil and gas production in the U.S. has resulted in a shortage of pipelines, resulting in an increasing demand for the infrastructure that moves production to the refining locations. Pipeline companies are thus expected to benefit from this development. Additionally, these companies become attractive investment options because most are structured as master limited partnerships, or MLPs. MLPs have an advantage of paying virtually no corporate taxes and have a lower cost of capital. One such MLP is Kinder Morgan Energy Partners (KMP). This company becomes a compelling investment option because of its growing cash distributions, which are sustainable.
Increasing storage capacity
In order to address the growing oil and gas production in the U.S., Kinder Morgan is increasing its storage capacity. The Battleground Oil Specialty Terminal Company LLC, or BOSTCO, terminal project is a joint venture between Kinder Morgan Energy Partners and TransMontaigne Partners LP (TLP). Kinder Morgan owns a 55% interest in the project, whereas TransMontaigne has the remaining 45%. BOSTCO owns approximately 185 acres of land and waterfront on the Houston Ship Channel. This $485 million facility was under construction for the last couple of years. The commercial operations for phase one of this project began this month. This project is scheduled to have 51 storage tanks in the first phase, out of which 20 will be pressed into service this month. The remaining tanks will be put into service over the next six months. In addition to the 20 tanks, a two-berth ship dock and 12 barge berths are also scheduled to be in service this month. This terminal can handle ultra-low sulfur diesel, residual fuels, and other black oil terminal services. The planned capacity at this terminal in the first phase is 6.5 million barrels.
Phase two of the BOSTCO terminal is already under construction and will include six additional ultra-low sulfur diesel tanks. The completion of phase two will raise the terminal capacity to 7.1 million barrels in a total of 57 tanks. Phase two is expected to begin service in the fourth quarter of 2014. The project has the ability to add an additional 3 million barrels of storage. If this additional capacity is added, it will raise the total BOSTCO capacity to beyond 10 million barrels. Kinder Morgan currently has a capacity of storing approximately 112 million barrels of liquids in the U.S. The BOSTCO terminal can raise Kinder Morgan's capacity by about 5%. This will help Kinder Morgan to consolidate its position as the largest independent terminal operator in the U.S. Additionally, this terminal will provide high-speed loading and improved barge and ship access to the Texas Gulf Coast for the handling of various refined products.


Indulging in growth
Oil and gas production has been booming in the U.S. The Marcellus Shale in the Appalachian Basin is seeing record production of natural gas this year. It is expected to register 3.2 trillion cubic feet (comparable to 550 million barrels of oil) of natural gas production this year. Following in the footsteps of the Marcellus Shale, the Utica Shale is also seeing increasing production. The Utica shale is expected to rival the massive Marcellus shale in the Appalachian Basin. The Bakken shale registered record growth in oil production in July this year and is expected to cross 1 million barrels of oil per day late this year. Seeking bigger stakes in this U.S. shale oil and gas boom, two pipeline MLPs, Regency Energy Partners LP (NYSE:RGP) and Crestwood Midstream Partners LP (NYSE:CMLP), are planning to buy peer companies. Regency Energy has agreed to buy PVR Partners LP for about $5.6 billion, and Crestwood will buy Arrow Midstream Holdings for $750 million.
Regency Energy owns assets in the Permian Basin, and the PVR Partners acquisition will give it access to the Marcellus and Utica shales in the Appalachian Basin and the Granite Wash in the Mid-Continent region. As Regency Energy and PVR Partners have highly complementary businesses, this acquisition will generate significant synergies and provide organic growth opportunities for Regency Energy in the future. This will be an all-stock transaction, with PVR shareholders getting 1.02 Regency units for every unit of PVR. This deal is expected to close in the first quarter of 2014.
Crestwood is a Houston-based midstream company that has its liquids-focused footprint in the Bakken shale. The Arrow Midstream acquisition will mean that Crestwood will be able to service about 18% of the Bakken's overall production. Crestwood's U.S. network capacity for oil and natural gas liquids transportation would be more than 470,000 barrels per day next year, which is 69% of its commodities mix. This deal is expected to close in this quarter and is expected to add to Crestwood's distributable cash flow per unit in 2014.
Attractive dividend yield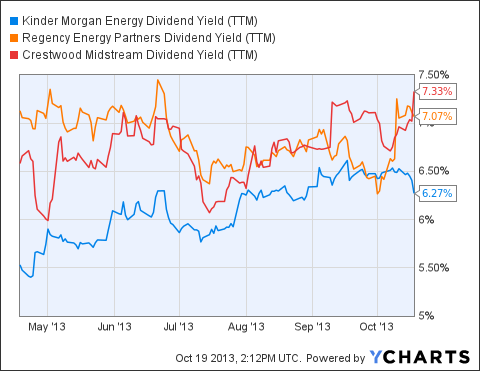 TTM) Chart">
KMP Dividend Yield (TTM) data by YCharts
The high dividend yields of most MLPs appeal to investors. MLPs combine the tax benefits of a limited partnership with the liquidity of a publicly traded company, which is an advantage. Unlike regular corporations, MLPs aren't taxed on the income generated, allowing for returns of 85%-90% of the income to investors or partners in the form of monthly or quarterly distributions. The tax responsibility is thus borne by the partners instead of the corporation. However, they are taxed at their ordinary income rates, which are typically lower than those for corporations. This creates a win-win situation for both the MLPs and investors. We have presented a comparative analysis of Kinder Morgan, Regency Energy, and Crestwood Midstream from the dividend yield perspective.
It is clear from the above chart that all three companies have dividend yields almost in line with each other. With a dividend yield hovering around the 7% mark, these companies can compensate investors well even in the absence of any capital appreciation. Additionally, it is important to note that Kinder Morgan has increased its distribution per unit for the past 17 years at a CAGR of 13%. It has also honored its budgeted cash distribution in 12 of the past 13 years, missing the mark only in 2006.
This is indicates a company capable of growing its cash distribution and sustaining it at the same time. So, this bodes well for investors.
Conclusion
Making a choice among the host of MLPs that are available for investment can be a tough exercise. And, with most MLPs giving robust cash distributions, it becomes even tougher. However, one can consider the future growth opportunities and the fundamentals at play while making investment decisions. Additionally, a look at the history of cash distributions and the growth rate can indicate the future sustainability and growth of cash flow. Kinder Morgan meets these parameters and we are bullish on it.
Disclosure: I have no positions in any stocks mentioned, and no plans to initiate any positions within the next 72 hours. I wrote this article myself, and it expresses my own opinions. I am not receiving compensation for it (other than from Seeking Alpha). I have no business relationship with any company whose stock is mentioned in this article.
Additional disclosure: Fusion Research is a team of equity analysts. This article was written by Madhu Dube, one of our research analysts. We did not receive compensation for this article (other than from Seeking Alpha), and we have no business relationship with any company whose stock is mentioned in this article.