Anybody else notice how low-key Morgan Stanley (NYSE:MS) goes about its business? The company flies completely under the radar contrary to J.P. Morgan (NYSE:JPM) for instance which regularly makes headlines. Usually those headlines are negative and relate to record fines for either mortgages or other misdeeds. Apparently J.P. Morgan has now reached a $13 billion tentative settlement with the Justice Department to settle a variety of issues. While J.P. Morgan and others make negative headlines, Morgan Stanley is literally absent from newspaper and magazine columns.
Share performance
Morgan Stanley is a top performer with a YTD return of 51%. Bank of America (NYSE:BAC) which faced its fair share of mortgage woes during 2009-2012 also gained ground and recouped previous losses: The shares are up 22%. JPM returned 22% and remains in the spotlight due to its landmark DoJ settlement. Goldman Sachs (NYSE:GS) returned 21% while Citigroup (NYSE:C) gained 24%.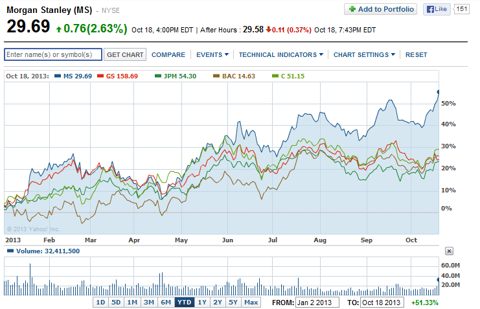 Q3 2013 results and segment performance
Morgan Stanley is an investment brokerage company with a strong presence in Wealth and Investment Management. The company just presented positive Q3 2013 results: Net revenues increased 50% to $7.9 billion in Q3 2013 compared to $5.2 billion in Q3 2012. Income from continuing operations stood at $888 million ($0.44 per diluted share) compared to a loss of $1 billion (a loss of $0.55 per diluted share) last year. What follows is a break-down of Morgan Stanley's noteworthy segment results:
Wealth Management
MS's Wealth Management practice increased revenues 8% to $3.5 billion in Q3 2013 compared to $3.2 billion in Q3 2012. Net income rose 170% from $247 million in Q3 2012 to $668 million in Q3 2013. At quarter end MS manages client assets in the amount of $1.8 trillion. The pre-tax margin for MS's Wealth Management unit is 19%.
Investment Management
MS's Investment Management unit hiked revenues to $828 million in Q3 2013 which compares to $631 million in Q3 2012 (a plus of 31%). Pre-tax earnings increased 52% from $198 million in Q3 2012 to $300 million in Q3 2013. The pre-tax margin stands at an impressive 36% and Investment Management remains one of the most profitable business units within Morgan Stanley.
Institutional Securities
Morgan Stanley's Securities business posted net revenues of $3.7 billion in Q3 2013 compared to $1.5 billion in Q3 2012 (up 149%). Pre-tax income (including DVA) came in at $371 million compared to a massive loss of $1.9 billion in the same quarter last year. The pre-tax margin for this segment stands at 10%. Results were negatively influenced by weaker performance in Fixed Income & Commodities (we saw the same development for Citigroup and Bank of America during the quarter). Equity Sales & Trading and Investment Banking contributed positively.
Book value per share
At the end of the third quarter Morgan Stanley's book value per share stood at $32.13 and its tangible book value per share at $26.96. With a present share price of $29.69 the shares trade at a 10% premium to tangible book value and at a discount of around 8% to total book value per share.
Other comparative valuation metrics
The large-cap banking sector is still largely undervalued. The peer group average P/E ratio including the five firms below stands at 10.20 and the median P/E at 10.31. I believe that financial stocks are going to do really well in the future as the economy grows and earnings per share of financial companies get serious tailwinds. EPS growth and multiple expansion are two key considerations why I believe financial stocks remain undervalued and have outsized upside potential in the coming years. Interest rates are still near zero, unemployment is high and GDP growth is lagging: This is not the condition of a booming economy in which financials are doing fine. This scenario is likely to be realized a couple years down the road. In the meantime, stocks like Morgan Stanley are up for grasp at a discount to book value.
Below I have summarized the most relevant valuation metrics for financial companies and their respective peer group averages.
Summary
Morgan Stanley still trades at an 8% discount to book value and at a low earnings multiple of 11.6. Its y-o-y operating results have shown impressive improvement and its outstanding pre-tax segment margins range from 10-36%. MS is strongly capitalized with a Basel 1 Tier 1 capital ratio of 15.3%. I believe financial stocks remain deeply undervalued given their EPS growth and dividend prospects in a better economic environment. Financial companies will likely do well over the next years as deleveraging processes are completed and stock markets continue to do well. Long-term BUY.
Disclosure: I am long BAC, C. I wrote this article myself, and it expresses my own opinions. I am not receiving compensation for it (other than from Seeking Alpha). I have no business relationship with any company whose stock is mentioned in this article.