El Paso Pipeline Partners, L.P. (NYSE:EPB) reported its results of operations for 3Q 2013 on October 16, 2013. This article focuses on some of the key facts and trends revealed by this report. Given the significant quarterly fluctuations in important business parameters, trailing 12 months ("TTM") figures are also reviewed, in addition to the quarterly numbers.
EPB's assets consist of Southern Natural Gas Company ("SNG"), an interstate natural gas company located in the southeastern United States; Colorado Interstate Gas Company ("CIG"), an interstate pipeline company which is located in the Rocky Mountains; Wyoming Interstate Company, L.L.C. ("WIC"), an interstate pipeline company primarily located in Wyoming and Colorado; Southern LNG Company, L.L.C. ("SLNG"), which owns a liquefied natural gas ("LNG") storage and regasification terminal near Savannah, Georgia; Elba Express Pipeline Company (Elba Express), an interstate pipeline company which is located in Georgia and South Carolina; and Cheyenne Plains Gas Pipeline Company ("CGP"), a pipeline extending from the Rocky Mountain region to Kansas. Combined, these businesses consist of more than 13,000 miles of pipeline and associated storage facilities with aggregate storage capacity of nearly 100 billion cubic feet (BCF).
As shown in Table 1 below, EPB has not demonstrated revenue growth over a fairly lengthy period. In fact, revenues for the TTM ended 9/30/11 were $1,605 million, considerably higher than the most recent two years.

Table 1: Figures in $ Millions (except % change)
Revenues in 2013 are roughly flat despite the Elba Express pipeline expansion project coming online on April 1, 2013 and despite full period contributions by CIG and CGP. As a reminder, EBD acquired the remaining 14% interest in CIG and 100% of CPG on May 24, 2012,; thus, results for the TTM ending 9/30/12 include ~4 months of incremental contributions from 14% of CIG and 100% of CPG compared to 12 months for the period ending 9/30/13.
Operating income and EBITDA, while up on a TTM basis, declined in 3Q13 compared to the corresponding prior year period, as shown in Table 2 below:

Table 2: Figures in $ Millions (except per unit amounts and % change)
Management reported that two recent rate case settlements approved by the Federal Energy Regulatory Commission resulted in lower rates on the SNG and WIC pipeline systems. The SNG rate settlement includes a two-phase reduction in rates effective on September 1, 2013 and November 1, 2015, which will reduce annual revenues by approximately $34 million and an additional $14 million, respectively. Additionally, an unusually cool summer coupled with gas prices that were higher than last year lowered demand from natural gas-fired power plants served by SNG. These factors contributed to the declines in operating income and EBITDA.
Distributable cash flow ("DCF") dropped in 3Q13, principally due the decline in operating income and to larger incentive distribution rights ("IDR") payments made to Kinder Morgan Management Inc. (NYSE:KMI), EPB's general partner. However, on a TTM basis DCF per unit in the period ended 9/30/13 is still up ~4% compared to the corresponding prior year period, as shown in Table 3 below:

Table 3: Figures in $ Millions (except % change)
EPB increased its quarterly distribution from $0.63 per unit in 2Q13 to $0.65 per unit in 3Q13 and projected distribution coverage in 2Q13 and 3Q13, typically the weak quarters in the fiscal year, will be negative. For the full year, management projects coverage will be positive.
Investors should note that the Kinder Morgan entities calculations of DCF (and consequently DCF coverage) appearing in Table 3 are derived differently than some of the other MLPs I cover. The difference has to do with respect to the general partner's share of DCF (see article dated June 2, 2013). Specifically, EPB reports a DCF number that covers only that portion attributable to limited partners. I prefer to look at total coverage ratio, one that includes all sustainable cash generated by the partnership vs. the distributions made to all the partners (general and limited). For example, in 2Q13 EPB reported DCF of $129 million ($0.60 per unit) after deducting $50 million in distributions to KMI, EPB's general partner. EBP distributed $0.63 per unit in 2Q13, so the coverage ratio was 0.95. By my calculation, before adjustments for non-sustainable items the partnership generated a total of $179 million and made distributions totaling $183 million, resulting in a coverage ratio of 0.98.
The press release providing preliminary 3Q13 results issued by EPB on October 16 does not contain sufficient information to assess the sustainability of the 3Q13 DCF number. A comparison of reported to sustainable DCF, and calculation of coverage ratios that take into account all sustainable cash generated vs. distributions made to all partners, will have to wait a few weeks until EPB provides the necessary information as part of its quarterly report on Form 10-Q.
In the meantime, I look at another cash flow indicator, one that is less susceptible than DCF to subjective interpretations, to help assess EPB's cash generation capability. Operating income, plus depreciation, less interest expense, less maintenance capital expenditures is shown in Table 4 below:

Table 4: Figures in $ Millions (except per unit amounts and % change)
Although DCF per unit for 3Q13 dropped 18% vs. the prior year period, the indicator in Table 4 (which is less susceptible to subjective interpretations) showed a more modest 4% decline.
Maintenance capital expenditures continue to be much lower than they were when EPB was part of El Paso Corp. At the conference call discussing 3Q13 results management addressed this issue again and provided a detailed analysis of GAAP operations & maintenance expenses for the major El Paso pipelines (Tennessee Gas Pipeline, El Paso Natural Gas, CIG and SNG). The level of these expenditures in 2013 is ~$191 million less than it was in 2011 and the analysis reviewed virtually all the line items comprising this drop. A line item of particular note was expenditures on pipeline integrity. These actually increased by $63 million in 2013 vs.2011. As noted in a prior article, I realize pipeline safety is a significant risk factor but don't know of any metric available to the public that would reliably indicate the sufficiency or insufficiency of these maintenance capital expenditures. I see no indication of a reason to distrust management on its commitment to safe operations.
Table 5 below adds TTM numbers to EPB's October16 press release that provides a reconciliation of net income to reported DCF for 3Q13 and 3Q12: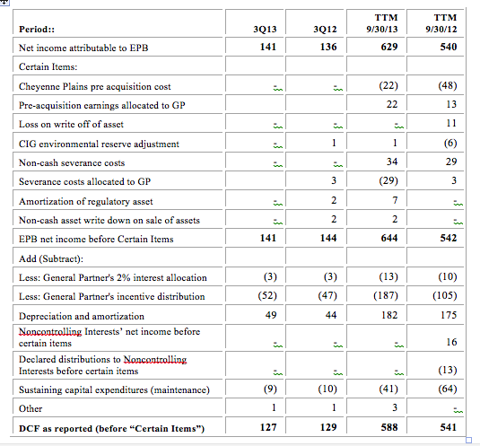 Table 5: Figures in $ Millions
The method used by EPB to determine DCF is detailed in an article titled Distributable Cash Flow ("DCF"). The article also provides a comparison to definitions used by other MLPs. I find EPB's method of deriving DCF (referred to as "DCF before certain items") complex. It also differs considerably from the method used by other MLPs I cover. However, as indicated by the quarterly data in Table 5, there seems to have been a significant decline in the magnitude of these "Certain Items".
Table 6 below compares KMP's current yield to some of the other MLPs I follow:
| | | | |
| --- | --- | --- | --- |
| As of: 10/17/2013 | Price | Quarterly Distribution | Yield |
| Magellan Midstream Partners (NYSE:MMP) | $57.97 | $0.53250 | 3.67% |
| Enterprise Products Partners (NYSE:EPD) | $62.25 | $0.69000 | 4.43% |
| Plains All American Pipeline (NYSE:PAA) | $49.95 | $0.58750 | 4.70% |
| Targa Resources Partners (NYSE:NGLS) | $51.39 | $0.71500 | 5.57% |
| El Paso Pipeline Partners | $40.88 | $0.65000 | 6.36% |
| Buckeye Partners (NYSE:BPL) | $66.00 | $1.06250 | 6.44% |
| Kinder Morgan Energy Partners (NYSE:KMP) | $80.69 | $1.32000 | 6.54% |
| Williams Partners (NYSE:WPZ) | $52.70 | $0.86250 | 6.55% |
| Boardwalk Pipeline Partners (NYSE:BWP) | $31.38 | $0.53250 | 6.79% |
| Energy Transfer Partners (NYSE:ETP) | $51.96 | $0.89375 | 6.88% |
| Regency Energy Partners (NYSE:RGP) | $25.93 | $0.47000 | 7.25% |
| Suburban Propane Partners (NYSE:SPH) | $48.14 | $0.87500 | 7.27% |
Table 6
EPB increased its quarterly distribution by 12% from 3Q12 to 3Q13 and by ~18% in the TTM period ending 9/30/13. But the pace of distribution growth is slowing. Management projects distributions in 2013 will total $2.55 per unit, up 13% from the $2.25 per unit in 2012, but that EPB will not meet its target of $25 million of excess coverage for 2013. The shortfall was attributed to the postponement of the dropdown of KMI's 50% interest in Gulf LNG Energy, LLC ("GLNG").
GLNG is working with potential customers on a project to build a future LNG liquefaction export terminal on a site adjacent to its existing LNG import and regasification facility at Pascagoula, Mississippi. In June 2012, the proposed LNG export project received authorization from the Department of Energy ("DOE") to export ~1,500MMcf/d of domestically produced liquefied natural gas LNG to Free Trade Agreement ("FTA") countries for a 25-year period.
In April 2013, management stated EPB is expected to purchase GLNG in 3Q13. Analysts have estimated a $750 million purchase price for this asset. But in a move that I found surprising KMI recently elected to postpone the drop down of GLNG "until there is more clarity regarding a potential GLNG export expansion project". It was also disclosed that KMI has not determined to which MLP (KMP or EPB) it may offer its remaining potential drop-down assets. So it appears uncertain to what extent, if at all, EPB will have a stake in this asset.
This highlights the conflict issue investors should think about when several MLPs share the same general partner. KMI has a fiduciary duty to act in the best interest of both EPB and KMP. This is almost impossible to achieve in a situation where both MLPs vie for the same assets. In addition, there is always a concern regarding the pricing of such related-party transactions because a higher price is advantageous for KMI but disadvantageous for its MLPs.
EPB's major growth projects are not scheduled to commence production until 2016. They currently include:
Up to 1 billion cubic feet per day of incremental gas transportation capacity serving customers in GA, SC and northern FL. Total capital invested by the EPB to accommodate the initial phase of 600 MMcf/d is expected to be in excess of $200 million, with service commencing in June 2016.
Elba Island Liquefaction Project. A joint venture with Shell to develop and own a natural gas liquefaction plant at SLNG's existing Elba Island LNG terminal. EPB's portion of the capital expenditures is estimated at ~$850 million for Phase I (210 MMcf/d) and $500 million for Phase II (140 Mmcf/d). If all proceeds as planned, construction will begin in 4Q14 with service commencing in 2016. SLNG has received DOE authorization to export the produced LNG to FTA countries and has applied for non-FTA approval.
Coverage ratios have come down as cash distributions grew faster than cash generation capabilities. While distribution growth in 2013 is expected to be 13%, prospects for continued growth beyond 2013 are at lower levels. EPB's distribution growth is expected ~5-6% for the next few years, down substantially from growth rates in prior years. Long-term debt to LTM EBITDA as of 9/30/13 was 3.6x, so the balance sheet can absorb additional debt to fund the GLNG dropdown, should it take place. In that event, I expect EPB will issue additional equity to pay for a portion of that dropdown.
Disclosure: I am long EPB, EPD, ETP, PAA, SPH, WPZ. I wrote this article myself, and it expresses my own opinions. I am not receiving compensation for it (other than from Seeking Alpha). I have no business relationship with any company whose stock is mentioned in this article.