In the world of retail REITs, or those real estate investment trusts that focus on shopping malls, strip malls or community shopping centers, yields of 3% to 6% are common. To find a U.S. retail REIT that is yielding over 8% in 2013 is basically unheard of, which brings us to Whitestone REIT (NYSEMKT:WSR).
Founded in 1998 and based in Houston, Texas, WSR went public in 2010 and has grown to become a $240 million company today. The shares closed at $13.86 on October 17, 2013, which gives the $1.14 dividend a yield value of 8.2%.
Along with the rest of the U.S. REITs, WSR fell from grace this summer after the May 22nd release of the Fed meeting minutes that suggested a late 2013 taper. With current pricing, WSR is down 1.35% on the year and 4.61% below its 50-day moving average.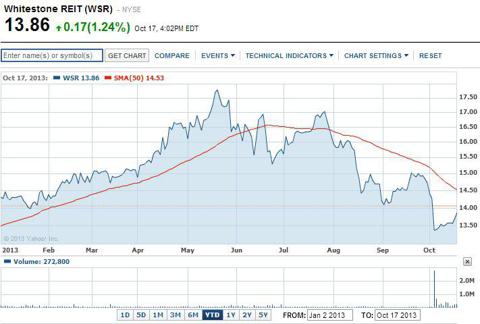 Click to enlarge
WSR pays a quarterly dividend that is distributed monthly, which is a positive for income investors who withdraw monthly income checks. WSR's larger peers, Realty Income Corp. (NYSE:O) and American Realty Capital Properties (ARCP), also distribute their dividends on a monthly basis.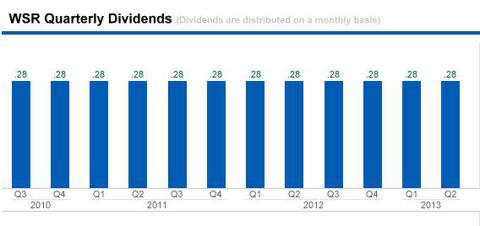 Click to enlarge
What is Whitestone?
Whitestone REIT is classified as a retail REIT and owns 55 community shopping centers throughout Arizona, Texas and Illinois. Whitestone targets high population growth markets, specifically Phoenix/Scottsdale, Houston, Dallas, San Antonio and Chicago.
A community shopping center is generally geared toward retail and food spaces that are under 3,000 square feet and anchored by a grocery or drug store tenant such as Safeway, Walgreens or Albertsons.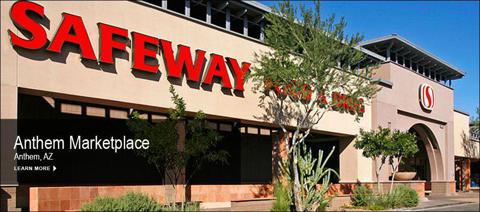 Click to enlarge
WSR has approximately 1,200 tenants today, with the largest representing only 1.6% of the total portfolio (as of June 30, 2013).
The occupancy rate at WSR is below peers at 86%. This is largely due to their nature, as the company specializes in buying distressed properties and making them suitable for rental.
What are the insiders doing?
Over the past year, insiders have been buying the stock. This is clearly a positive sign, as they see more value in the company than the market does. While the stock is down from the May 2013 high, investors at today's price can purchase WSR for less than the May through August 2013 insider purchases ($14.97 - $16.49 per share) and just above the recent October 2013 purchase ($13.54 per share).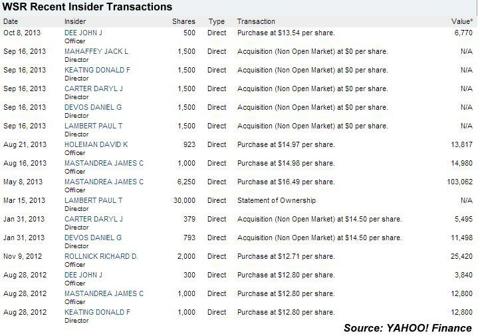 What is the risk, should I buy WSR?
While many REIT investors are attracted to the sky-high yield at Whitestone, it must be understood that with such payouts there should be anticipated risk.
When comparing WSR to O, there are several reasons to advise caution. Sure, the dividend is higher, however, the risk involved comes on several fronts based on relative size and history.
The market capitalization of WSR is $240 million, versus O at $8.3 billion.
WSR holds 55 properties, whereas O holds over 3,600.
WSR operates properties in 3 states, whereas O operates in 49 states and Puerto Rico.
O went public in 1994 and therefore has 19 years experience operating a REIT in the U.S. public market. WSR is newer, having gone public 3 years ago in 2010.
Moving past the comparisons with O, there are in-house concerns at WSR that warrant caution.
WSR requires capital investments to grow, which are infusions that upset the stock price. On October 2, the company announced an offering in a press release of up to $40 million, which had to be offered at a discount to the market price. This devastated the stock, sending it down from $14.41 on October 1st to $13.38 on October 3rd after the dust settled. This was a two-day loss of over 7.1%, which the ordinary investor could do nothing about.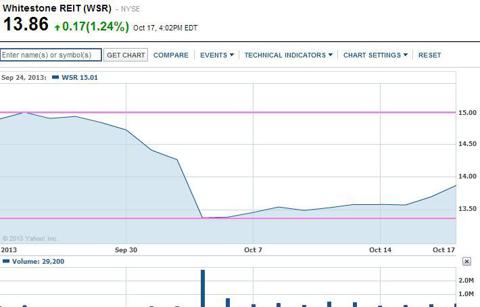 Click to enlarge
The FFO is not stable at WSR. The Q4 2012 FFO was reduced $0.12 per share to recognize the cost of relocating their CEO, which was done at the cost of $2.2 million.
The debt level at WSR is incredibly high at over 100% versus the market cap of the company. Total debt is approximately $266 million, versus a $240 million market cap. This makes the long-term debt to market cap ratio at 111%. While growth in debt to purchase property may benefit WSR over the long-run, this adds risk.
In the WSR 2013 Q2 (June 30, 2013) Supplemental Operating and Financial Data report, the company lists debt to market cap at 48%, which is incorrect. Perhaps someone can help me understand why WSR has incorrect REIT jargon here? Did they mean debt to real estate equity ratio and if so, why doesn't the CEO make sure the terms are correct?

Click to enlarge
The company just financed a loan for $6.1 million more than what they needed to cover a loan that was due. Also, they put an interest-only option on the front-end (2 years) on the new loan and stated that the extra dough was for "working capital purposes."

Click to enlarge
The company's distributions of $1.14 per share are 150% of TTM FFO ($0.76/share). If using Q2 2013 FFO of $0.24 as guidance for the next four quarters, WSR would be distributing 118.75% of forward FFO ($0.96).
Assuming consistent FFO numbers and no more "CEO" expenses, in conjunction with understanding the interest-only loan they committed to recently (with an extra $6.1 million to finance working capital), it appears that WSR is financing a dividend rather than simply earning it.
With a P/TTM FFO of 18.24, the stock trades at a premium, likely due to the nature of the inflated dividend and the fact that the CEO relocation expenses knocked off $0.12 or 15.8% of the TTM FFO.
Using the P/TTM FFO, FFO (TTM and YOY), payout ratio and debt ratio, the WSR BARS-IQ score is a 22.62/100 for the grade of an F.

Click to enlarge
Conclusion
When grading WSR versus peer O, the company is very small and thus carries more risk. With a higher risk, investors should demand a higher dividend. Unfortunately, the dividend at WSR is higher than FFO, which threatens the stability of the dividend. Also, the company is financing the dividend through interest-only loans. The company debt level is dangerously high, which should be avoided after the lessons of the 2008 global financial crisis.
In this light, investors are cautioned in committing any capital to WSR. The company needs to reduce debt, lower the dividend, hold a steady FFO and take a breather on acquisitions. With a stable FFO over the next two years, along with a payout ratio under 90% and long-term debt to market cap under 50%, the company would earn a higher grade.
Once the company fixes these core problems as outlined above, the P/FFO should trade at a discount to peer O due to size and relative risk. If these problems are fixed in the next 12-18 months, a P/FFO target of 13.5 would be warranted, assuming constant interest rates and peer O trading at a fair valuation of 15.5x FFO. At the current time, WSR should be avoided as risk outweighs reward.
Disclosure: I have no positions in any stocks mentioned, and no plans to initiate any positions within the next 72 hours. I wrote this article myself, and it expresses my own opinions. I am not receiving compensation for it (other than from Seeking Alpha). I have no business relationship with any company whose stock is mentioned in this article.