In our commentary last week we noted how a large futures market sell order made over a few seconds managed to drop the gold price significantly, which was done on the paper market because the equivalent physical gold would wipe out almost all the available gold at COMEX.
What is very curious is that even with these massive paper-market sell orders, there are signs that physical supply of gold is extremely low, with premiums in India surging to all-time records with premiums close to 30% higher than the current gold price. Investors should remember India is not a market devoid of any gold, in fact they hold the largest supply of private gold in the world. So the gold is there, but not many want to sell it even with those premiums - very interesting indeed.
That's why we think it is very important for gold investors to keep track of any physical data on gold. Keeping track of COMEX inventories is something that is recommended for all serious investors who own physical gold and the gold ETFs (GLD, PHYS, and CEF) because any abnormal inventory declines may signify extraordinary events behind the scenes that would ultimately affect the gold price.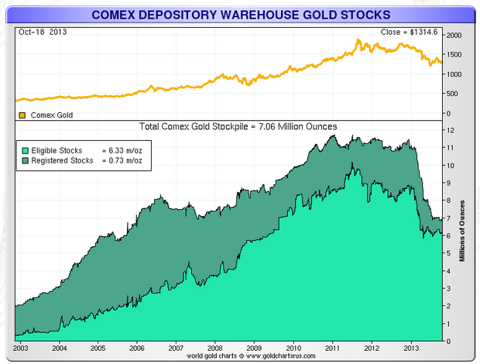 Source: http://www.sharelynx.com
We will take a closer look at these numbers, but let us first explain the COMEX a little more for investors who are unfamiliar with it.
Introduction to COMEX Warehousing
COMEX is an exchange that offers metal warehousing and storage options for its clients. The list of their silver warehouses can be found here and their gold warehouses can be found here. In the case of silver and gold, the metal is stored at these official warehouses on behalf of banks and their clients and can be used to settle futures contracts, transferred between clients, or withdrawn from the warehouse. This offers large holders of precious metals a convenient way to store their metal with minimal storage fees - very convenient indeed if you hold large amounts of gold or silver and you don't want to store them in your basement.
Silver and gold stored in these warehouses can fall into two categories: Eligible and Registered.
Eligible metals are those that conform to the exchange's requirements of size (1000 ounce bars for silver and 100 ounce bars for gold), purity, and refined by an exchange approved refiner. Eligible metals are stored at COMEX warehouses on behalf of banks or private parties, but are not available for delivery for a futures contract.
Registered metals are similar to eligible metals except that these metals are also available for delivery to settle a futures contract. COMEX issues a daily report on gold, silver, copper, platinum, and palladium stocks, which lists all the metal that is currently stored in COMEX warehouses and how much eligible and registered metal is present.
This information allows investors insight into how much metal is currently backing COMEX futures contracts, what large gold and silver owners are doing with their metals, and how many clients are requesting delivery of their metals. There is a lot more to glean from this information but for the purpose of this article we will focus on the gold drawdown.
This Week's Changes: Large Increase in Eligible Gold Due to One JPMorgan Warehouse Deposit
Let us now take a deeper look at the gold draw-downs being seen in the COMEX warehouses.

As investors can see, last week we saw a small increase in registered gold stocks but a significant increase in eligible gold inventories, which led to a total increase of 146,598 ounces for the week. The interesting thing was this increase was due primarily to an extremely large 192,900 increase on Thursday (reported on Friday) in the JPMorgan (NYSE:JPM) warehouse.
Large Thursday Increase in JPMorgan Warehouse Gold
The increase in gold held at the JP Morgan gold warehouse warrants a further look because of its large size. As we noted earlier, the increase in eligible gold (note it isn't available for delivery) by 192,900 ounces is approximately $250 million and was so large it more than doubled JPMorgan's warehouse gold stocks from 158,063 ounces reported on 10/17/13 to 350,963 ounces reported on 10/18/13. Investors should also note that JPMorgan's warehouses only hold 634,066 ounces after this transaction - so this one transaction makes up 1/3 of total gold held at JPMorgan warehouses. Very large transaction indeed!
Another interesting tidbit is that this exact amount of gold was added a couple of times in the past - which is very rare.

On these three days, some entity added exactly 192,900 ounces of physical gold to their JPMorgan warehouse account. Why? We're not sure, but if anyone with more knowledge about this has any more insight please let us know or post in the comments. Either way, it may mean nothing or it may be very relevant, but it is worth noting.
Conclusion for Investors
For the week, COMEX gold eligible inventories rose as there was a major addition of eligible gold in the JPMorgan warehouse. Interestingly, we note that this gold was kept at an eligible status and not registered, so it is not eligible for delivery. We'll be interested to see if it is transferred to registered status in the upcoming days or if more large additions of gold will be added to the JPMorgan warehouse.
At this point, we see no reason to change our bullish stance on gold based on COMEX gold inventories, and we recommend investors continue to accumulate physical gold and the gold ETFs (GLD, PHYS, CEF) while the physical gold supply continues to drop. For investors looking for higher leverage to the gold price, they may want to consider miners such as Goldcorp (NYSE:GG), Yamana Gold (NYSE:AUY), Randgold (NASDAQ:GOLD), or even some of the explorers and silver miners such as First Majestic (NYSE:AG). But as we always emphasize, buying gold miners includes many other risks that are not present with owning physical gold, so investors should make sure that they do their due diligence before investing in any particular miner or explorer.
On another note, if any investors or experts have any insight on the now thrice deposited 192,900 ounce ($250 million) deposit number please let us know - we are very curious why we've seen this exact amount multiple times in only JPMorgan warehouses.
Disclosure: I am long SGOL, GG, AG. I wrote this article myself, and it expresses my own opinions. I am not receiving compensation for it (other than from Seeking Alpha). I have no business relationship with any company whose stock is mentioned in this article.