Ackman got it all wrong. Or maybe it is more appropriate to say that he gave up too early. Bill Ackman is a smart guy willing to engage in conflict with management in order to create shareholder value. His retail record, however, is pretty dismal. His Target (NYSE:TGT) investment was a huge failure for one of his funds that was specifically set up to make the concentrated bet. J.C. Penney (NYSE:JCP) is no different. He took a $400 million hit on his J.C. Penney sale back in August as he threw in the towel. Ackman's Herbalife (NYSE:HLF) bet also is highly concentrated and so far has worked massively against him. For sure, mistakes can happen and if you want to deliver alpha you have to make concentrated bets otherwise you just index and don't worry. But hedge fund managers have to sell their performance to their investors who are, unfortunately, short-term oriented and oftentimes obsessed with quarterly returns. It is difficult, institutionally speaking, to defend return drags to investors who often quickly lose patience if the proposed transactions didn't work out as expected and as quickly as desired. Bruce Berkowitz for instance was hit with redemptions in 2011 because of his outsized exposure to Bank of America (NYSE:BAC) and American International Group (NYSE:AIG) which took his entire year performance down. Subsequently, hot money left and Berkowitz was back on top again.
A short-term-mindset and instant gratification thinking often cause erratic fund flows independent of the true underlying value of an investment. The manner in which Ackman left his investment, quite abruptly, signals that Ackman has lost patience rather than that he fundamentally changed his opinion of the value of J.C. Penney. Just two month ago Ackman appeared on Charlie Rose and wholeheartedly defended his stake in J.C. Penney. I believe Ackman has sold out for any or a combination of the following reasons:
Ackman got pounded by other hedge fund managers such as Dan Loeb, George Soros and Carl Icahn. Investors wouldn't want to have hedge fund managers like these as trade counterparties. They have equally impressive track records and have done their research as well.
Ackman fought on at least two fronts: Herbalife and J.C. Penney were outsized portfolio positions that moved against him and were a huge drag on portfolio performance.
Hedge fund managers have to deliver performance or money flows out quickly. This is especially true if the fund operates on a 2/20 structure. Lagging returns cause existing investors to become impatient and increased public scrutiny of investment returns is unlikely to help in attracting new capital.
Ackman went public with a letter voicing his concerns that J.C. Penney's board has ceased to work efficiently. What followed was a mud-slinging contest which led Ackman to resign from the board on August 13, 2013. While there may be governance issues at heart about the way the CEO hiring process was conducted, I believe that Ackman simply lost standing with his move to publicly criticize the board of which he was still a part. As a result, board atmosphere got toxic and Ackman's chances of pushing his agenda dwindled.
All of those reasons likely contributed to Ackman giving up. Investors, however, should not see his sale of J.C. Penney shares to Citigroup as a vote on the brand and real estate value of the company. Ackman's original investment partner Vornado Realty Trust (VNO.N) has also thrown in the towel in September selling its 6.1% stake at $13 to Citigroup. Since its high of $42.68 on February 13, 2012 J.C. Penney shares have lost 84%. J.C. Penney has lost 50% of its market capitalization since September alone and the stock is likely to be in deeply oversold territory now. While it is true that J.C. Penney faces serious challenges and H1 2013 net revenues are down 14% y-o-y ($6.2 billion in H1 2012 compared to $5.3 billion in H1 2013) the loss of JCP's market capitalization is out of touch with the underlying fundamentals.
JCP's offering of 84 million common shares is the right thing to do for shareholders. As of August 3, 2013 JCP holds $1.5 billion in cash and cash equivalents on its balance sheet which equates to $6.95 per share. JCP's share price currently stands at $7.00 implying that JCP's market capitalization consists nearly 100% of cash held on hand.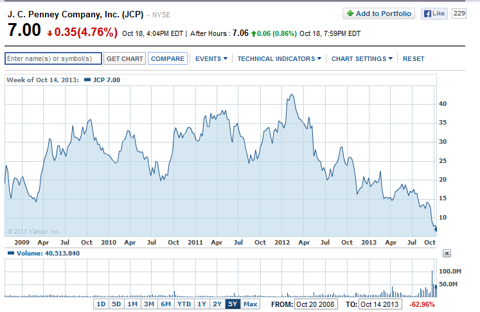 Conclusion
In my opinion J.C. Penney makes a great turnaround investment that is too harshly punished for its sales declines. While it is worrying that sales decline on a company-wide basis for many quarters, it is also true that comparable store sales show improvement. Furthermore, the decline in market capitalization is out of proportion to the underlying fundamentals (even considering the common stock offering at $9.65 per share). I believe the surrounding conditions of J.C. Penney's share price decline represent a text book example of a contrarian investment that starts to work out as soon as the maximum level of pessimism in the market has been reached. JCP is a contrarian Buy for investors who possess enough mental armor to withstand volatility and believe in a turnaround of a high-value real estate brand trading at cash value.
Risks include a continued erosion of JCP's sales base and a faltering turnaround concept. Given the degree of shareholder value destruction that has already taken place, I believe that the odds are stacked in favor of contrarian investors.
Disclosure: I am long JCP, AIG, BAC. I wrote this article myself, and it expresses my own opinions. I am not receiving compensation for it (other than from Seeking Alpha). I have no business relationship with any company whose stock is mentioned in this article.