Introduction
In previous articles about Apple's (NASDAQ:AAPL) iPhone, I had postulated that Apple was doing the right thing in their recent iPhone game plan - coming up with a phone that's for the "premium" Apple users, and one that "the rest of us" could afford with the newly launched iPhone 5C.
They did it to appease consumers - both high end "Apple-elitist" consumers, as well as retail consumers and analysts (including myself) that have opined and moaned that Apple could be losing market share because they haven't been able to put out an affordable version of the iPhone.
Here's a quick look at the differences between the two phones that Apple started offering this fall, versus Apple's Previous iPhone 5:
| | | | |
| --- | --- | --- | --- |
| | iPhone 5 | iPhone 5C | iPhone 5S |
| OS | iOS 6 | iOS 7 | iOS 7 |
| Camera | 8 mpx @ 720p | 8 mpx @ 720p | 8 mpx @ 1080p |
| Processor | A6 | A6 | A7 64-bit |
| Fingerprint | No | No | Yes |
| Weight | 3.95oz | 4.65oz | 3.95oz |
| Colors | Black/White | Five Pastels | Grey, Gold, Silver |
Apple - Recent Trading & Technicals
Apple finished trading last week looking strong over the $500 mark for the first time in months. Apple has been extremely lucrative for those that have been invested in the last 5+ years - however, the stock is still off its highs in the $700 region where it was about 18 months ago. Those that have bought in over the last year could still be facing some paper losses, while investors that have bought into Apple recently have yielded 19.8% over the last three months.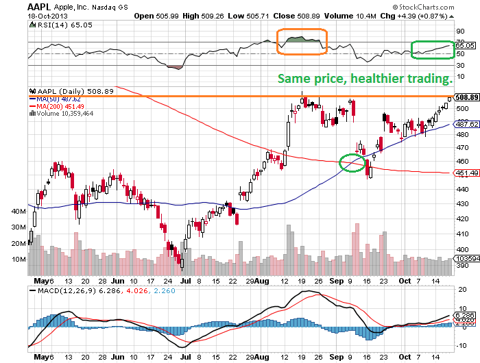 Click to enlarge
As you can see from the above chart, the stock appears to have started a technical uptrend spurring from the "golden cross" that occurred during the beginning of September; when the 50 DMA crossed over the 200 DMA.
Since then, the stock has once again pressed up against its resistance at $510, as you can see on the chart. The last time Apple traded this high, the RSI indicated that the stock was overbought. This time, it's looking like Monday would be a prime time for Apple to keep the trend and break $510 - pending any type of unknown major market meltdown for other reasons.
Recent News About the New iPhones
It was reported towards the end of last week that the iPhone 5C may not have been selling at the rate that investors and Apple longs had hoped for. Before we could start to worry about these metrics, it was released this weekend that even though the 5C orders were cut up to 35%, the iPhone 5S has apparently increased production by 75%
Displaysearch Blog reported:
The diverging fates of Apple's iPhone 5s and 5c have been widely reported, and our latest channel checks confirm that Apple indeed has cut back 5c production by 35% and increased 5s production by 75%.

The disappointing performance of the 5c can be attributed to two factors. First, Apple is a profit-driven company, and decided to raise their price in order to hit its profit target when Chinese carriers cut their subsidies on the iPhone 5c. The selling price of the phone is determined by material cost, target profit margin, and subsidy. The company could have sold the 5c at a much lower price (as the market expected); however, Chinese carriers were aggressively gaining new subscribers through device subsidies during Golden Week (first week of October). If Chinese carriers allocated a higher subsidy to new iPhone 5c subscribers, they would have less to subsidize other brands' devices. Perhaps Apple miscalculated the launch timing, considering they were aiming at the China market.
Depending on the margins that Apple is yielding from each of these phones, this may not even be any type of bad news for the company. The general analyst sentiment was that because the 5C was an inherently cheaper product to make, the margins would be significantly better on the top-tier 5S.
In that case, Apple continues to hum right along in mobile.
This does well to prove a couple of arguments that Apple can use to tailor their business plan:
1. It shows that the average Apple consumer has the means to purchase the higher end equipment from Apple.
2. It shows that consumers want the best/higher end product, as the iPhone 5S is better made with the new top of the line A7 processor and fingerprint ID scanner.
3. Gaudy (everyone flipped out about the "gold" when it was released) might be right up the Apple consumer's alley - the same way Lexus sells cars with gold trim.
How Can Apple Use This Going Forward?
As I said in a previous article about the Moto X, anybody can do the colors like Apple did with the 5C. It really isn't "news". They were a big deal when Apple first introduced them for the iPods, but with the influx of millions of iPhone case designs and other manufacturers experimenting, they just aren't that big of a deal anymore.
I addressed this when I first addressed what a failure I though the Moto X was going to be after watching hoards of Apple longs and analysts that were actually worried that the Moto X, which boasted colors as its only "major" advantage, was going to be some type of threat:
The Moto X is almost boasting about its customizable colors like it's never been done before and like it's the best feature of the phone - and if I'm not missing something major, it may actually be. Hell, just look at Motorola's own Moto X site, and what the first thing they list is:

Click to enlarge

The colors? Really? That's it? Maybe if this phone was $79 and you were marketing it primarily for high school students - but for the average Joe? You're going to need something major to go toe to toe with the big guys, and in an industry where everyone is going to buy a case for their phone anyway, and cases come in billions of designs and colors, this color shtick from Motorola isn't going to cut it.
So, maybe the colors on the phone wasn't the right direction for Apple to head in.
The 5S on the other hand, boasts a "finish" instead of a color, and is available in such high class finishes as silver, "space gray" and "gold".
What Does This Mean to Apple Investors?
It means, that as long as Apple pays attention to and learns from this, that it's likely they're going to keep heading in the right direction with mobile. It also means that the 5S headlines offset the 5C headlines (hopefully with profit to spare, if the margins are that much better on the 5S).
So much of investors' worry and Apple's success is going to come from them making sure they're not outdone by Samsung (OTC:SSNLF) in mobile. With Apple's recent "surprise" numbers on iPhone from last quarter, Apple still has yet to really be dethroned as the most credible threat in mobile.
It also means that the iPhones that the market seemingly didn't like (remember, Apple stock was down after the iPhone announcement event), might just be the phones that continue to help Apple exceed its mobile numbers, even if they're not doing it through the "cheaper" channels that analysts and bloggers thought were necessary.
As a potential Apple investor, or someone with a position in Apple already, I'd see this as good news. As long as Apple continues to find sects of success within iPhone, the company's "ecosystem" of products will continue to prove a good investment vehicle; as Apple still has considerable market share to gain in Mac, and as Apple will likely continue to dominate music sales/streaming radio.
With 10 coming catalysts and a continued push in mobile, Apple continues to be a threat to competitors like Samsung and Pandora - and Apple remains, to this investor, a continued rock solid investment going forward.
As always, best of luck to all investors.
Disclosure: I have no positions in any stocks mentioned, and no plans to initiate any positions within the next 72 hours. I wrote this article myself, and it expresses my own opinions. I am not receiving compensation for it (other than from Seeking Alpha). I have no business relationship with any company whose stock is mentioned in this article.