An old philosophical paradox asks, "If a tree falls in the forest and no one is around to hear it, does it make a sound?" The same question could be asked of BroadSoft (NASDAQ:BSFT) and its relationship with Google (NASDAQ:GOOG).
Specifically, "If BroadSoft coyly announces a formal partnership with Google and there are no sell-side analysts around, did it happen?" The answer is clearly "yes!".
BroadSoft held their annual Connections conference this week in San Diego, California. Sell side analysts and investors were strictly forbidden from attending the conference. Why? In my experience on Wall Street, the things that are left unsaid are often more important than things that are said. Exhibit number one is BroadSoft's press release involving its tighter integration with Google. From the title of the release, you wouldn't know it had anything to do with Google ("BroadSoft Introduces BroadWorks Collaborate, Xtended Dialer for Chrome and Other UC-One Enhancements"). Many investors read the headline, and collectively yawned, asking "Is this important? Is this Google's Chrome?" The answer to both questions is yes.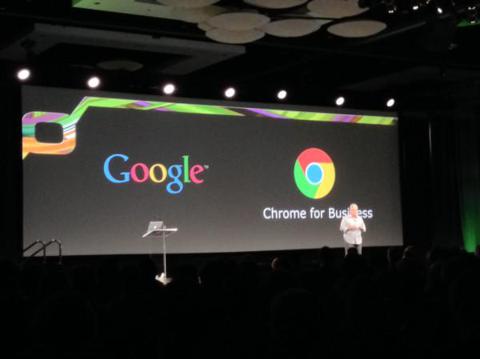 BroadSoft CEO announcing new collab with Google BroadSoft Xtended Dialer for Chrome click-to-dial #BSFTConnections
So, why didn't BroadSoft do a better job of publicizes its closer alliance with Google? The answer is multi-fold. First and foremost, they don't want to upset their existing relationships with carriers, which represent their core revenue and profitability. Second, they don't want to give too much of a competitive heads-up to Microsoft (and to a lesser extent, Cisco) that Google and BroadSoft are collectively targeting them. My sources indicate that the two are indeed working much closer together, and BroadSoft is poised to be a principal beneficiary of the massive momentum thatGoogle Apps is experiencing - at a dinner I had this week in Silicon Valley, some plugged-in senior executives at high technology firms indicated that the momentum of Google Apps is off the charts.
The only analyst who was even in the vicinity of the event was Dmitry Netis of William Blair. Netis also happens to be the only sell-side analyst who actively covers BSFT. He provided the only real insight on the announcement and succinctly stated, "BroadSoft's partnership with Google appears to be taking on a highly strategic role". Netis was not allowed into any of the sessions. Sources say he was not exactly welcome with open arms (mildly put). Remember, what is left unsaid is more important than what is said. So, while short-term traders may moan at the lack of a short-term pop from a hyped up "BroadSoft and Google Announce Strategic Partnership", that is in reality what happened.
This situation is a textbook example of reading between the lines and understanding the true motivations of the players. Remember, companies act for the long term benefit of their business, not for short-term trades. This is where PTT excels.
Stay tuned for more on BSFT. In an upcoming PTT Newsletter, I'll reveal the golden nugget I found while digging through BSFT's filings. In the meantime, I reiterate my bullish stance on the stock and continue to own the shares.
Disclosure: I am long BSFT. I wrote this article myself, and it expresses my own opinions. I am not receiving compensation for it. I have no business relationship with any company whose stock is mentioned in this article.