BioMed Realty Trust Inc (NYSE:BMR) operates as a real estate investment trust which owns, acquires, develops, redevelops, leases and manages laboratory and office space for the life sciences industry. On August 7, 2013, the company reported second-quarter funds from operations of $0.37 beating the consensus of analysts' estimates by $0.03. Since I last wrote about the company, the stock is up 3.6% excluding dividends (up 4.85% including dividends) and is beating the S&P 500, which has gained 3.27% in the same time frame, and with that in mind I'd like to take a moment to evaluate the stock on a fundamental, financial, and technical basis to see if it's time to buy some more shares right now for the financial sector of my dividend portfolio.
Fundamentals
The company currently trades at a trailing 12-month P/E ratio of 115.18, which is expensively priced, but I mainly like to purchase a stock based on where the company is going in the future as opposed to what it has done in the past. On that note, the 1-year forward-looking P/E ratio of 141.88 is currently expensively priced for the future in terms of the right here, right now. The forward P/E value that is higher than the trailing twelve month P/E value tells us the story of earnings contraction in the next year. Next year's estimated earnings are $0.14 per share while the trailing twelve month earnings per share were $0.17.
Financials
On a financial basis, the things I look for are the dividend payouts, return on assets, equity and investment. The company pays a dividend of 4.8% with a payout ratio of 553% of trailing 12-month earnings while sporting return on assets, equity and investment values of 0.6%, 1.2% and 2.6%, respectively, which are all respectable values but nothing to go writing home about. Because I believe the market may get a bit choppy here and would like a safety play, I believe the 4.8% yield of this company is good enough for me to take shelter in for the time being.
Technicals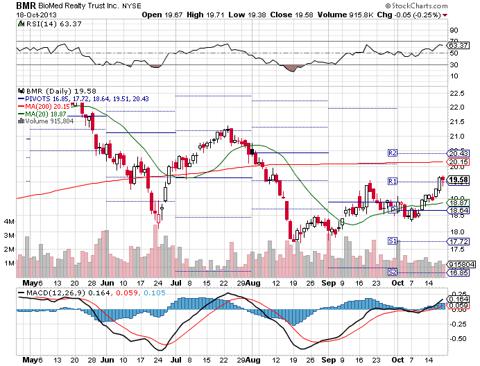 Looking first at the relative strength index chart [RSI] at the top, I see the stock muddling around near overbought territory with a value of 63.37 but the trajectory is getting tired. To confirm that, I will look at the moving average convergence-divergence [MACD] chart next and see that the black line is above the red line with the divergence bars flattening in height, indicating the stock may consolidate in this area. As for the stock price itself ($19.58), I'm looking at the 200-day simple moving average to act as resistance and the 20-day simple moving average to act as support for a risk/reward ratio, which plays out to be -3.63% to 2.91%.
Recent News
The company declared a $0.235 per share quarterly dividend with an ex-date of 26Sep13 and was paid on 15Oct13.
Conclusion
I inserted BioMed Realty Trust earlier this year in the place of BB&T Corp (NYSE:BBT) because I felt that BB&T was going through some issues it couldn't get itself out of at the time. The switch into BioMed Realty Trust has proven to be an excellent one so far as it is up 8.66% excluding dividends (up 9.91% including dividends) while BB&T is down 5.42% in the same timeframe. At this particular moment the company isn't anything special based on fundamentals and financials. The technicals are telling me there should be some downward pressure coming soon as it has run up in price quite a bit lately. For these reasons I'm not going to be adding to my position right now.
Disclaimer: These are only my personal opinions and you should do your own homework. Only you are responsible for what you trade and happy investing!
Disclosure: I am long BMR. I wrote this article myself, and it expresses my own opinions. I am not receiving compensation for it (other than from Seeking Alpha). I have no business relationship with any company whose stock is mentioned in this article.