Homebuilders KB Home (NYSE:KBH) and Lennar Corp. (NYSE:LEN) both reported earnings on September 24th. I believe these were the first earnings reports for homebuilders after the Federal Reserve backed down from bond tapering in the face of higher rates, fiscal battles that appeared likely to undermine the economy, and a weaker forecast for economic growth. These were also the first reports to encompass the entire period of rising rates and the slower growth rates in home sales for August. In this context, the reports were important markers for observing whether prevailing headwinds were impacting the housing recovery and the financial performance of home builders in particular.
Both KBH and LEN provided some elements of relief and a few points to monitor closely. They both recorded another quarter of strong year-over-year revenue, earnings, and margin growth, even as they each acknowledged shifts in the marketplace. These shifts have not changed their bullish outlook on the market. Aggressive land acquisition programs remain in place and forecasts for the fourth quarter and 2014 remain strong. As with any bullish outlook, the health of the overall economic recovery remains the largest wildcard although builders like KBH and LEN have aggressively focused their businesses on markets with strong underlying economic fundamentals. Both companies remain good buys if the market sells housing plays further. If the market muddles through October with no calamities, then I expect both stocks to finalize bottoming patterns relatively soon thereafter as the market begins to look forward to a sustained recovery in 2014.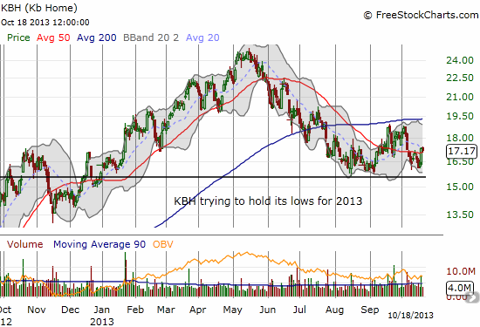 KBH tries to hold its lows for 2013 - a base is not yet quite formed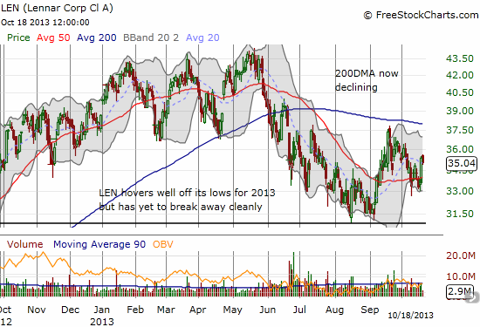 Lennar tries to form a base for launching a potential fresh rally in 2014
Source for charts: FreeStockCharts.com
I will not rehash all the earnings numbers here and instead point you to a good summary in a recent Seeking Alpha article summarizing both: "Evaluating Lennar And KB Home's Recent Performance". As usual, I was most interested in the commentary and Q&A during the conference call. I have reorganized the transcripts of the conference calls into themes, comparing and contrasting the commentary from each company, and adding my own observations and assessments. I focus here on LEN's core homebuilding business, but I recognize LEN has become a very diversified builder. All quotes are from the Seeking Alpha transcripts for KBH and LEN.
First, some KBH Milestones…
After an extended and concentrated focus on revenue growth, margins, and profitability, KBH's first nine months of its fiscal year delivered cumulative profits for the first time since 2006 (the first two quarters delivered negative earnings per share). Gross margins were 18.2% in the quarter (16.7% same quarter last year). KBH continues to target a return to the low to mid-20s range. Housing gross margins were 19.3% (14.3% same quarter last year). While the market spent much of 2012 baking these anticipated improvements into the stock price, I believe this milestone is a bullish signal about the sustainability of KBH's participation in the housing recovery. KBH is still in the early stages of turning its business around. However, with potentially just a few more percentage points of margin upside, KBH will soon become much less of a margin improvement story and much more of a sales growth story.
KBH has now logged 13 straight quarters of increasing ASP (average selling/sales price). The recent acceleration in price gains delivered double-digit price gains. A good part of the improvement has come from KBH's good fortunes in California, particularly in the coastal regions: 66% of KBH's California revenue came from the coastal region, representing a reversal from historical norms. The average square footage of KBH homes has increased quarterly and year-over-year.
KBH also experienced a 9% decline in sales units, a 22% drop in California. This occurred as KBH ramped up sales of higher priced homes and sold out inventory in locations with less land constraints (the Inland Empire in Southern California). On the surface, this seems like a bearish development. However, the higher-valued homes generated an overall 7% increase in the value of sales. The sales price and margins from California's coastal regions can be as much as double those from the inland areas. KBH management indicated that they will refocus on increasing overall unit sales to drive overall revenue growth although KBH forecasts a continuing trend of revenue growth outpacing unit growth. See below for an overview of the strategy.
Outlook
As stated above, both companies remain bullish on the next quarter, next year, and on the housing recovery overall. They also acknowledge various caveats that I summarize later.
KBH
KBH expects Housing revenues to increase 40% year-over-year. This assumes that the fourth quarter delivers around a 70% conversion rate on the backlog and an average selling price over $300,000. This ASP is almost flat with the third quarter. KBH does not expect price to keep going up in the near-term given the recent hike in interest rates. The company believes this cooling down is healthy for the housing recovery, and I agree… ess talk of supposed housing bubbles less than two years into the recovery. Moreover, a cooling down is more consistent with my expectations for the housing market overall to bounce along the bottom in the first few years of the recovery.
KBH expects community count to stay flat and unit count to decline year-over-year in California thanks to a heavier share of business in the coastal regions which feature higher-priced homes that sell at a slower pace. This share balance will generate higher sales and much larger gross margins year-over-year. KBH's performance in California now likely depends on a migration of housing strength from the coast to the inland areas as buyers search for more affordable housing. This migration of demand extends pricing power further and further inland. The company claims that such a migration of sales will not reduce overall gross margins. I put that assessment in the wait and see category.
LEN
LEN expects flat gross margins in the fourth quarter at 24.9% assuming its backlog remains strong. The company also believes it can eventually exceed its prior peak margins of 26-27%. LEN did not provide a timeline but did provide a list of required drivers: increasing ASPs, driving incentives from 6% to a more normal 3%, selling higher margin communities, and normalized absorption levels that facilitate leveraging fixed costs over more deliveries. In other words, a lot of simultaneous business plans and initiatives have to converge in harmony; it is perhaps no surprise that LEN did not provide a timeline.
Strategy
KBH provided a good summary of its strategy in response to an analyst question. The company has a clear and methodical approach that starts with pockets of strong demand and expansion as economic conditions improve. KBH is of course dependent on continued improvements in the economy, but at least the strategy means the company should not overreach or over-speculate. Note well that this strategy is not unique to KBH. Most, if not all, homebuilders have adopted similar strategies as part of the lessons learned from the housing bubble…
"There's a part of every city where demand is the strongest, and it's land-constrained and we're going upstream in products a little bit to cater to that demand…And as each market recovers at its own pace, we would expand our business to the next layer of suburbs depending on how that economy's recovered and how our returns are working in that city. But we have a growth mandate for every business right now. And it all rolls up to a nice projection for where we can get to as a company. And we're not going to invest anywhere unless our margins are going to hit our hurdles and our returns."
Housing Recovery
KBH
Analysts peppered management with questions aimed at getting a handle on the contours of the recovery. Is the market early in the business cycle? Is the market late in the cycle? Is there still room for margin improvement? As you can tell from the rest of the commentary summarized here, KBH affirmed that there is still plenty of room to run in the housing recovery.
LEN
LEN tried to answer all the possible questions about the housing recovery at the beginning of the conference call. The main point was as follows (including additions later in the call to answer questions):
"The housing market remains in a solid recovery mode and is likely to continue to improve over an extended period of time. While the rate of that improvement is likely to moderate as the market has now snapped back from the abnormally severe downturn that we experienced, we nevertheless believe it will continue to improve…

The fact that the rate of growth in sales and sales price will and should moderate does not derail the recovery. We think that the recovery will be more orderly and slower in nature. But we think that over the next 3 to 5 years, we're likely to be in a steady recovery mode…that defines and informs a good portion of our strategy."
Note LEN's emphasis on moderation and stability. The company recognizes the recovery is slow and is responding accordingly.
Inventory
As I have noted in previous posts, constrained inventory levels and an ongoing under-building of the homes that people want to buy in the healthiest markets forms a core piece of my stubborn bullishness on select homebuilders. KBH and LEN are benefiting from constrained inventories in their markets, but the adjustment to higher rates and the natural slowdown in activity that comes after school starts may tip the inventory situation a little more toward the benefit of buyers.
KBH
KBH indicated that inventory remains constrained throughout the markets it serves. As a result, KBH does not expect to experience much pressure on home prices. (However, the company is also not expecting yesterday's rapid price gains to continue).
LEN
LEN provided great detail on the constrained inventory situation in its overview of housing market fundamentals (emphasis mine):
"The overriding driver of recovery in the housing market remains the production deficit of both single family and multi-family product throughout the economic downturn, and up to and including this year.

This year, even with significantly stronger building activity, we will produce approximately 900,000 to 950,000 single and multi-family dwellings, and again, will underserve the country's needs by a wide margin. We have more than absorbed the overbuilding of the early- to mid-2000s and have been underproducing for a protracted period of time. This shortfall will have to be made up, and the builders of both multi- and single family products have been pushing to increase production as inventories of rentals, existing homes and new homes have remained extremely low…inventories are likely to remain low as production increases are constrained by a shortage of entitled and developed land to build on."
Impact of higher mortgage rates
The big fear going into these earnings was the magnitude of the braking effect from interest rates. Analysts peppered both LEN and KBH with related questions. The builders continue to insist they are not significantly impacted at these levels, but they did provide some caveats of interest. Both KBH and LEN talked about temporary impacts as buyers adjust to the new environment. The main problem is not the level but the speed at which rates moved. Going forward, rates are not likely to rise as fast as they did in prior months; indeed, rates are currently settling a bit lower again. The adjustment process will lead to a new stability in the market.
KBH
KBH described customers who were taken aback by the speed of the rate changes, but they have now adjusted.
"When interest rates moved as quickly as they did over the last few months, it caught some buyers by surprise and a few backed out of their purchases. We're also seeing some potential buyers who are taking a little longer to make the home buying decision, as they digest the combination of increased mortgage rates and higher prices in any given market. We believe both of these events are short term in nature and are fairly typical of the twist and turns housing markets experience in a recovery…

…on the interest rates, I think, the consumer has already adjusted to them. If you think about it in a recovery, normally, you'll get activity levels, the economy gets better, you get price, and then rates would slowly tick up because the Feds worried about inflation. This time around, they've kept rates on the floor. We didn't get activity, we've got price because there ended up being no inventory out there. Then you had the price - this price spike, and I think, the little rate uptick - and rates do need to go up over time. The rate uptick probably cooled the pricing down some. so I think, again, it's the normal push and pull and twist and turn you'll see in a market recovery. We don't expect rates to move up dramatically until the economy is in much better condition. It's improving. But it's a slow recovery."
KBH indicated that as a result a very small number of customers cancelled. However, the decision point is not whether to buy but how much to spend on a house. Higher-end buyers did not react at all to higher rates. KBH reminded analysts that ultimately employment growth is more important than higher rates. This dynamic makes sense: if rates are going higher because the economy is improving and providing more jobs, then the market will actually experience and increase in participants and in buying power.
LEN
Part of LEN's response to the adjustment process seems to have been a slight increase in incentives for "select" inventory. LEN indicated that the company used incentives as a "price leader" to generate activity in a community. Analysts of course pressed for more details. I also think this is something to keep a close eye on. The first question is whether the incentives lead to more incentives or whether it truly works as advertised. As I noted above on margins, LEN plans to work these incentives back down to more normal levels.
"…over the past couple of months, we've experienced a slowdown in our sales pace and traffic in our communities as the consumer has adjusted to the change in the interest rate environment. But it is our belief that this change is mild and temporary given the extremely low levels of housing inventory in the market…

…July was the slowest month for us, and we saw August actually being the strongest month on both a nominal and year-over-year basis…There was a little bit of sticker shock associated with the rate increase so dramatically, a little pause on the market, and we saw buyers starting to come back to the market…we have - from a pricing standpoint, we've selected some of our inventory, select inventory, and have increased some incentives associated with that inventory."
LEN went on to explain (in response to another question) that it targeted 3 or 4 homes in a community. These incentives were used as a tool to help some consumers get over the "sticker shock" of higher rates and keep the market "attentive."
In my opinion, it sounds like LEN did a bit of dancing around on this topic. I am expecting incentives to be a hot topic in the next earnings conference call, especially if the seasonal slowdown surprises even an inch to the downside. I expect LEN to explain in the next earnings call that incentives are being used to push business through the seasonal slowdown.
Cancellation rate
High cancellation rates can be a sign of weak demand. So, analysts monitor this number carefully. Higher interest rates apparently did force some buyers to back out of deals. KBH implied that a large portion of its cancels were from customers downshifting the kind of home purchase to accommodate the higher expense from rates. LEN indicated that it expects a high cancellation rate given it wants an aggressive sales force. I am not sure I can appreciate that tactic as the company could miss revenue opportunities by pushing customers toward homes that are not comfortably within affordability ranges. LEN's cancellation rate is currently around 18% and this compares favorably to a historical rate around 20%.
Credit
Tight credit standards have restrained the housing market. The positive side of this constraint is that today's homebuyers are very creditworthy. Households have experienced the downside in their reduced ability to compete against cash-laden investors, especially where inventories are tight. KBH and LEN noted the imminent potential for standards to ease and normalize, promising to release more pent-up demand in the housing market. While it is difficult to estimate the size of this demand, it could be substantial given the continued slow pace of housing construction that has calibrated to today's demand and a future slow recovery. I am not clear how much of this pent-up demand is already baked into the projections for homebuilders.
The credit side is also a good indicator of the quality of the recovery. Credit conditions are only just now starting to ease and move toward normalization. The market remains far away from the kind of recklessness that dominated the latter stages of the housing bubble.
KBH
KBH is encouraged by the recent announcements of plans to bring underwriting standards closer to normalized levels. That company expects "significant" pent-up demand to materialize once this happens.
LEN
LEN called today's underwriting standards "highly conservative." Normalization is occurring very slowly but has significantly improved from last year.
As examples of easing, LEN cited some "major banks" which have brought qualifying FICO scores down to the low 600s, some states have brought down payment requirement down to as low as 5%, and the issuance of some mortgage insurance. Note that the market is far from the bubble days of no money down, subprime loans: just over a third of LEN's "conventional buyers" had down payments less than 20%. Like most observers, LEN expects further easing as the refi boom winds down and banks look for replacement sources of earnings.
First-time buyer
Credit standards are particularly important for first-time homebuyers. They have no previous record of mortgage payments and are usually younger buyers, earlier in their careers with shorter income histories. KBH spent considerable time in this earnings call dispelling the notion that it's business heavily relies upon first-time buyers. The company also reassured analysts that its first-time homebuyers are much more creditworthy than in the past (they have to be!), are buying larger homes and are spending more. LEN spent time providing assuring observations about the first-time buyer market opening up thanks to the potential of more accessible credit. Clearly, LEN has no hesitation about addressing demand from first-timers.
KBH
The share of deliveries to first-time buyers dropped to 54% last quarter from 67% in the previous year. This of course still represents a majority of its business, but this level happens to be the lowest share since 2007. In California, first-timers have a 47% share. In the last 10 years the overall share of first-timers has bounced between 37% and 78%. KBH emphasized that no matter the customer mix, it is focused on flexibly following demand across a range of buyers.
LEN
While KBH emphasized a shrinking share of first-timers and narrowing down to higher qualified buyers, LEN discussed the obstacles facing first-timers and the promise of future improvement…
"I think that solid work and thinking is being brought to bear in the market. It doesn't mean we're seeing broad swings of first-time homebuyers being able to find mortgage approval. But I think, as we look ahead, we're likely to see that open up, open up first at the margins and then revert to normal levels of underwriting standards, which should enable first-time buyers to get back into the market and open up the market in general."
Land acquisition
There is nothing that confirms bullishness more strongly than the aggressive investment in land. KBH and LEN have spent a lot of money acquiring land in an effort to seize the opportunities presented both by getting land on the cheap in the wake of the recession and leveraging that land into new homes as the recovery finally began. The aggressive land purchases are still on-going in order to meet projected demand several years out.
KBH
By the end of the year, KBH expects to spend at the top end of its guidance range representing roughly $1.2B on land and land development. Last year's spend was less than half of this amount. KBH now owns and controls roughly 56,000 lots, a 25% jump from the end of 2012.
LEN
LEN "…closed on approximately 11,600 homesites for approximately $610 million." The company now has enough land to deliver on projected building needs through much of 2015. So land deals going forward will slot in for 2015 onward.
This is a sure sign of optimism that the current recovery has legs for the next few years.
Costs
Costs are of course an important part of margins. KBH has been spending a lot of time driving down costs and increasing leverage from its cost base. It has made a lot of progress on leveraging SG&A. KBH and LEN identified similar pain points on labor and materials but not exactly the same pain. It is again clear that the pace of the housing recovery is hitting constraints up and down the supply chain.
KBH
KBH indicated that labor costs remain a problem in "certain areas." Concrete and drywall have seen the strongest cost increases. Lumber is "down from its highs," but it still had a downward impact on margins in the third quarter. KBH hopes that the lumber impact will turn around in coming quarters.
LEN
For LEN, labor cost increases have offset the benefits from the recent decline in lumber prices; "the most labor-constrained categories are framing, drywall, plumbing and concrete." LEN expects price increases on homes to cover further cost increases in the fourth quarter.
Disclosure: I am long KBH. I wrote this article myself, and it expresses my own opinions. I am not receiving compensation for it (other than from Seeking Alpha). I have no business relationship with any company whose stock is mentioned in this article.
Additional disclosure: I am long KBH through call options.