Intuitive Surgical (NASDAQ:ISRG) shares have taken a hit after posting third quarter earnings. Is it time to buy this manufacturer of robotic surgical systems and the well known da Vinci Surgical System?
Intuitive Surgical reported third quarter EPS of $3.99, beating estimates of $3.40 per share. Revenue came in at $499 million, missing estimates of $527 million. Net earnings are down 14.3% from $183 million to $156.8 million from the third quarter of last year. They reported $2.5 billion in cash and equivalents and spent $694 million to repurchase 1.74 million shares in the quarter.
Analysts from Northland Capital have downgraded ISRG to underperform and lowered their price target to $275 on Friday. Analysts at Barrington have lowered their Q4 and 2014 estimates for ISRG but is holding their price target of $550. Citron Research has also released a negative report regarding ISRG with their price target set at $200.
Revenues from systems fell drastically by 32% to $159 million, due to poor sales of their flagship product the da Vinci Surgical System. They sold 54 less units than the third quarter of last year. Revenues from services rose 15% and revenues from instruments and accessories grew 10% to $101 million and $239 million. This growth is seen from a greater base of systems since the third quarter of last year. Operating margins declined from 37.8% to 34.9% from a year ago as well.
While services and accessories helped sustain earnings for the quarter, the large decrease in system sales does not bode well for the longer term picture. The company has also reflected by lowering their annual growth forecasts to the lower end of its flat to 7 percent range. With the decrease in system sales over the past two quarters, it is hurting the sale of instruments, their highest margin products and will continue to lead to declining revenues in the coming quarters. Hospitals have been tightening capital spending and shifting their focus to patient care, which is causing a decline in sales of Intuitive Surgical Systems.
There has also been safety and marketing concerns brought up about Intuitive Surgical. The American College of Gynecology warned that, "the aggressive direct market to consumers may be misleading them into believing they are the best choice". The FDA has also sent ISRG a warning letter about not keeping track of device corrections and adverse patient outcomes. The MAUDE reports indicate a rather large number of deaths reported in the past year from surgery with the da Vinci Surgical System. There has been much controversy regarding robotic surgeries and this does not help the image of the company in the slightest.
With the cost effectiveness of these robots in question, along with the safety and marketing issues surrounding the surgical robots industry, I would not want to be long any stock in this industry, never mind ISRG which is showing rapid decline in sales of their flagship system. The large buybacks the company is conducting may help its earnings per share, but at what point will these buybacks no longer stop the bleeding of the stock price and their EPS. Therefore, I would certainly not recommend buying ISRG until they show improvements and growth in system sales, which I do not expect to happen in the short term.
Technical Analysis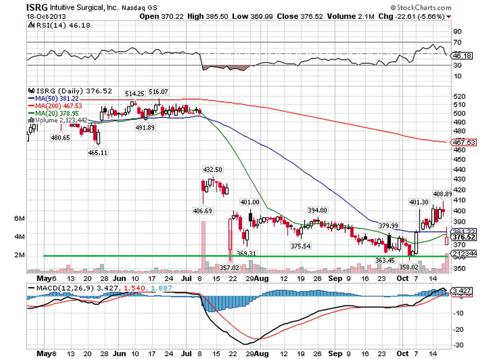 ISRG gapped down on earnings Friday, and tried to rally back above its 50 day moving average, but got sold back down and closed Friday below all major moving averages. With the fundamentals weakening and technical's pointing to a test of the green line near the 360 area in the coming week, if that breaks it will likely find support at 325 at the 2011 lows. Those investors who did not sell their shares after second quarter earnings are likely to close out any position they have in the coming week with such weak earnings. The market will fully price in these poor earnings in the coming weeks and I except to see selling pressure for the next while.
Disclosure: I am short ISRG. I wrote this article myself, and it expresses my own opinions. I am not receiving compensation for it (other than from Seeking Alpha). I have no business relationship with any company whose stock is mentioned in this article.