Agricultural biotechnology giant Monsanto (NYSE:MON) posted slightly disappointing fourth quarter results. For the full year, revenue increased 8.7% year-over-year to $14.8 billion, while quarterly revenue rose 4.9% year-over-year to $2.2 billion--a touch short of consensus estimates. Earnings per share for the full year advanced 21% year-over-year to $4.60, with the firm's quarterly loss increasing by five cents to $0.47 per share--worse than consensus expectations. Free cash flow during fiscal year 2013 was $2 billion, equal to 13.2% of total revenue.
The fourth quarter isn't much of a revenue driver or profit driver for Monsanto, so we find it more prudent to take a closer look at full-year results.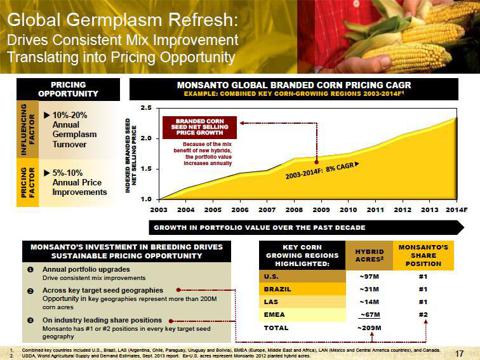 Image Source: Monsanto
The firm's 'Corn Seeds and Traits' revenue increased 13% year-over-year to $6.6 billion and also generated the bulk of Monsanto's gross margin dollars. Monsanto continues to improve its seeds, and as a result, has been able to raise prices 5-10% annually. Though robust double-digit growth may not be as attainable as it was in years past, Monsanto maintains market leadership nearly across the board.
Though corn sales rose during fiscal year 2013, sales in its other business lines were not as strong. Soybean, cotton, and vegetable seeds and traits all declined, dragging total 'Seeds and Genomics' revenue growth down to 5.6%. Profitability also struggled as a result of sales declines, so total EBIT for the segment actually declined 6.1% year-over-year to $2.4 billion. However, management sounded optimistic about both corn and soybeans going into fiscal year 2014, and we're confident the firm can recover.
Even though 'Seeds and Genomic' posted a somewhat disappointing year, its 'Agricultural Productivity' segment continues to be a strong contributor to the bottom line. Revenue in the segment advanced 22% year-over-year to $4.5 billion, while segment EBIT jumped 120% year-over-year to $1.05 billion. After restructuring when it was losing money in 2010, Monsanto's 'Agricultural Productivity' unit has become incredibly profitable. Management noted that it believes the business will remain robust-and if not accelerate.
Jumping into Big Data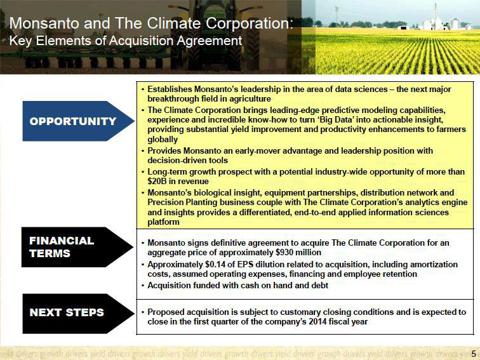 Image Source: Monsanto
Monsanto dedicated a large portion of the conference call to discussing the firm's $900 million acquisition of Climate Corporation. Climate Corporation is focused on using weather data to improve farming output and help farmers de-risk ahead of potentially devastating weather. Management believes Monsanto is early to arrive to what could be a $20 billion market.
The acquisition is an all-cash deal and will be dilutive to earnings per share by $0.14 in fiscal year 2014. As data sizes increase, odds are that the service will become even a more compelling proposition for farmers. As a result, we think this product has the potential to be a meaningful profit driver at Monsanto over the long haul.
Guidance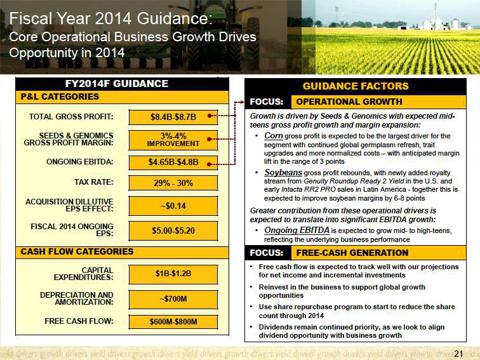 Image Source: Monsanto
Looking ahead, the firm guided to solid margin and EBITDA growth. Free cash flow will be lower than fiscal year 2013, expected to come in the range of $600-$800 million. It's is important to note that Monsanto doesn't guide to the traditional free cash flow measure (operating cash flow less capital expenditures), but rather defines free cash flow as 'operating cash flow' less 'cash from investing activities'. Thus, the traditional number will likely be slightly higher than the guided range.
Valuentum's Take
Monsanto remains the market leader in seeds and genomics, with the rapidly improving 'Agricultural Activity' segment and Climate Corporation providing the company with other areas of growth.
Although sales growth remains robust, we believe shares of Monsanto look fairly valued. Because of the controversy surrounding genetically modified organisms (GMOs) of which Monsanto is the primary target, we think the firm's future is a bit more uncertain than the average company. We continue to demand a large margin of safety before considering the firm in the portfolio of our Best Ideas Newsletter.
Disclosure: I have no positions in any stocks mentioned, and no plans to initiate any positions within the next 72 hours. I wrote this article myself, and it expresses my own opinions. I am not receiving compensation for it (other than from Seeking Alpha). I have no business relationship with any company whose stock is mentioned in this article.