Micron's (NASDAQ:MU) Q4 2013 results confirmed what investors already knew: The semiconductor firm made giant steps in regaining profitability. A closer look at the financials also reveals that Micron's recent share price surge is backed by strong underlying fundamentals:
Net sales increased 10% to $9.1 billion in FY 2013 compared to $8.2 billion in FY 2012.
Micron's gross margin exploded 91% to $1.8 billion in 2013 compared to $1.0 billion in 2012.
Operating income showed Micron's restructuring efforts are working out. EBIT was $236 million compared to a loss of $612 million in the previous year.
2013 net income stood at $1.2 billion compared to a colossal loss of $1 billion in 2012. As a result, diluted EPS increased from ($1.04) in 2012 to $1.13 in 2013.
Restructuring expenses/asset impairments continued to hit Micron with $126 million in the most recent financial year.
Micron also booked a $1.5 billion gain on the Elpida acquisition as the fair value of acquired net assets exceeded the purchase price. The resulting non-cash acquisition gain contributed to results positively.
Share performance
Micron's share gains have accelerated both because of fundamentally improving net sales and operating margin trends but also because of Micron's Elpida acquisition which could turbocharge Micron's EPS growth in the coming quarters. Micron is up 212% over the last two years and 157% year to date. Also contributing to Micron's latest performance surge was a devastating fire at the Chinese operations of South Korean SK Hynix that destroyed significant wafer volumes and send memory prices soaring. This proved to be an important catalyst for Micron which could capitalize on the misfortune of its competitor.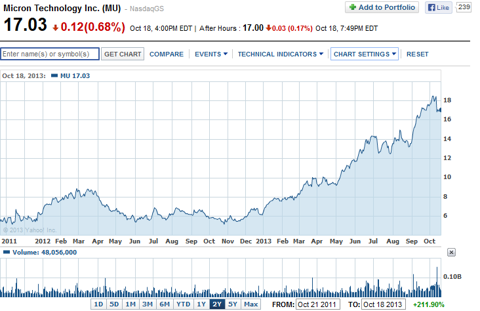 Other first-class tech companies involved in chip production and memory technology have done well but are widely outperformed by Micron nonetheless. Compared to a peer group of large-cap chip- and memory companies Micron has led the way: Its shares returned 213% over the last year. Intel (NASDAQ:INTC) gained 11%, Advanced Micro Devices (NYSE:AMD) 68%, Nvidia (NASDAQ:NVDA) 32%, Sandisk (SNDK) 58% and Rambus (NASDAQ:RMBS) 99%. What's even more important for investors to realize is that despite a 200% surge in Micron's share value it is still one of the cheapest memory-plays in the market indicating how severely the market misjudged Micron's earnings prospects.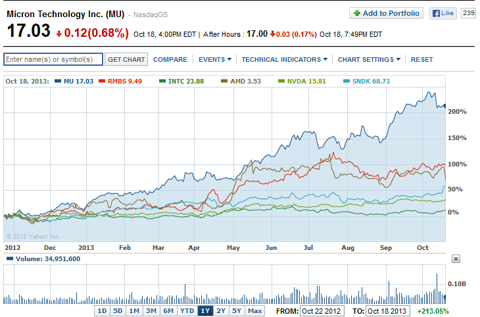 Bargain purchase Elpida transaction could boost EPS growth
First off, Elpida offers Micron a substantial scale advantage. Combining Micron's and Elpida's operations makes Micron the second largest memory company in the world. While the acquisition also complements Micron's memory portfolio and expands its manufacturing footprint to include DRAM capacity in Japan and Taiwan, it also profits from R&D synergies which aren't quantified just yet. Further, its acquisition contributes to consolidating a fragmented industry that in the long-term could have a positive effect on pricing. After all, Micron is a relatively large industry player with a market cap of $18 billion.
Valuation
In addition to EPS growth fantasy that is being added to the stock via the Elpida transaction, one of the most convincing reasons to still consider Micron as a cornerstone memory investment is its low valuation compared to other players in the industry. Micron trades at a 50% discount to the peer group average forward P/E ratio of 15.47. While there may be disagreement as to the inclusion of companies in my peer group, all companies have something in common: They are long-standing tech firms with innovative track records and established market positions in chip-, graphic-, memory- and storage solutions. Micron trades at only 7.62 times forward earnings. Assuming that Micron can trade at the peer group average of 15.47, Micron shares still have 100% upside potential despite its already impressive share performance. Micron's current market valuation is still too low compared to estimated future earnings.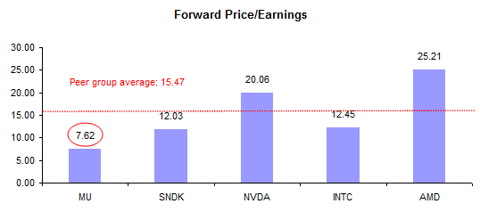 For investor's who prefer a look at P/B ratios I have compiled such for the peer group as well. With the exception of AMD all companies are trading around the ex-AMD peer group average of 2.29.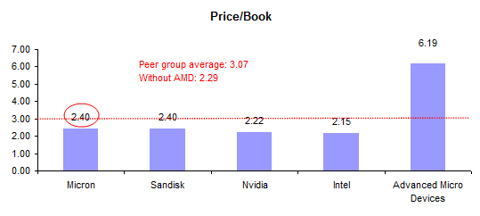 Conclusion
Investors seeking exposure to a market-leading, innovative memory player who trades at half the peer group average P/E ratio should consider an investment in Micron. Despite its impressive share returns the shares still appear to be undervalued based on its earnings prospects. Fundamental improvements in net sales, gross margins and EBIT have already taken place and indicate that Micron's restructuring efforts are working. Micron's Elpida transaction complements its memory product portfolio and could work out as a powerful future catalyst for EPS growth. Both synergies and incremental EBIT contributions make Elpida an interesting acquisition for shareholders. Long-term Buy on Elpida integration, low relative valuation and expected EPS boost.
Disclosure: I am long MU. I wrote this article myself, and it expresses my own opinions. I am not receiving compensation for it (other than from Seeking Alpha). I have no business relationship with any company whose stock is mentioned in this article.