By RJ Towner
September auto sales once again revealed a strong US auto market that continues to capitalize on pent-up demand. Though the seasonally adjusted annual rate (SAAR) fell from its 16 million-unit rate in August to 15.3 million units in September, the sequential decline seems mostly attributable to a timing shift (there were two fewer selling days in September than a year ago), and we're not reading too much into the perceived modest industry-wide slowdown. As we can see from the chart below, there is plenty of volatility in the numbers from month to month, something that investors should continue to expect.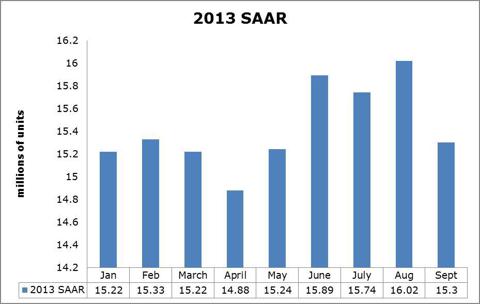 Source: NADA
Ford
Best Ideas Newsletter portfolio holding Ford (NYSE:F) exceeded consensus estimates calling for flat sales, as unit sales advanced 6% year-over-year to 185,146 units during September. Ford brand sales increased 6.3% year-over-year partially offset by a 5.1% slide in Lincoln unit sales.
F-Series sales remained robust, coming in above 60,000 units for the fifth consecutive month and 9.8% higher than the same period last year. The 9.8% growth rate is less robust than the 22% increase during the previous month, but September did not lap the discontinuation of the Ford Ranger to the same extent that August did. Ultimately, we think demand for the F-Series is extremely healthy.
Fusion sales were also a standout during September, jumping 62% year-over-year to fall just shy of 20,000 units sold. Fiesta sales and C-Max sales were also up sharply, driving overall car sales to increase 14% year-over-year. As for Lincoln, we've become accustomed to poor performance from the brand, as overall unit sales declined 5.1% year-over-year to 6,453 units. On the bright side, car sales increased 8.9% year-over-year thanks to double-digit increases in MKZ and MKS sales. On the other hand, SUV sales were extremely weak, falling 19% year-over-year as sales of the MKX and MKT fell sharply.
Overall, we're pleased with Ford's fundamental performance during the month and continue to hold shares in the portfolio of our Best Ideas Newsletter.
GM
General Motors (NYSE:GM) wasn't quite as fortunate during September and nearly fell behind Ford in terms of market share. Unit sales declined 11% year-over-year to 187,195 vehicles.
Chevrolet performed particularly poorly as unit sales declined 15% year-over-year to 127,785 vehicles. Weakness was fairly broad-based, but we were surprised to see Silverado sales fall 11% year-over-year to 32,506 units--a clear indication that the firm is losing share to Ford, in our view. Other notable declines included the Volt (down 38% year-over-year), the Impala (down 25% year-over-year), and the Cruze (down 51% year-over-year). Sales of the Malibu were a rare bright spot, increasing 30% year-over-year, while we also saw solid growth from the Tahoe (up 14% year-over-year).
Both Cadillac and Buick posted solid sales figures, with unit sales growing 9.9% and 6.5% year-over-year, respectively. Sales of the ATS continue to ramp at a brisk pace, while the Encore helped compensate for otherwise lackluster Buick sales. Not surprisingly, given the performance of Ford's utility segment, GMC sales were slow during September, falling 9.7% year-over-year.
Overall, GM's September sales were fairly disappointing. We think GM's product line is comparatively weaker than that of other competitors in the US, and we maintain shares look fairly valued.
Toyota
Toyota's (NYSE:TM) vehicle sales declined 4.3% year-over-year during September to 164,457 units, though the company's Daily Sales Rate (DSR) was up 4% year-over-year.
Pickup sales were disappointing, particularly in light of Ford's solid September growth. Toyota's total pickup sales declined 4.5% year-over-year to 20,550 units. SUV sales weren't great either, declining 9.9% year-over-year as Venza, 4Runner, and Highlander sales all fell sharply.
Toyota's core car business held up slightly better, with sales declining 2.9% year-over-year driven by a 7% drop in Camry sales and a 16% decline in Prius sales. Avalon sales continued to recover, jumping 187% year-over-year to 4,514 units, while Corolla unit sales managed to grow 1% compared to the year prior.
Lexus sales were also slower in September, falling 9.7% year-over-year to 10,858 units though the DSR declined only 1.8%. Lexus IS sales grew at a fantastic rate, up 42% year-over-year as buyers flocked to the low-end luxury model.
Overall, Toyota's September wasn't terrible, but it certainly wasn't great. Coming off a huge August, we think some demand might have been pulled forward; thus we aren't worried that weakness will become a trend. Still, shares look fairly valued at this time.
Honda
Honda (NYSE:HMC) joined Toyota and GM, experiencing a decline in sales during September. Total vehicle sales declined 9.9% year-over-year to 105,563 units, while the DSR declined 2.1% year-over-year.
Sales of Honda's flagship models had diverging fortunes, as sales of the Accord dropped 13.7% year-over-year, while sales of the Civic increased 6.7% year-over-year. Both models sold well over 20,000 units. Fit sales declined 15% year-over-year; however, the Accord and Civic remain the vehicles essential to Honda's US fortunes.
Truck/SUV sales at Honda declined 12% year-over-year, though Ridgeline (pickup) sales managed to grow 9.9% year-over-year in a difficult pickup environment outside of Ford. Still, the Ridgeline's paltry 1,165 unit sales do not compare to bigger competitors like Ford, GM, Toyota, or Chrysler.
Acura sales remained weak, falling 18.9% year-over-year to 11,648 units. Less the RLX model, every Acura model experienced steep double-digit sales declines. Management sounds excited about the recently-redesigned MDX and its sales potential during the fall, but we have yet to see the redesign translate into results.
All things considered, we're not huge fans of Honda at its present valuation, and we won't be adding the company to the portfolio of our Best Ideas Newsletter at this time.
Best of the Rest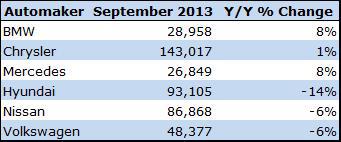 Valuentum's Take
Total industry sales fell about 4% year-over-year during the month of September, though the decline is mostly due to the variance in the number of selling days, in our view. We also believe some sales were pulled into August, as evidenced by the robust August results across the board. Our favorite idea in the auto space, Ford, continues to outperform its peers and gain market share, and we continue to hold the company in the portfolio of our Best Ideas Newsletter.
Disclosure: I am long F. I wrote this article myself, and it expresses my own opinions. I am not receiving compensation for it (other than from Seeking Alpha). I have no business relationship with any company whose stock is mentioned in this article.
Additional disclosure: RJ Towner is Director of Research Development at Valuentum. F is included in the portfolio of our Best Ideas Newsletter.