By Robin Wauters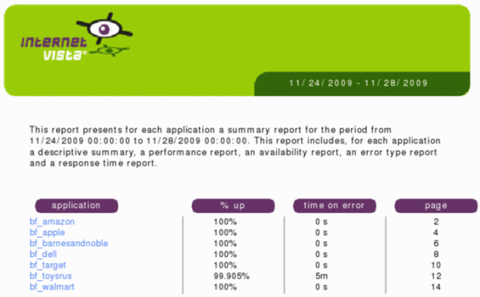 Click to enlarge
Website monitoring service InternetVista vigorously measured the uptime and response time of seven of the most popular Internet retail websites from Monday morning November 24 until midnight November 28, to see how the online outlets would cope with the Black Friday madness, traditionally one of the busiest shopping periods in the United States both on the Web and in meatspace.
InternetVista pinged Amazon.com (NASDAQ:AMZN), Apple.com (NASDAQ:AAPL), Barnesandnoble.com (NYSE:BKS), Dell.com (NASDAQ:DELL), Target.com (NYSE:TGT), Toysrus.com and Walmart.com (NYSE:WMT) every minute for the entire workweek from multiple datacenters located around the world, in order to find how well the websites were handling the influx of visitors looking for great bargains. Turns out all of them managed to stay online the whole time, with the exception of a brief period of downtime that was registered for the Toys"R"Us website, although notably most of the websites clearly suffered from slower response times at busy times.
The report – embedded below – shows that the uptime of six out of seven online retail websites was 100% for the entire period, with only Toysrus.com experiencing downtime for 5 minutes (meaning the site still registered 99.9% uptime in total).
Perhaps not so surprisingly, practically all of the measured online retail websites suffered from slower response times – particularly on Friday afternoon and evening – with the exception of computer manufacturers Dell and Apple, whose websites actually loaded faster at the end than at the beginning of the week.
On average, Walmart.com scored best with an average response time of 0.512 seconds, just beating Apple.com, which came in second with an average loading time of 0.513 seconds. Dell.com's performance stood out as the poorest with an average load time of 2.75 seconds, at one point even taking nearly 50 seconds (!) to load in its entirety.
Have you shopped at any of the measured websites last week? Did you notice any slowness?

InternetVista – Uptime of Online Retailers during Black Friday –

InternetVista – Online retailers on Black Friday – report –