Since Microsoft (NASDAQ:MSFT) announced that it would be buying Nokia's (NYSE:NOK) handset business Nokia's shares have been on a tear as demonstrated in the chart below. Investors who sold out early, banking healthy profits, may be looking at the current stock price somewhat ruefully after missing out on an additional 30 to 40% gain.
With seemingly no significant news, in the last week alone the stock has risen from $6.60 to close at $7.13 on Friday. One possible reason is the date has passed for a profits warning - this law applies in Finland where Nokia is registered, it has to pre-announce two weeks before earnings if there are any appreciable differences to guidance. From this we can assume that results will come in fairly close to previous guidance laid out in Q2.
Another possible reason is a run-up to the announcement on the 22nd October where Nokia will be showing off a number of new devices, from a 6 inch Lumia to a RT tablet, this appears less likely due to the fact that all of these devices will soon be the IP of Microsoft, and will not have any appreciable effect on Nokia's bottom line.
Trends
Once the handset division take-over is complete there are trends that bode well for Nokia's handset-free future. The continued growth of smartphones worldwide, oh the irony, requires continued upgrades in infrastructure -- in a gold rush sometimes more profits can be made selling shovels, and Nokia is in the shovels business with NSN. It's predicted that half of all mobile connections will be running on 3G/4G by 2017, a whopping 4.25 billion connections, up from 1.25 billion this year. The diagram below demonstrates a sharp decline of 2G networks worldwide, balanced by the continued growth of 3G and 4G networks.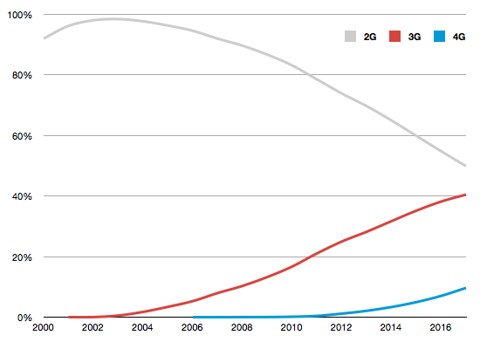 Nokia with a healthy balance sheet and deep IP portfolio is well positioned to capitalize on this trend after the Microsoft deal closes. It will head into 2014 with over $10 Billion in cash, and valuable 4G patents, 3144 considered essential to the application of the technology.
Recent results from Verizon (NYSE:VZ) and Google (NASDAQ:GOOG) both point to continued growth in the mobile sector; Google has successfully monetized mobile advertising and Verizon has had a blow-out quarter with a 40% profit increase from wireless subscriptions. Facebook is yet to report, but its stock has made significant gains in the previous week which is in no small part due to the anticipation that it will increase its mobile ad revenue.
Another report by pwc states that the increased roll-out of 4G can lead to a surge of innovation, the bulk of which will be taking part in 2014 and 2015, this further backs up the opinion that operators will be investing heavily in 4G networks to meet demand from customers in the coming year.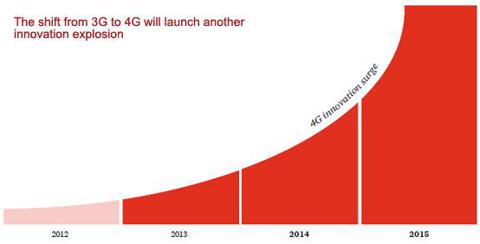 Competition
Nokia will be competing for these 4G contracts with Ericson (NASDAQ:ERIC), Huawei, Alcatel and ZTE. In Asia Huawei and ZTE are strong competitors, outside of Asia there is some distrust of the Chinese operators which will make Ericson, Alcatel and Nokia the preferred suppliers. There is some talk of a Nokia Alcatel merger but so far this is just speculation.
Conclusion
In the next few years networks infrastructure looks like an area for continued high levels of investment and innovation, Nokia with a strong balance sheet, and deep IP portfolio is in an excellent position to take advantage of this trend. Recent share appreciation may tempt some investors to bank profits but holding on for further gains has excellent potential and I predict that the stock will push through the $8 barrier later this year.
Disclosure: I am long NOK. I wrote this article myself, and it expresses my own opinions. I am not receiving compensation for it (other than from Seeking Alpha). I have no business relationship with any company whose stock is mentioned in this article.